CameraPrive - cameraprive.com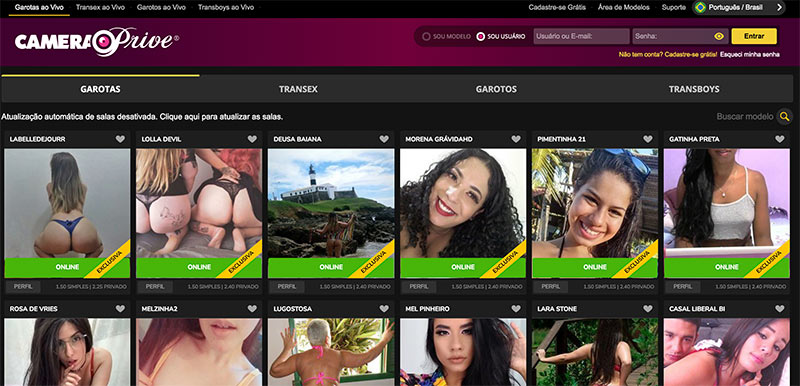 CameraPrive.com is a Brazilian cam site that was registered in August of 2012. While ownership information is not publicly available, the site registers affiliates through livecamrevenue.com, which is part of the BongaCams network.
At the time of this review, CameraPrive is the 1,081st most-visited website worldwide and the 55th most-visited website in Brazil. Its Alexa ranking is 2,799. 91% of the site's users are from Brazil, 1.8% are from Argentina, and 1.6% are from the Colombia.

CameraPrive.com Chat Costs
Free content is extremely limited on CameraPrive. Non-members can enter public chats, but not participate. Creating an account is free, but even members will need to buy tokens first, before they're allowed to participate in chats. On the one hand, this cuts down on the usual flurry of "dam bb u got a nice pussy" messages. On the other hand, it's impossible to negotiate a private chat without buying tokens first.
You can purchase tokens with a credit card through DMG or Epoch, or with PayPal (Epoch only). Here are the packages and prices:
| | | |
| --- | --- | --- |
| Credit card or PayPal | | |
| 30 credits | $9.90 | $0.33 |
| 90 credits | $29.90 | $0.332 |
| 150 credits | $49.90 | $0.332 |
| 300 credit | $99.90 | $0.333 |
While public shows are few and far between on CameraPrive, there are four types of paid shows:
Group shows, where anyone can participate in the chat as long as they pay the per-minute price.
Private chat gives you exclusive access to the model's chat at a per-minute rate, and enables Cam2Cam mode. Other users will still be able to view the model's cam (but not yours) in spy mode.
Exclusive chat is the same as a private chat, but the model will appear offline to other users and spy mode will be disabled.
Spy chat allows you to view a model's cam while they're in a private show. You won't be able to chat with them or participate in any way.
Prices vary from model to model, but generally fall within a pretty narrow range.
| | | | |
| --- | --- | --- | --- |
| Group/Spy | 1.2 - 1.5 | $0.396 - $0.495 | $1.98 - $2.48 |
| Private | 2.25 - 2.4 | $0.743 - $0.792 | $3.71 - $3.96 |
| Exclusive | 1.8 - 2.0 | $0.594 - $0.66 | $2.97 - $3.30 |
This per-minute rate is insanely low. You can watch an exclusive show here for a fraction of what a group show will cost you on some larger sites.
Model Manifest
At the time of this writing, there are a total of 91 models currently streaming. 67 of these are female, 17 are male, and 7 are trans girls. The site also features trans guys, but there are none online at the moment. Female models are displayed by default, with other genders available by clicking the "Guys", "Transgirls" and "Transguys" links at the top of the page.
CameraPrive doesn't provide a total number of models, but they claim to have "thousands". That may be true, but larger sites will have far more than 91 models online at once.
Most of the models speak Portuguese in chat, although the chat will automatically translate to your language if you've selected a different language for the site. Many of the models speak English as well; check out their profiles to find out.
There's a good mix of model types here, so you'll have something to jerk off to no matter what your particular kink is.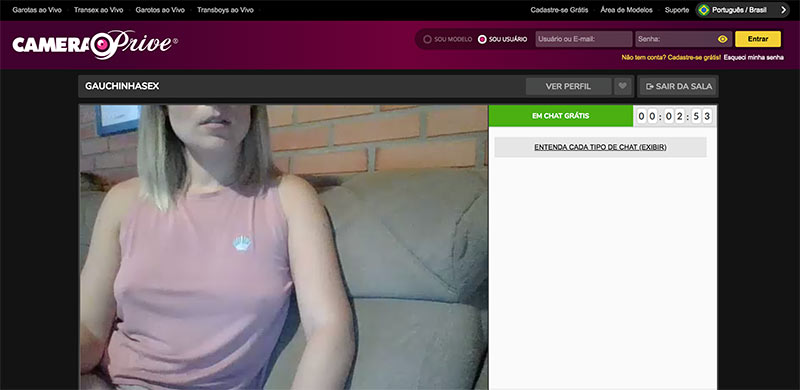 Fucking Features
In addition to simple hosting, CameraPrive has several other features that will appeal to cam site users. These include:
Group, private, exclusive and spy shows at a very low per-minute rate.
Premium videos and image sets available for purchase from individual models.
Model profiles with preview images, user reviews and short bio.
Private chats include Cam2Cam.
Ability to add models to a favorites list for later viewing.
Users can receive notifications from models they're following
Ability for paid users to leave reviews.
Female, male and trans models filtered separately.
Users can join group shows in progress.
No advertising.
CameraPrive's Sexy Systems
Although CameraPrive is in Portuguese by default, it's easy to change the language. On desktop, simply click the small flag icon in the top right, and select English from the dropdown list. On mobile, the language option will display at the bottom of the splash page.
Once you've acknowledged that you're at least 18 years old, you'll be directed to the site's main page. There, you'll see thumbnail previews of female models, sorted by what type of show they're in. If you want to see guys or trans models, simply select the relevant link on the top left of the page. Models in public chat will display at the top, followed by group shows, private shows and exclusive shows.
There's also a gold banner that says "Exclusive" across most of the models' pictures. This is different from the larger, purple banner for models in exclusive shows, and simply means that the model is only streaming on CameraPrive, not any other sites.
You can click on any thumbnail to open the model's chat room. If they're currently in a paid chat, you'll be locked out unless you've already purchased credits. There's a profile link under each thumbnail if you want to learn more about a model before you start paying.
From the model's profile, you can also purchase exclusive videos and photo galleries. Rates vary by model, but generally fall in the 10-30 credit range for a 2-5 minute video. You can't download the videos. However, they will be saved on your account page for later viewing.
The mobile site is very similar to the desktop site, just slimmed down to fit a narrower screen. The top menu options are condensed into a hamburger menu to reduce clutter.
One disappointment on CameraPrive is the lack of an advanced search feature. The simple text search allows you to search for a particular model name, but that's it. No categories, no kinks, no body types, although with the small number of active models it's easy enough just to scroll through their thumbnail pictures.
Most of the models here have good cameras and stream in at least 480p, but there doesn't seem to be a minimum resolution. A handful of models still seem to be using old webcams that are grainy or pixellated. The majority of models have slower internet connections. There's a lot of stuttering, hanging and framerate loss here. The sound is generally good, but most models have sound turned off for public chats. This makes it hard to gauge quality before you pay.
There's no advertising on CameraPrive.
Cam Climax
Pros:
Lower prices than most paid cam sites
No advertising
Well-designed mobile site
Cons:
Most models don't speak English
A lot of models have poor connections
Small selection of models
No advanced search
CameraPrive is slick and well-designed, but it doesn't have a lot of models. The video streams are plagued by high latency, with frequent lags and stuttering. That's a shame, because this site is far more affordable than most cam sites, and would provide a great value if not for the models' connection issues. If you're specifically looking for Portuguese-speaking models, CameraPrive is still worth visiting. Otherwise, there are better sites out there.
Visit CameraPrive