Camcrush - camcrush.com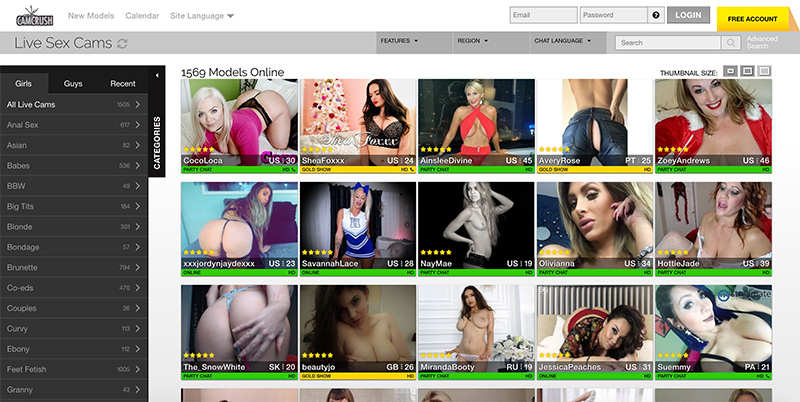 Camcrush.com is a relatively new cam site, registered in September 2016 by a Luxembourg-based DNS service. There is no publicly available information on its owners, although the Affiliates link on their site links to AdultForce, a monetization site owned by MindGeek, owners of the PornHub network and affiliated gay sites. That said, the site itself does not seem to be part of the PornHub network.
As of December, 2018, Camcrush is the 282,694th most-visited website worldwide, the 95,426th most-visited website in the US, and the 13,522nd most-visited adult site. Its Alexa ranking is 937,717. 28% of the site's users are from the US, and 17% are from France.
Camcrush Chat Costs
Chat costs on Camcrush are set by individual models, so there is some significant variation.
Group shows allow performers to set a minimum donation amount to reserve a spot for the show, as well as a total donation goal to get the show started.
Private shows allow you to have one-on-one access to the model's cam, as well as Cam2Cam access if the model offers this service. Other users will still be able to chat with the model.
True Private shows are the same as private shows, but other users will not be able to chat with the model
Camcrush models accept payments in real-world currency. There is no token system, so the prices are transparent. Below are the rates we've found from a variety of models. Note that when you choose to start a show, prices for that model are shown before the show starts, so you will not be charged unless you voluntarily opt in. While some of the top models charge upwards of $10 a minute for a private show, most seem to fall in the $4-$6 range.
| | | |
| --- | --- | --- |
| Private Show | $2.99-10.99 | $14.95-$54.95 |
| Group Show | $0.00-$1.25 | $0.00-$6.25 |
| True Private | $4.95-$11.99 | $24.75-$59.95 |
No membership is required to join public chats, but a free membership is required to join group shows, even if the minimum donation is zero. Group shows operate on a pledge system, where users "pledge" a certain amount of money towards the model's total goal. You can cancel your pledge at any time before the show starts, and no money will actually be charged to you if the model does not meet their goal.
Camcrush.com charges no monthly fees, and all charges require the user to specifically agree before their card is charged. Surprise charges can be about as enjoyable as a surprise finger in the ass, so we appreciate this feature.
Model Manifest
Camcrush has a large selection of models to choose from. We wrote this review during off hours (early morning in the US), and there were still over 1,700 models active. Of these, just under 1,600 were solo females,120 were solo males, and 9 were groups. Male models, female models and groups are all displayed by default, but can be filtered out by selecting the appropriate categories on the site's left sidebar, or by running an advanced search. This site has something for everybody.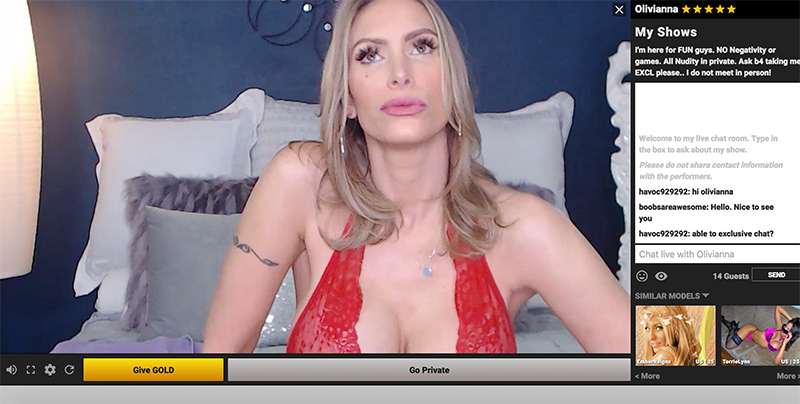 Camcrush's Fucking Features
Camcrush offers group shows, private shows and true private shows across a broad price range. While some models have no minimum donation for a group show, users will still need an account to pledge $0 to access those shows.
Free, tip-based chat sessions where models set donation goals to unlock group shows for anyone who tips a minimum amount. Models typically specify in advance what kind of show it will be such as masturbation, strip tease, simulated blowjobs, etc.
Private Shows, with prices set by the individual models. Other users will not be able to see the model's cam, but will still be able to chat with them.
True Private shows with prices set by the models. All this does is disable chat for other users.
Mobile version works well and loads quickly.
Cam2Cam available for private shows.
The vast majority of models have HD cams.
$2.99 per day flat-rate for access to a model's private video collection.
Model profile pages with details, preview pictures, preview videos, and the ability to add models as favorites.
Interactive, public Ohmibod shows by some models.
Private messaging with models and other users.
Pledge-based system for group shows. You only pay if the model's goal is actually met.
No ads.
Sexy Systems
Camcrush.com loads quickly, and the homepage displays a series of thumbnail images that should be familiar to any cam site user. Thumbnails display model profile pictures only, and the only way to view a preview is to enter the model's chat. The site scales down to a clean, tile-based layout on mobile.
The site has an advanced search feature that allows users to filter models by 64 different tags including language, hair color, fetishes and body type. Female models, male models and groups all display by default, but can be filtered out of search results by selecting the appropriate categories.
The vast majority of Camcrush videos are in HD, with fast load times and minimal latency in the video stream itself. The site seems to prioritize video traffic, so chats do sometimes have a few seconds of latency. Because this is a paid site, there are also no popups, banner ads, or other advertising of any kind.
The only feature we'd like to see that isn't available is the ability to download videos. While users can pay $2.99 to access a single model's videos for 24 hours, there is no download option. Lurkers should also beware, since most models only perform sex acts during shows.
Cam Climax
Pros:
Thousands of HD cams
Interface scales well on mobile
No ads
No autopay system
Some group shows are free, though you will still need a (free) account to gain access
Pledge-based system for group shows means you only pay for shows that actually happen
Cons:
No download option for model videos
Camcrush is well-designed, loads quickly and has a large selection of models. Video quality is some of the best we've seen, and the site runs well on mobile and desktop. Lurkers would do better to look elsewhere, but if you're willing to pay reasonable prices for a large variety of streams, you will definitely find something here that turns you on and gets you off.
Visit Camcrush