CamCrawler - camcrawler.com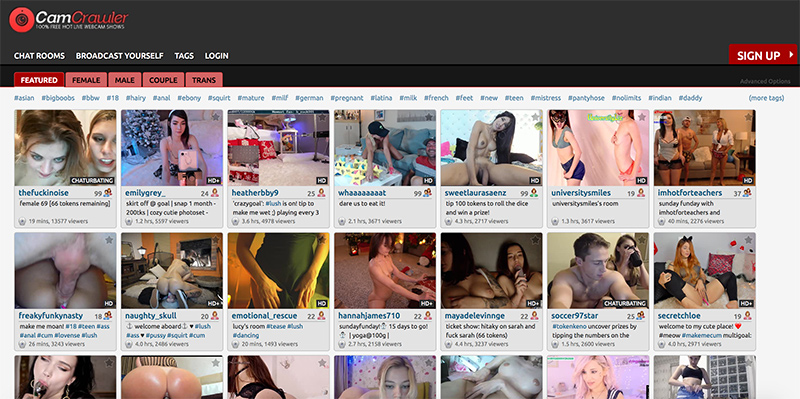 CamCrawler is a whitelabel of Chaturbate, we suggest going to Chaturbate. CamCrawler.com is a smaller, yet decent, free cam site. It's been around since at least 2009, making it a veteran among popular cam sites. It's basically a reskin of the more popular cam site, Chaturbate. With more than 4,000 models online at any given time, it's smaller than some of its competitors, but what it lacks in quantity it gains in diversity, catering to a number of tastes, hosting male, female, trans, and couples cams.
CamCrawler Chat Costs
If you're just wanting to take a peek at the models, it's free! CamCrawler is pretty generous in what you can do with just a free account. It includes free chats, the ability to view multiple cams at once, and view models full screen. There are hundreds of models that are available for free viewing. If, however, your tastes lean towards private shows or tipping to get attention (which is supported by this site), they do operate through a token system, and they also have a subscription model available.
The subscription model is pretty straightforward. For $19.95 a month, you get to have ads removed, are allowed private messaging to models, and also receive different font design choices when chatting. Upon signing up for the subscription, you also receive 200 tokens for free (roughly a $20 value). From there on out, you'll be looking at purchasing tokens. Tokens can be used to tip models, as well as engage in private shows with models. Here's the cost breakdown:
| | | |
| --- | --- | --- |
| All Payment Methods | | |
| 100 Tokens | $10.99 | $0.109 |
| 200 Tokens | $20.99 | $0.104 |
| 400 Tokens | $39.99 | $0.099 |
| 550 Tokens | $49.99 | $0.090 |
| 750 Tokens | $62.99 | $0.083 |
| 1000 Tokens | $79.99 | $0.079 |
The pricing packages are described a little differently on the payment page, but we're talking less than a cent difference per token among the available packages. This means that you can always buy a smaller package of tokens to see if it's something you'll use, and you're not missing out on the "bonus" tokens of higher packages.
There are also a couple of different "private" chat options that you can choose from. They have certain models categorized into different pricing rankings for a private chat, ranging from:
6 tokens per minute
12 tokens per minute
18 tokens per minute
30 tokens per minute
60 tokens per minute
90 tokens per minute
You can also choose "Spy Shows," which allow you to drop in on private shows for a better price. Pricing for spy shows vary per model and appear to range from 6-90 tokens per minute in similar increments to typical private shows.
You can also choose Group Shows, which allow you to direct the show in a private room with other viewers. At the time of this review, there were no models active in this mode. Finally, you can choose from community shows, which states it interacts with an app and reflects viewer feedback. These shows are hidden and require varying amounts of tokens to unlock hidden shows.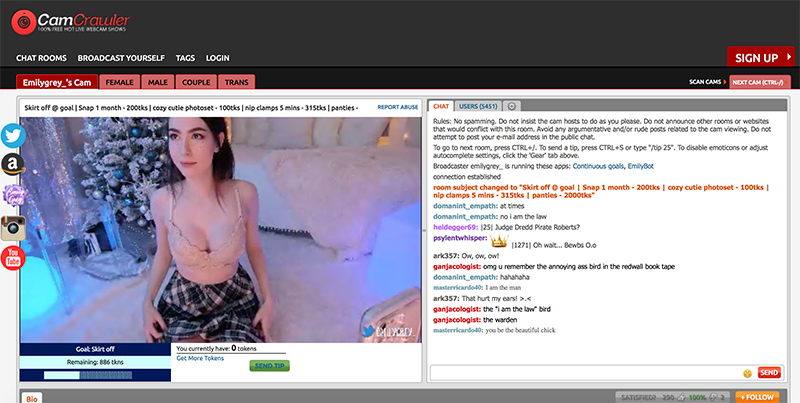 Model Manifest
The real strength of CamCrawler is the huge amount of diverse models you can choose from, as the site appears to cater to as many kinks as possible. Default tabs include male, female, couple, and trans (along with featured and spy shows), and searching via hashtags allow for niche interests to be sought after. Think "ebony" or "Asian" models.
It was hard to find an actual number of models that use CamCrawler to host, but by viewing the main tag categories, we were able to estimate at least 4,500 models being available at any given time.
CamCrawler Fucking Features
CamCrawler has the standard features that you would find with most cam sites, including:
An extremely high number of free chats
Ability to tip models regardless of cam mode being used
Private chats
Spy shows
Group shows
Community shows
The option to watch multiple cams at once
A clean, very well designed mobile site
Model profiles that include background, social media, free and paid picture galleries, as well as pricing structure for certain acts, chat room rules, etc.
Sexy Systems
The site certainly doesn't catch your eye like some of the more modern sites do, but as with many well designed, smooth running sites, don't be deceived by the looks. The site runs extremely smoothly and well. At the time of review, we didn't have problems with framerate, streams loading, or pictures loading.
The categories of models are simple, clear, and it's easy to find the perfect model for what you're looking for. Hashtag searches pull up relevant models, including niche categories. Even with a quick overview, it was easy to see how the site functions, what the pay structures for tokens or subscriptions were, how to tip, and how to unlock shows that were private. Again, the simplicity of the site makes all of this very straightforward and very easy.
Cam Climax
Pros:
Tons of models catering to varying niches of sexual interest (including trans)
Site is simple and easy to use
There is a lot of free content, including full nude/sexual acts (it took us about 20 seconds to find a girl fucking herself to be viewed for free)
Low costs of tips allow for a wide range of users to interact without breaking the bank
Cons:
As with many cam sites, private shows are extremely expensive
Some categories of cams are not always populated or available
CamCrawler, much like Chaturbate, is simply a free cam delight. The content is wide and varied, allowing for pretty much anyone who is interested in watching cam models to find what they want. The amount of free content is staggering, and the number of features that are available, as well as model interaction, on a free account are extremely impressive. It is disappointing to see that Group shows were completely empty at the time of viewing, especially since that is advertised as one of the less expensive alternatives to private shows. In addition, there's not much of a discount in buying tokens in bulk, and if you're wanting to view private shows, it's easy to eat through $100 in hardly any time at all.
The private show pricing model aside, the tip structure on the site is fantastic. There are a number of private shows, spy shows, and community shows that can be accessed for less than 60 tokens, which is very affordable. You can tip as little as 1 token, which is a great, inexpensive way to interact with models. And finally, both the desktop and mobile sites run fantastically, and streams load quickly and run smoothly. An overall slam-dunk for customer satisfaction, as well as penile satisfaction. Happy visiting!
Visit Chaturbate