Camarads - camarads.com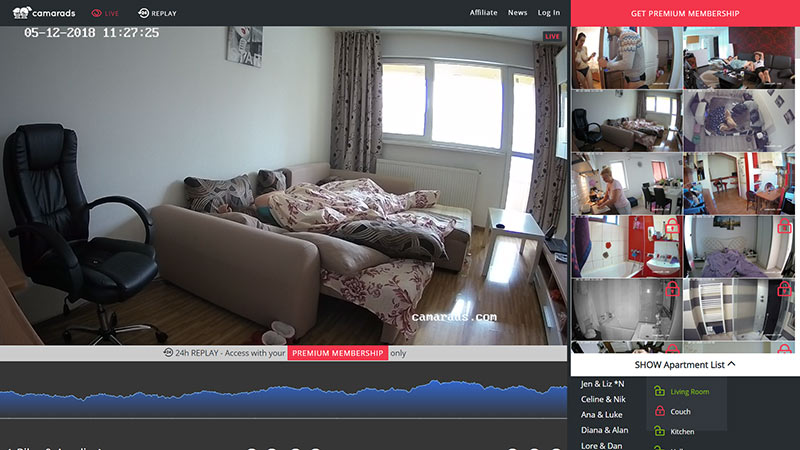 Camarads is a live voyeur cam style site, where couples (and their friends) live in wired apartments or homes, which stream live 24/7 to the site. This includes mundane activities, as well as all the hot, steamy action that happens in these attractive and active amateurs' natural lives. The site has features similar to most other voyeur-style sites, including multiple guest/free feeds (with the more attractive cams – such as bedrooms – requiring membership), 24 hour replay for members, and several other perks.
The site is owned by Caspa Ltd., the location of which is unknown. It appears they may be incorporated within the UK, though disputes are settled under the laws of Belize per the terms and conditions on the site, and the hosting is based in France, so it is a bit of an open question, like many similar sites' ownership. The site was launched in 2017, and currently has an Alexa ranking of around 20,000th globally across all categories based on traffic. It is most popular in Germany, where around 20% of its traffic comes from, ranking in the top 4,000 there, as well as being in the top 10,000 or better within the UK, France, and Italy.
Spy Stats
New couples and individuals come and go from participating in the site from time to time, as they are free to sign up, join, or leave at their will. At present, there are 15 couples/locations participating, almost all of which appear to be in Eastern Europe (GMT +2 time zone). Each apartment has between 5 and 10 cameras available, meaning there are just over 100 or so streams available. Free users can access 2 to 3 cams per location (usually living room, kitchen, and other such rooms), with members accessing the full range of listings.
The people on cam are all amateurs, though typically young (18 to 30s) and attractive, largely Eastern European it seems, with limited or no English being spoken on most feeds. They may not be on at all times, though the feeds remain active even when they are not home. They are paid by the site, earning from a pool representing 60% of all membership subscriptions to the site.
Camarad's Cost of Watching
Unlike some sites that have multiple levels of paid subscription membership, Camarads keeps it simple. You're either a free/guest without an account, or a premium, subscribing member with access to everything.
All of the major site features, including full access to all cameras, 1080p HD feeds, no advertising, mobile site features, and the 24 hour replay functionality all require a membership. Memberships are generally less expensive here than most of the other top voyeur cam sites, likely because of the relative newness of the service compared to some of the more veteran sites, so you get a good deal on price comparatively.
Memberships/subscriptions can be purchased with credit or debit card only at present.
| | | |
| --- | --- | --- |
| 30 Days | $29.90 | $1.00 |
| 90 Days | $74.70 | $0.83 |
| 180 Days | $119.40 | $0.67 |
Camarad's Features
The features of the site are pretty standard for any of these voyeur-style live cam streaming sites, and are relatively easy to understand and use. They include:
Both a visual browser of cam feeds as well as a list of couples/apartments and each camera available, both free and premium.
Full screen video streams, which are good quality for free users and HD for premium members.
Timeline-style access to the 24 hour replay function.
24 hour replay feature for members, allowing you to scan through and watch hot action from the past 24 hours that you may have missed (unless you're glued to the site 24/7 – hey, we won't judge!)
News and updates when new couples or people join, people leave, promotions are available, maintenance downtime, and so on.
Mobile site access allows members to keep tabs on their favorite participants on the go.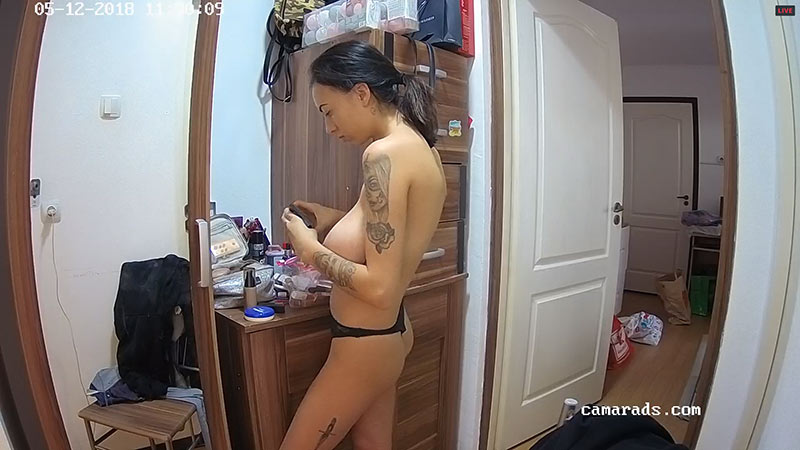 Performance
In terms of navigation and use, the site is pretty self-explanatory, and similar to most other voyeur cam sites. The main video feed is on the left, with a right-side panel offering thumbnail previews of other cameras, as well as a list of couples/apartments and the cameras available for each. Below the main video feed you'll find a timeline for navigating through the 24 hour replay (for members only), as well as the ability to toggle through streams and cameras directly there. You'll also find thumbnails from the timeline covering the last 24 hours on all feeds from all participants, allowing you jump directly to whatever part of the stream features hot and sexy action.
Performance is generally good, though streams do take a few seconds to load, which is often more noticeable here than on other comparable sites. Many of these types or sites are located in various locales in Europe, so it is understandable that the load time may be noticeable when connecting via the US west coast as we do. Ping time is between 70 ms and 160 ms in the US, which is not unreasonable, though slower compared to Europe (sub-20 ms for all European cities). Just be prepared to wait a few seconds when you load a stream or switch streams. The streams themselves are good quality, though, with good audio and video. Some definitely have lag and hiccups depending on your location, so we'd highly encourage you to try out the free cams before signing up for a membership, especially if you live far from Europe (e.g. US west coast). , to switch cams and feeds remotely (great for streaming to a TV or large monitor away from your computer).
Voyeur Verdict
Pros:
Good and varied selection of boy/girl and girl/girl couples
Easy to navigate, select couples or apartments, and select your cameras
Cam quality, especially for premium members, is quite good
Models/participants are amateurs, ranging from average to highly attractive in terms of looks
Lower pricing compared to other voyeur cam sites
Cons:
No models in North or South America, Africa, Asia, or Oceania at present
Most streams do not speak English, so it's not always easy to know what's going on (if you care about more than the sex part of things)
Premium membership is required for viewing all the good stuff, including the 24 hour replay, access to bedroom cams, and so on
There could be more features, biographical information, and other things of that nature to round out the experience
Camarads is a relative newbie in the voyeur cam field, but the pricing is cheaper than most of their competitors. They have an average number of models – some other sites have more, some less. Models are fairly good-looking, and there's a lot of nudity and action that goes down on any given day. The main drawbacks are time zone/location based, with all the participants being in Eastern Europe, with limited or no English spoken. The load time of streams is a bit noticeable for US residents – and may be laggy with buffering and hiccups depending on your location and the stream – some seem to work fine, while others have pauses to buffer and load every 15 seconds or so in our review. And, like all voyeur cam sites, all the good stuff costs money, in the form of a membership. On the whole, though, the somewhat lower price of membership here, plus no additional expenses required, mean for a budget-sensitive consumer looking for HD voyeur content, Camarads is definitely worth consideration. Just check out the free cams first, to verify that everything is working well and lag free for you based on your location, before you commit to a membership.
Visit Camarads