Cam7 - cam7.com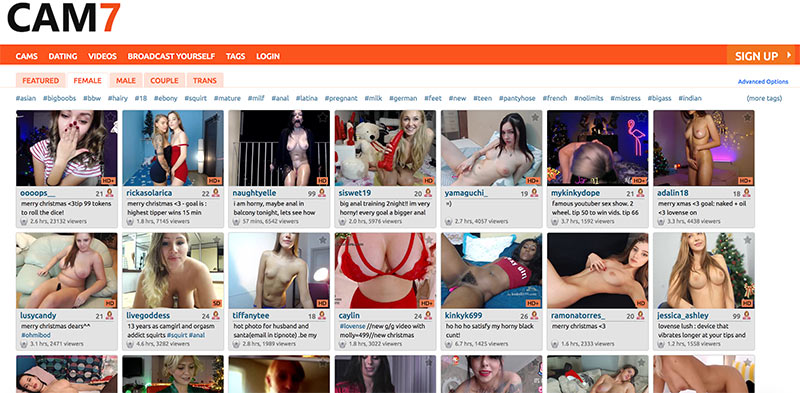 We recommend going to Chaturbate instead of this site. Cam7 is a white label of Chaturbate and the fastest growing Free Chat community on the internet. With thousands of broadcasters, high-quality cams, lots of browsing options, a user-friendly interface and no ads, you can see why the popularity of this site keeps growing.
As of December 2019 Cam7 is the 26,592th most visited website worldwide with the main visitors made up of viewers via Japan, the United States, the United Kingdom, Russia and Germany.
Cam7 Chat Costs
Cam7's models set their own prices so there is a lot of variation, as seen on most cam sites. For a private show you can expect to pay between $3 - $8 per minute so this can add up quickly! However, one thing about Cam7 is the massive amount of free access to hot content available on the site. You will find plenty of hot babes broadcasting sexy shows for free right from the homepage!
Cam7 uses a token system whereby you purchase tokens with a payment method of your choice and use these as currency on the site. However, to view the free content you do not even have to register, you can just jump right into some hot streaming action for nothing. Tipping is encouraged as always and once registered you can join in the chat rooms yourself. You do not have to provide an email address to register with Cam7. However, if you do provide your email address it will only ever be used for friend notifications, broadcast and payout reminders, newsletter and account verification.
Model Manifest
At time of this writing we found over 1800 female models streaming, over 1000 male, 145 couples and 225 trans cams, making Cam7 a site full of choice and diversity.
Cam7's Fucking Features
Cam7 features thousands of live amateurs broadcasting from home and obviously one of the main things that stands out straight away is the fact that you can watch thousands of super hot amateur cam girls, for free and if you want, totally anonymously. You can browse for hours and find amazing sexy content, for free, without even registering! Of course this only gets you into the free chat rooms shared with other users of the site, but you will have access to so many hot videos of gorgeous models, you may not be worried about communication.
When you click on a model's stream you access her full bio, which lets you know lots of info about them, real name, date of birth, body type, interests, locations and lots more. Some models also have a section that you can unlock with tokens which then grants you access to their more personal photos and videos. You can also find links to start a private show, get tokens and send tips.
For those of you looking for a more personal experience, you will need to register and then maybe choose to buy some tokens. When you want to interact with a model or start a private show you can make a selection from the available token options. In the chat rooms you can tip the models, which may help to get you noticed and into the good graces of the model, which may lead to them performing any requests you might have made. Some models also use sex toys that respond to tips, making for a fun and truly personalized, interactive sexy experience.
Next up the ladder you can pay for your own private show with the model, on a tokens per minute basis. This will be without the interruption of other chat room users and also means the model is far more likely to perform your desired acts!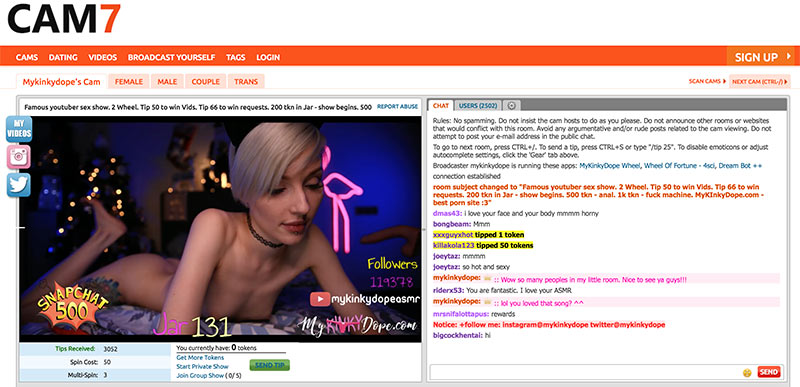 Sexy Systems
Cam7 is set out in a very easy to use interface, both on desktop and on mobile devices. You will find a large grid of cams on the homepage and you can click straight through into viewing on each one. It has a clear layout that makes browsing fun but finding more niche content easy as well. On the desktop site the unobtrusive top bar gives you options to navigate the main areas of functionality of the site – Cams, Dating, Videos, Broadcast Yourself, Tags and Login.
Below this, again unobtrusively, you can click straight through to Featured Cams, Female Cams, Male Cams, Couple Cams and Trans Cams. You can also view popular tags below here which will bring you straight to models broadcasting videos with that specific content, making it easy to jump to models with tags such as big boobs, BBW, MILF, squirt, mature, hairy, 18, ebony, anal amongst many others! This site makes it easy to find the sort of content you are looking for.
Scrolling to the bottom of the homepage you can find lots more popular varieties of free cams categorized by various interests. There are age groups including Teen Cams 18+, up to Mature Cams 50+. Then free cams categorized by ethnicity with titles such as North American cams, Euro Russian cams, Asian cams and South American cams.
You can also find here Free Cams by Status – Exhibitionist cams, HD cams, Private Shows, Group Shows and New cams. There is also an option here to navigate to paid for Private Shows categorized by cost per minute, which makes it easy to stay within your budget if you are purchasing and using tokens on the site. Finally you can also switch languages from the English, German and Spanish options available.
The main areas that Cam7 Offers are the cams and the Broadcast Yourself section. In the cams section you can brown through thousands of hot and sexy videos and then if you like, move on up to a private show. The majority of the broadcasters on Cam7 are using HD cameras, and each model screen has an icon on the bottom right that tells you what type of camera resolution the model is using, which makes things clear about what quality you can expect. There are a few broadcasting in SD resolution but many offer options for streaming which can often peak at 1080p meaning that you can see everything down to the super fine details. There are no ads on the homepage or each individual cam page, making this site streamlined and free of irritating ads.
Cam Climax
Pros:
Loads and loads of quality, free content
Thousands of models
No ads
Easy to navigate
Simple and well designed site
Great for browsing or more specific searches
Cons:
Private shows get expensive very fast!
Visit Chaturbate