Asians247 - asians247.com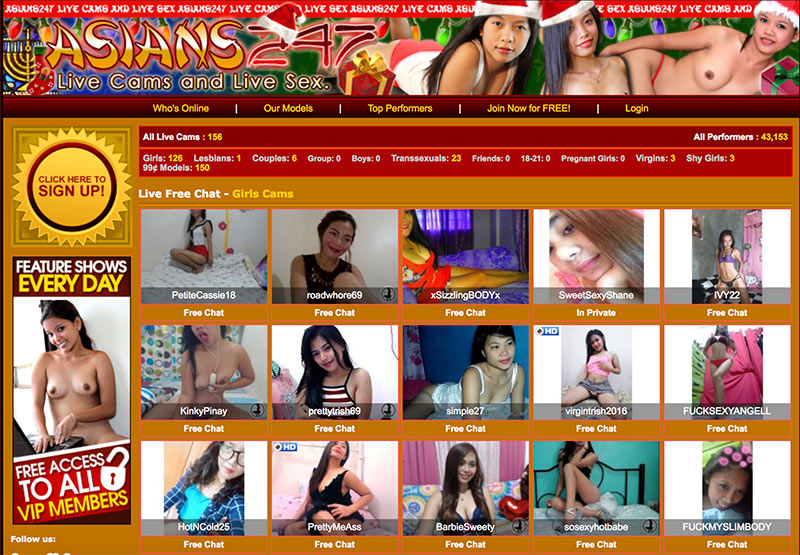 Asians247.com has been around since 2005. This cam site is part of the CamDough network, which includes AsianBabeCams.com, ChatHostess.com, Cams247.com, HoneyDolls.com, and LadyBoyCams.com.
As of January, 2019, Asians247 is the 244,660th most-visited website worldwide, the 123,963rd most-visited website in the US, and the 12,154th most-visited adult site. Its Alexa ranking is 194,964, and its highest national Alexa ranking is in the UK, where it ranks 13,163rd. 34% of users are from the US, 10% are from the UK, 9% are from Australia, and 7% are from the Philippines.

Asians247 Chat Costs
Models on Asians247 set their own rates for paid shows. These shows include:
Members-only shows are similar to other sites' group shows. Users tip a minimum amount, and the show begins once the model's goal has been met. Members have the option to join a show in progress by giving the minimum tip.
Private shows provide one-on-one access to the model's chat, including Cam2Cam access for most models. These shows bill on a per-minute basis, so it's best to chat with the model beforehand to make sure you know what you're paying for.
In a voyeur show, you get to watch someone else's private show, but you can't interact with the model or access Cam2Cam. This is generally the most inexpensive type of show.
Payments on this site are in real world currency. There is no token system and no math, which we appreciate. While models are supposed to set their own prices, we found uniform results throughout the site. That said, the prices were extremely low, far below most cam sites.
| | | |
| --- | --- | --- |
| Members Only Chat | $0.99 | $4.95 |
| Private Show | $0.99 | $4.95 |
| Voyeur Show | $0.69 | $3.45 |
Public chats on this site are free, but there's not much going on there. The action is all in the paid shows.You can use either PayPal or a credit card for payment, and the minimum buy-in is $19.95. All streaming charges are opt-in. A prominent banner is displayed warning that you're accessing a paid feature, and you have to click a button to confirm.
Asians247 also has a VIP pass. This unlocks all pre-recorded videos across the site, and gives you free access to streams from models who participate in the VIP program. Prices for a VIP vary depending on how long of a membership you buy. An entire year will run you $95.40, or $7.95 a month, while a single month's membership costs $19.84.
Autobill Warning: VIP passes automatically renew when they expire. Make sure to change your settings to prevent this, or you may find yourself paying far more than you intended.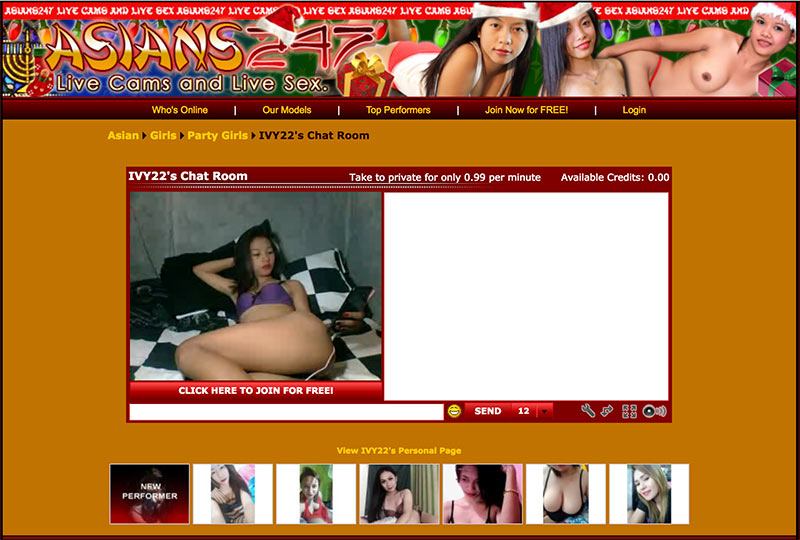 Model Manifest
There are a total of 43,153 models on Asians247.com, with 166 models online at the time of this writing. 139 of these models were solo female, 19 were transsexual, 1 was a lesbian couple, and 7 were straight couples. This site does have over a thousand male models, but none of them were online when we wrote this review.
As you may have guessed, Asian247's models are strictly Asian. We're guessing you're okay with that, since you're reading this review. From what we've seen, this site should appeal to straight men and lesbians who want to jerk off to hot Asian girls. Straight women and gay men won't find much here to excite them.
Asians247's Fucking Features
Asians247 offers three types of paid shows, as well as other features including:
Free, non-nude public chats.
Members-only shows similar to other sites' group shows.
Private Shows with one-on-one cam access.
Voyeur shows let you watch another user's private show, but not interact with the model.
VIP Membership unlocks tons of premium content.
Cam2Cam available for private shows.
Users can purchase pre-recorded shows for $1.99-$2.99.
Model profile pages with preview images, fetishes, schedules and premium videos for purchase.
Minimal advertising.
Sexy Systems
Asians247.com loads slowly, and we're not sure why. The front page is similar to other cam sites, with a thumbnail-based layout. Tags on the thumbnails will let you know whether the model is in public or paid chat, but mousing over them won't give you a preview. When you click on a thumbnail, it loads the model's live chat. If they're in a paid chat, you'll be prompted for payment at this time.
All models are shown on the main page by default, but you can filter by gender by clicking the categories on the top of the page. Other search features are limited, but many of the traditional tags like hair color and ethnicity aren't really needed on this site.
The chat rooms are flash-based, which makes them load slowly and requires special permissions. This also cripples an otherwise well-scaled mobile site, since iPhones and some Android phones won't run flash.
When it comes to video quality, the old saying "You get what you pay for" applies here. Many of the model streams are highly pixelated and have no sound. Others have poor internet connections with tons of lag. Even when you find a model with a good camera and connection, you'll be watching a tiny video screen that's smaller than the text chat box.
Because most features are paid, the only advertising on Asians247 is for the site's VIP program. These ads are minimal, and won't distract you from the models.
Cam Climax
Pros:
Payments in real money - no tokens
Low, low prices
Minimal advertising
Accepts payments by credit card or PayPal
Cons:
VIP membership automatically renews
Low video quality
Won't work on most mobile phones
Asians247 is a bare-bones site that does one thing well; it delivers you hot Asian girls at low prices. The video quality tends to be sub-par, but with the large selection of models there are still plenty of good cams available.
Visit Asians247