AsianCamModels - asiancammodels.com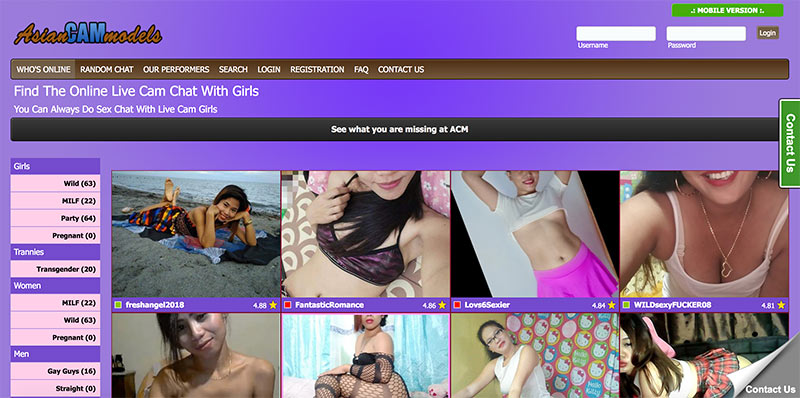 AsianCamModels.com is an established cam site founded in 2004 by Las Vegas-based Interactive Management Systems Inc. IMS has since been rebranded as Labuyo, Inc. The site appears to be affiliated with AsianCamSex.com, since both have the same layout and active models.
As of January, 2019, AsianCamModels is the 68,463rd most-visited website worldwide, the 94,549th most-visited website in the US, and the 4,339th most-visited adult site. Its global Alexa ranking is 145,850. It's also the 21,808th highest-ranked Alexa site in Germany, where it's far more popular than anywhere else. Leaving behind the world of freaky German Alexa porn, 50% of mobile and desktop users came from the US, with 8% from Canada, 4% from the UK and 4% from France.
Chat Costs
AsianCamModels is a minimalist site, with only one type of paid show.
Private shows are one-on-one sessions with the model. Cam2Cam is available if the model has that feature enabled. Since these are paid sessions, it's a good idea to chat with the model first to make sure you're on the same page.
All shows require the user to specifically approve charges, which are paid in credits. Credits can be purchased with credit card or GoCoin. Most packages will run you $1.00 per credit. The exception to this are the bulk purchases through NetBilling, Inc, which net you 10 percent bonus credits.
| | | |
| --- | --- | --- |
| Credit Card - Epoch or CCBill | | |
| 25.00 Credits | $25.00 | $1.00 |
| 50.00 Credits | $50.00 | $1.00 |
| 100.00 Credits | $100.00 | $1.00 |
| Credit Card - NetBilling, Inc | | |
| 25.00 Credits | $25.00 | $1.00 |
| 50.00 Credits | $50.00 | $1.00 |
| 110.00 Credits | $100.00 | $0.91 |
| 165.00 Credits | $150.00 | $0.91 |
| 275.00 Credits | $250.00 | $0.91 |
| 550.00 Credits | $500.00 | $0.91 |
| GoCoin | | |
| 25.00 Credits | $25.00 | $1.00 |
| 50.00 Credits | $500.00 | $1.00 |
| 100.00 Credits | $100.00 | $1.00 |
We visited several chat rooms on the site to get an idea of pricing. While the models set their own rates, there isn't much variation. Private chats will cost you 1 to 2 credits per minute across the board, which is extremely cheap compared to other cam sites.
| | | | |
| --- | --- | --- | --- |
| Private Show | 1-2 | $0.91-2.00 | $4.55-$10.00 |
Public chats are free. You can use these to chat with the model and discuss what they're willing to do in private, but the site's Terms of Service forbid nudity in public chats. Sorry, lurkers.
Videos are available for purchase, but not for download. Most of them cost 2 credits, and are under 10 minutes in length. There's a pay-per-view option that's even cheaper, but you only get to watch these videos for a single session. There are no monthly fees, and there's no automatic billing of any kind.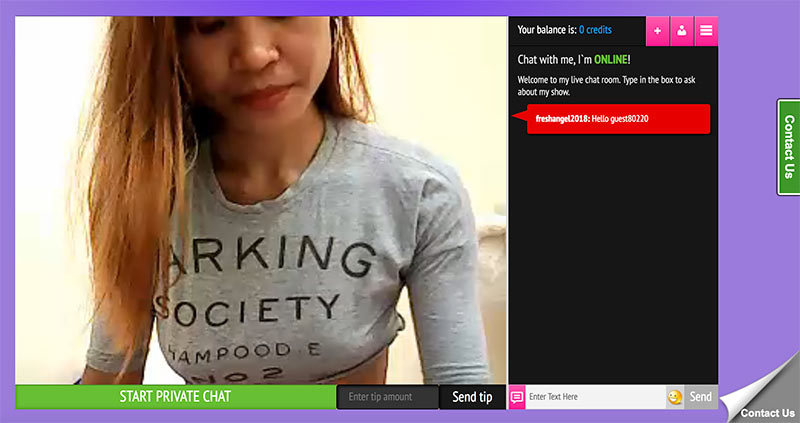 Model Manifest
At the time of this writing, there were 84 models currently streaming on AsianCamModels.com. Of these, 43 were solo females, 20 were transgender, 18 were gay guys, 1 was a straight guy, 1 was a straight couple and 1 was a threesome. No information was available on the site's total number of models, but it seems to be in the tens of thousands.
While there's definitely something here for everybody, this site is geared mostly towards men of all orientations. Lesbians and women who like transsexuals will also find plenty to watch. Needless to say, all of the models appeared to be Asian.
Fucking Features
AsianCamModels has fewer features than most cam sites, but the features it has work well. These include:
Free, non-nude public chats with the ability for users to tip models.
Private shows that give exclusive, one-on-one access to the model's cam.
Cam2Cam access for most private shows.
Videos available for purchase, with prices set by individual models.
Pay per view video rentals.
Users can send private messages to models or other users.
Users can add models as favorites.
Model profile pages with their regular schedule, preview videos and images, and videos for purchase.
No monthly fees.
Minimal advertising.
Sexy Systems
When you first visit AsianCamModels.com, you'll be asked to sign up for a free account. You can skip this step if you want to go straight to the home page, but it only takes a few seconds and you'll need an account if you want to buy credits.
The home page is a simple, tile-based layout that displays thumbnails of online models. Mousing over these thumbnails will allow you to see a preview image of the model's current stream. The only advertising is a single banner ad for AsianCamSex.com, an affiliated site.
All models are displayed on the home page by default, but you can filter by gender via the left sidebar. The site's advanced search feature allows you to filter by time on the site, gender, age, language, body type, hair color, and other categories. On desktop, this wasn't even necessary, since it was easy enough to just scroll through the 84 models.
What really hurts AsianCamModels is the video quality. You'll need to enable flash, which is bad enough, but the streams are all badly pixelated with high latency and tons of lag. Most of them don't even have sound.
The flash-based chat rooms are a particularly bizarre choice since the mobile site has a modern, flash-free layout. The site scales well on mobile, and looks cleaner and more modern in general than on desktop. AsianCamModels' video store is reasonably-priced, although it doesn't allow you to download videos. The pay per view store is a very nice addition.
Cam Climax
Pros:
Low prices
Mobile site scales well
Unobtrusive ads
Cons:
Poor video quality
Flash-based chat rooms
AsianCamModels is a minimalist site that does just enough to deliver what it promises. None of the good content is free, but it's all reasonably priced. The mobile site looks better than the desktop site, which could use some modernizing. The site's features work well and it's competently designed, so it's unfortunate that video and sound quality are extremely bad. Still, it's a decent niche site if you're really into Asian models.
Visit AsianCamModels