AsianBabeCams - asianbabecams.com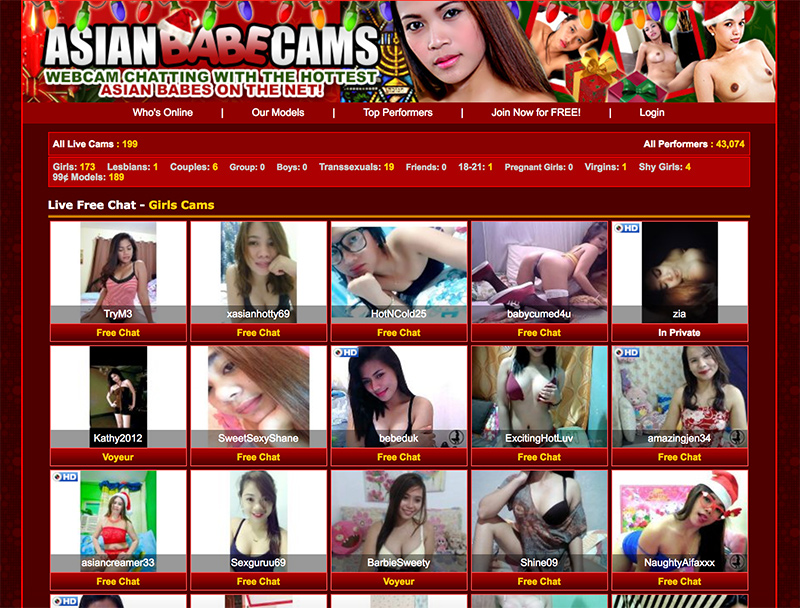 AsianBabeCams.com is an established site, first registered in 2002. Since December, 2017, they have been part of the CamDough network of sites, along with their other affiliates Asians247.com, ChatHostess.com, HoneyDolls.com, and LadyBoyCams.com.
As of December, 2018, AsianBabeCams is the 351,884th most-visited website worldwide, the 144,754th most-visited website in the US, and the 16,117th most-visited adult site. Its Alexa ranking is 1,093,106, and its US Alexa ranking is 350,387. 38% of the site's users are from the US, 16% are from the Phillippines, 15% are from India, 10% are from Japan and 10% are from France, accounting for 99% of the site's traffic.

AsianBabeCams Chat Costs
While AsianBabeCams' FAQ states that prices are set by individual models, we checked a large selection of models and all of them seemed to have exactly the same prices. In addition to models' free public chats, there are 3 types of shows:
Members only chats are restricted to site members, and charge on a per-minute basis. These are similar to other sites' paid group shows.
Private shows allow you to have one-on-one access to the model's chat, as well as Cam2Cam access if the model offers this service. Other users will still be able to view the model's cam in voyeur mode, but will not be able to interact with the model.
Voyeur shows allow you to watch a model's cam during a private show. These shows are the cheapest option, but do not allow you to interact with the model.
AsianBabeCams' models accept payments in real-world currency. There is no token system, so the prices are transparent. Below are the rates we've found from a variety of models. Note that while we couldn't find any models with different prices, the site's FAQ states that prices may vary by model, so your experience may differ from ours. Nonetheless, the per-minute price is well below what you would typically expect from a paid cam site.
| | | |
| --- | --- | --- |
| Members Only Chat | $0.99 | $4.95 |
| Private Show | $0.99 | $4.95 |
| Voyeur Show | $0.69 | $3.45 |
No membership is required to join public chats, but all other shows are paid. The site accepts payment via credit card or PayPal, although the minimum buy-in is $19.95. The site also has a VIP pass, which unlocks premium streams for no extra cost. Prices for a VIP pass run from $7.95 a month for a year's membership to $19.84 for a single 30-day membership.
Autobill Warning: VIP passes are set to automatically renew upon expiration. If you want to avoid this, you'll need to change the settings in your account after purchasing the VIP pass.
Model Manifest
AsianBabeCams has a total of 43,074 models, with 227 models online at the time of this writing. 200 of these models were solo female, 3 were lesbian couples, 7 were straight couples, and 17 were transsexual. Although the site does have over a thousand solo male models, none were online at the time of this writing. Based on this, we would recommend this site for straight or bisexual men and lesbian or bisexual women. Straight women and gay men would be best advised to look elsewhere.
As advertised, all of the site's models appear to be Asian, so you know you're going to find what you're looking for.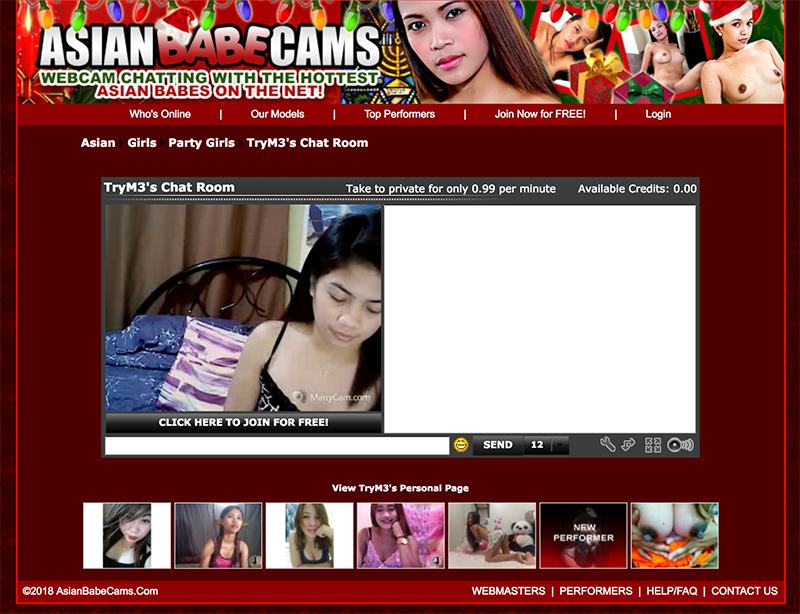 AsianBabeCams' Fucking Features
AsianBabeCams offers members-only shows, private shows and voyeur shows at a low price. Features include:
Free, public chats with optional tipping.
Private Shows, charged on a per-minute basis
Voyeur shows allow you to watch a private show for a lower per-minute price, but with limited chat access.
VIP Membership option for site-wide access to private videos and designated premium streams.
Cam2Cam available for private shows.
Ability to purchase recorded cam shows for $1.99-$2.99 apiece.
Model profile pages with details, preview pictures, preview videos, and the ability to add models as favorites.
No ads.
Sexy Systems
AsianBabeCams.com loads slowly compared to most sites. The front page features a series of thumbnails displaying the profile pictures of currently-active models. A banner on the images indicates whether the model is in public chat, members-only chat, or a private show. Clicking these images will load the model's chat room, and request authorization for charges when applicable.
Search features are extremely limited, only allowing the user to filter solo females, groups, lesbian couples, straight couples, transsexuals and solo males. There are no options for fetishes, which would be appreciated, but the site doesn't really need filters for hair color, eye color, ethnicity, or anything like that, so we didn't miss those features. After all, you probably didn't come to AsianBabeCams to find a Swedish redhead to wank to.
The chat rooms suffer from a clunky, flash-based interface that has high latency, low framerates, generally poor sound quality, and requires special browser permissions on most modern machines. In addition, its reliance on flash means it won't run on iPhones, and will only run on certain Android devices. There is no mobile interface of any kind - your phone either runs the desktop version of the site, or it doesn't.
Because most features are paid, this site has no popups, banner ads, or advertising of any kind.
Cam Climax
Pros:
Real currency transactions
Low prices compared to other sites
No ads
Ability to use a credit card or PayPal
Cons:
No download option for model videos
Autopay enabled for VIP Membership
Limited mobile support
Lower quality video than most cam sites
AsianBabeCams is a bit of a mixed bag. While the flash-based chat rooms are clunky and video quality can be poor, their prices are among the lowest we've seen. It's a great option if you have a fetish for Asian girls, since that's all you'll find here. If you're looking for other kinds of models, or if you prefer HD video, there are much better sites out there.
Visit AsianBabeCams