Arousr - (arousr.com)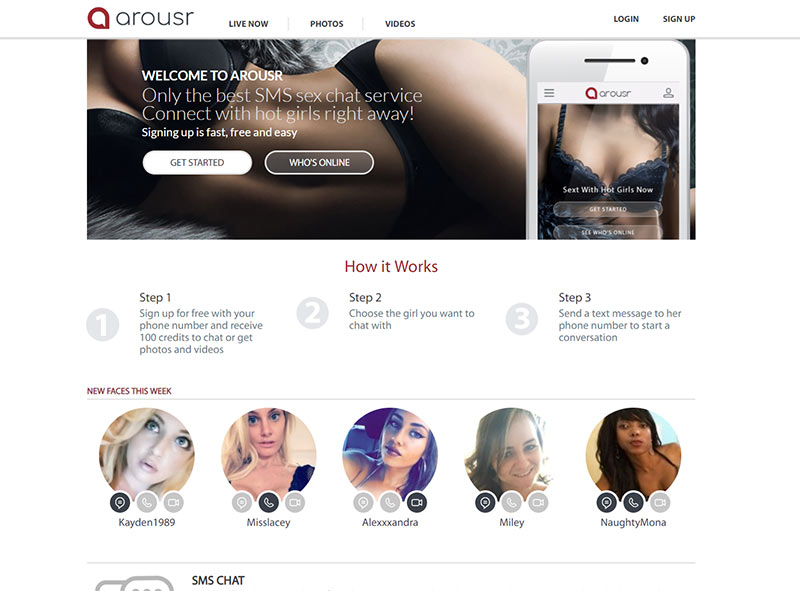 Arousr is an interesting service that bridges the gap between cam site, phone sex, and sexting, all in one convenient package. Users can utilize their mobile smart phone, tablet, or laptop/desktop computer to access various services with live, real amateur hosts. In addition to sexting, phone sex/audio chat, and video chat options, there are free pictures and videos, along with model pictures and videos that are available for purchase via the site's currency - credits.
Arousr is a stand-alone site and service, based in Canada, and is not affiliated with any particular porn studio or site network. While in the top 500,000 sites globally by traffic (all categories), they are extremely popular in Canada, in the top 30,000 or so by traffic.
Costs
The site uses a credit system, which will be familiar to anyone who has frequented a webcam site or similar service before. Credits allow for the purchase of pre-recorded videos or photos from models, as well as participation in sexting, audio chats, or video chats. Sexting charges credits based on messages sent from the hosts (with a limit of 3 messages without your reply, so there's no worry about your account balance being drained). Audio and video chats charge credits on a per-minute basis, comparable to most typical cam sites.
Depending on your country, credits can be purchased in a number of different ways. For US users, Google Pay, Apple Pay, and credit or debit card are available. For Canadian users, you can use any of the aforementioned methods, and also pay via your mobile carrier (though the service record will then appear on your phone bill), or through Interac Online. UK users can also pay with the same methods as the US, and via mobile carrier (again, service records of the transaction will appear on your phone bill). Western Union payments are available worldwide, though you must contact customer service for instructions.
As we are based in the US, we were only able to validate credit costs for US customers/payment methods, as we've outlined below. As always, the best option/package is highlighted in green, while the most expensive is highlighted in red.
| | | |
| --- | --- | --- |
| Credit Card | | |
| 300 Credits | $16.95 | $0.0565 |
| 600 Credits | $34.95 | $0.0583 |
| 1000 Credits | $54.95 | $0.0550 |
| 2000 Credits | $100.00 | $0.0500 |
| Google Pay or Apple Pay | | |
| 300 Credits | $18.95 | $0.0632 |
| 600 Credits | $38.95 | $0.0650 |
| 1000 Credits | $59.95 | $0.0600 |
| 2000 Credits | $109.95 | $0.0550 |
Credit or debit card purchases are the most economical, with credits working out to be roughly 5 to 6 cents each. Google and Apple Pay have slightly higher fees, and hence higher costs for credits. How does this translate into costs for the different services on the site? Sexting uses a fixed rate of 10 credits per message from the model, but only in premium mode (explicit content). Chats start out as free, and you're informed before moving to a premium mode. Voice chat uses a per-minute rate of 28 credits per minute. Video chat uses a per-minute rate that is variable and set by the models, averaging 90 to 100 credits per minute.
| | | | |
| --- | --- | --- | --- |
| Sext | 100 Total | N/A | $5.50 |
| Voice Chat | 28 | $1.54 | $7.70 |
| Video Chat | 90-100 | $4.95-$5.50 | $24.75-$27.50 |
The costs of picture or video purchases are set by the models on a per-picture or per-video basis. They are a flat fee rather than per-minute, however. And once unlocked you retain access to them indefinitely. From what we've observed, typical costs range from 10 credits to several hundred credits for photo purchases (averaging 10 to 20 credits in most cases), and 20 to several hundred credits for video clip purchases (averaging 200 to 500 credits in most cases). One minor quibble we have with this feature is that, in most cases, videos are listed as "New" instead of showing the duration, so it's hard to know what kind of value (cost per length of content) you are getting. Hopefully this will be updated in the future.
But in terms of the three chat types and their costs, there's really no way to compare sexts against other services, since that's not something most traditional cam sites offer per se. Voice chat and video chats are fairly comparable in overall costs to most other cam sites, with voice chat being around 1/3 to 1/4 of the cost of a video chat, and video chats being priced per minute similar to most other sites. And, like many other cam sites, you can also tip the models, in any chat type.
Chat Hosts
At present, Arousr has a fairly limited catalog of chat hosts compared to traditional cam sites. At the same time, you can do a lot more, and develop a much more authentic relationship with the hosts at Arousr. It's definitely a different type of service, and the fact that there isn't a massive list of hundreds of models on at once doesn't detract from the quality of service you can get here. During "off hours" for the UK and North America, there are still usually 10 or so chat hosts on, and peak times can see double that. Models choose if they wish to upload photos or videos for free, or for sale, and what kinds of chats they are available for at any particular time. All Arousr models are currently female only, targeted primarily at the heterosexual male audience. The models we interacted with were quite attractive and sexy. They spoke and wrote well in text and audio chats. Video chat quality varies and is based on the model's camera or phone quality, but is comparable to the variance you'll find on most other webcam sites.
Service Features
Arousr offers various services on different platforms (see Tech Compatibility, below). In total, the services offered include:
SMS messaging sexts with models
Voice chat with models
2-way video chat with models
Free pictures and video clips uploaded by models
Pictures and videos available for credit purchase
Favorites list
Model tipping
Customer reviews for each model
100 free credits just for signing up (approximately $5.50 in value)
Tech Compatibility
The way in which you access Arousr services can vary depending on your smart phone device and/or what you want to do. In brief, the three primary services can be accessed as follows:
Sexting/SMS Chat
Android – download and install Arousr app
iPhone – use normal SMS to number shown on Arousr site for model of your choice
Voice Chat
Android – download and install Arousr app
iPhone – click the voice chat icon on the site from any device, and it will initiate a call back on your registered phone number for your account
Desktop/Laptop/Tablet – see iPhone instructions, above
Video Chat
Android – download and install Arousr app
iPhone – not supported at this time
Desktop/Laptop/Tablet – click the video chat icon on the site from within your browser, and it will initiate the voice chat interface. Optimized for Google Chrome.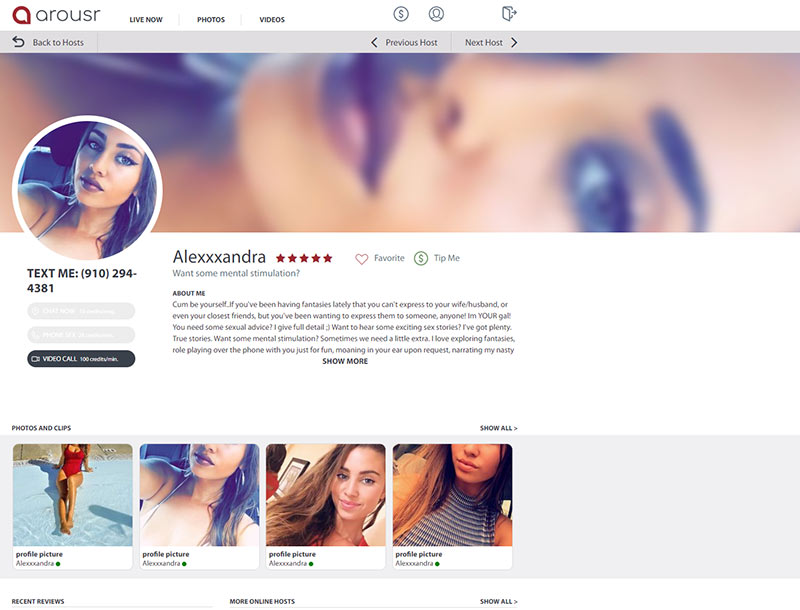 Conclusion
Pros:
Unique site and service that's distinct from the usual webcam or porn experience
One of the only services around we know that offer sexting and voice chat in addition to video chat
Pricing structure is reasonable
Credit costs and service costs are comparable to, or slightly below, what most other webcam sites charge (at least in the context of video chats, it's hard to compare the other options since most providers don't offer them)
100 free credits (approximately $5.50 in value) just for signing up, no purchase required
Cons:
Private show costs can add up quickly
Not the kind of massive model catalogs you'll find on other webcam sites
None of the kind of typical webcam site features within chats (e.g. interactive toys, etc.)
Arousr is definitely a different take on interacting with hot, sexy girls online. It's not quite the same as a traditional webcam site – but that's not a bad thing! The catalog of models is fairly limited compared to major cam sites. But, that said, the girls that are available are quite attractive, and being able to sext, voice chat, or video chat provides a closeness and intimacy that you don't find on most webcam sites. Video chat prices are on par with or slightly better than most other webcam sites, and other features generally cost less than the video chats, so it's quite reasonable. With 100 free credits just for signing up, and several sexy hosts on at any given time, there's no reason not to give Arousr a try, for a different, more erotic chat experience.
Visit Arousr