Anywebcam - anywebcam.com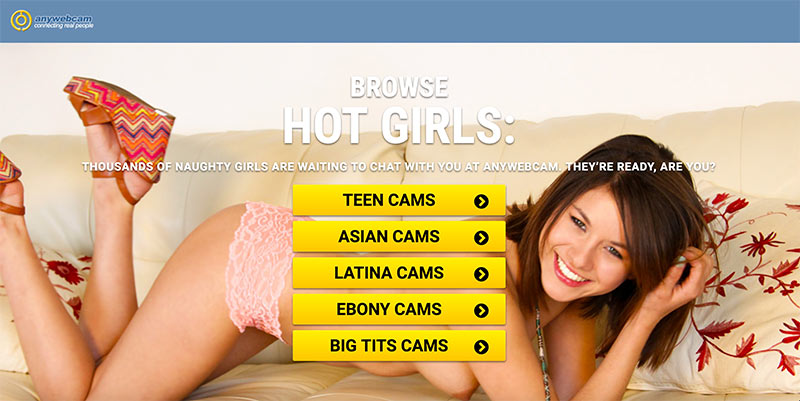 Anywebcam.com is a free cam site that puts a lot of effort into allowing the user to find exactly what they want. You'll find models categorized by niche interest, geographical location, and even by what language the chat is in. The site appears to be independent, though you'll find that its format and features can be found on a variety of cam platforms.
Anywebcam.com Chat Costs
If you're curious about what the costs might be before you hook up a credit card to your account, you're going to have to do some digging. Clicking on giving "gold" to a performer or attempting to go into a private chat won't reveal pricing. Instead, it will prompt you to create a "free" account. After you setup the account, you're then prompted to enter credit card information (before pricing is disclosed).
You'll have to dig into the faqs of the site (or talk to a customer service rep, like I did). The site uses a currency they call "gold," which can be purchased at a rate of 1 unit of currency per 1 gold (that's regardless of the currency you're using). Then, the gold can be used to tip models, as well as help models reach "gold show goals," which allows contributors to see a more enticing performance.
Block sessions are also available for purchase (though the amount of block sessions that can be purchased appears to have some sort of daily limit). The block session discounts are as follows:
5% off 15 minutes
10% off 30 minutes
15% off 45 minutes
20% off 60 minutes or more
The rate at which you're receiving a discount varies from model to model. Some models have their pricing posted, other's do not. Besides that, there doesn't appear to be any other costs associated with the site. Lucky you.
Model Manifest
There appears to be a large selection of models that are online at any given time, which is always welcome. What's more, is that the site has gone through the effort to categorize their models by several different means. All models are divided into men and women, and they are further divided based on niche interest. On the left of the home screen, you'll find a long list of categories that each model is categorized into (ebony, feet-fetish, granny, etc). Models are also sorted by where they're broadcasting from (so if you have an African itch to scratch, you can select models from there), and it appears that the categorization works well.
Anywebcam.com also has a category of "new" models to the site, if you're looking for fresh meat, as well as a calendar of events that their models will participate in (one event we saw was "Squirtmania," which we can only assume is a vigorous water-gun fight between models).
You can even sort models by what language they have their chat set to. We wouldn't want to be writing about how hard our dicks are in a language the model doesn't understand, do we? The travesty.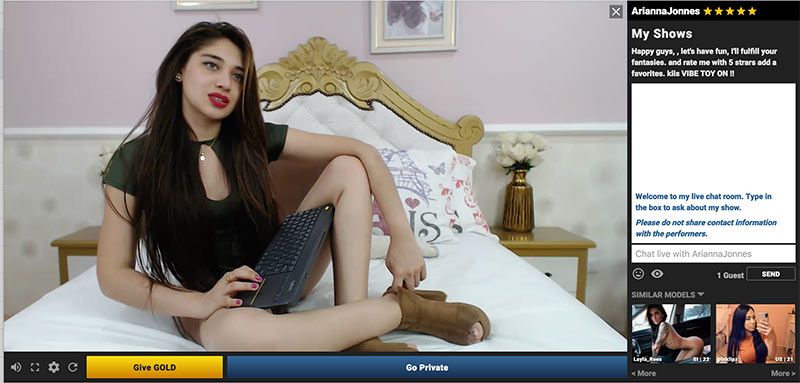 Fucking Features
The features on anywebcam.com are pretty robust for a cam site:
Free chats, both public and private
Ability to tip models with "gold"
Private Shows
Block Session Pricing
Decent mobile site
Very thorough, specific model searching based on niche interest
In-depth model Biographies, including location, sexual orientation, age, and public/private videos, sexual orientation, language, kinks, schedule of performance, etc
The model biographies are particularly thorough on anywebcam.com. The schedules are posted and clear, and a ton of personal information (but not too much personal information) is available about the model. It's almost like you'll know them before you ask them to shove a dildo in their ass. True friendship!
Anywebcam.com's Sexy Systems
The site seems to work smoothly without any glitches or bugs. The categories appear to actually sort models (so no teens in the granny section, for example). The thumbnails, unfortunately, are not true thumbnails, in that they do not show what the model is doing live at the time.
Cams loaded quickly and ran smoothly (and you can search by the quality of cam as well). HD cams were plentiful and loaded quickly. Overall, the site is well built, well organized, and runs great.
Cam Climax
Pros:
Plenty of models to choose from
Fantastic categorization of models allows for niche interests to be found
Well designed site, and a decent mobile site
Very detailed model biographies
Cons:
No free nude/sexual content. Most models are just sitting clothed waiting for a gold or private show
Very expensive to interact with models beyond free chats
Large portion of the site's costs are obscured
Having to connect a credit card to even create an account is problematic
Anywebcam.com has fantastic architecture and the potential to be a fantastic cam site. However, it really falls flat in both content and pricing. We viewed about 15 different model cams, and literally, none of them were doing anything besides sitting. Their biographies claim tales of sexual exploits and dark desires, but if we're just judging on what they were doing on cam we'd assume they were at church. This site is very clearly only for paying customers.
And not only paying customers but customers that have a lot of cash. The minimum you can tip is $1, which is pretty steep as far as cam sites go. The private show pricing is completely obscured (again, due to us not connecting a credit card), but it's likely a safe assumption that it gets pricey very, very quickly.
If you've got a lot of money to spend, the site will likely treat you well, as it is otherwise a very well constructed, taken care of site. Otherwise, pack up the peen and head on to the next wank-venture, because this site is going to bleed your wallet dry.
Visit Anywebcam.com