321sexchat - 321sexchat.com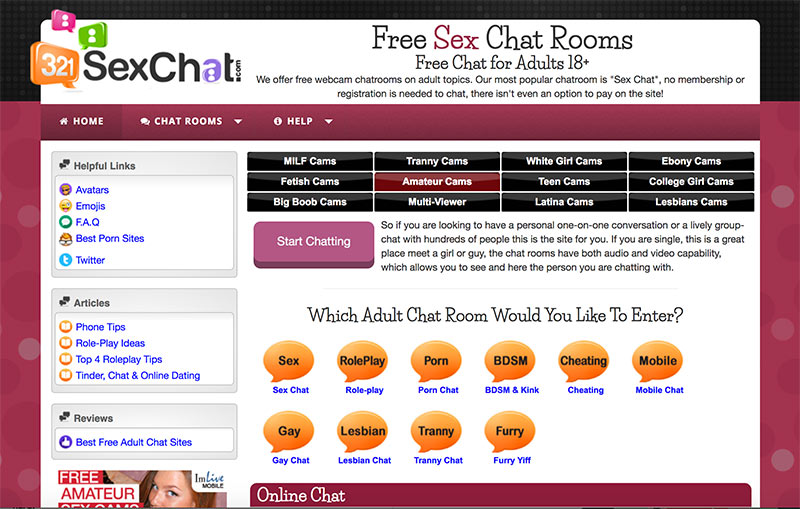 What happens when you hump together adult content and chatrooms? You get 321sexchat.com. That's right, my friends. Here's a great way to interact with fellow sex-connoisseurs . . . for FREE. If you are familiar with the name "321chat," that's because its parent domain has been around since 2002. Back then, 321chat had sub-domains like 321seniorchat and 321kidchat. In 2013 the company decided to consolidate most of its sister sites, although it appears that 321sexchat has been around since 2004. 321sexchat is actually the second-most active sex chat site online, so its always possible to find people to chat with.
While a very user-friendly homepage, its layout sort of takes you back to the days of Instant Messenger. And maybe that's the idea. After all, this is a website devoted to chatrooms. To be honest, the site has a very basic layout, which allows for quick maneuverability when you simply want to jump into a BDSM chatroom and start jacking it.
To the left of the homepage is a simple directory, including links to their Twitter feed and reviews. The meat of the page is its ten categories to choose from, such as: RolePlay, Gay, Tranny, and even Furry. These ten categories are owned by 321sexchat; they appear as yellow-orange chat bubbles. Above these chat bubbles are twelve additional categories (MILF Cams, Big Boob Cams, etc.), but if you click on one of these black tabs, you are taken out of 321sexchat and redirected to imlive.com. Which makes you subject to this site's rules, etc.
If you want to stay on 321sexchat, make sure to either click on one of the chat bubbles (there's ten in all) or click on the big purple button that says, "Start Chatting." From here, you are given 175 different categories. I know this because I actually counted them all.
Okay, this site gets Cool Points for the simple fact that there's an ENORMOUS list of categories to fit your fetish fancies. And there's even themed ones! Some of these categories are: Pirates Treasure, Pink Blossom Bath House, Gorean Library, Adult, BDSM, and even DnD! I'm personaly very fond of a twist between Dungeons and Dragons and titties.
Want to hear about another Cool Point for 321sexchat? Not only is it FREE, but you can also join the chat rooms anonymously! Yes! A lot of people often get embarrassed or shy because of their taboo interests, especially when joining an online community of potentially thousands of random people. But don't be discouraged. You don't have to create an account and cast yourself into a spotlight as you play out your favorite sexual fantasies. Instead, simply sign in with a username of your choosing. Or, if you do want to sign up, you can do that, too! This site has got options. It's as flexible as Dillion Harper bending forward and taking a massive cock to that tight ass of hers.
There's only a minimal nuisance of advertisements going on. At the bottom-left of the homepage is a tiny ad, but compared to a lot of other sites, 321sexchat is pretty good about keeping these to a minimum.
321sexchat Costs
Costs? What are those? This site is completely free, if you want it to be. There is an option to "pay" for VIP privileges, but this is most critical if you want to create and maintain your own chat room. I use the word pay in quotations, because you make a one-time donation to 321sexchat to unlock its VIP features. After this, you become VIP for life!
You can only find the VIP option for payment on the left side of the chat room screens, or if you go into the F.A.Q., like I did. You'd think they would make it easier for people to find this feature to monetize their site by making a huge VIP button on its main page.
In my opinion, the VIP features don't justify giving up a Thomas Jefferson bill. The only real differences are that you get some nifty bells and whistles like special Emojis and name tags, more font colors to choose from, and the ability to save chat threads. But, again, it's just a one-time thing. So maybe it's worth it.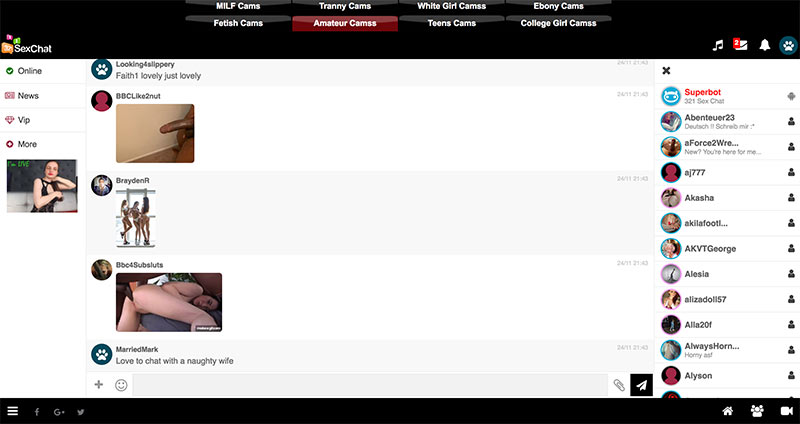 Chat Network
As far as networking goes, 321sexchat is a pretty popular chat site, since its conception in 2004. You can find it on social media platforms, such as Twitter and the all-encompassing Facebook. It also shows up on independent adult chatroom rankings.
Model Manifest
Because this is a site full of chatrooms for every-day users, don't expect any famous porn stars like Mia Malkova or Lana Rhoades to pop in anytime soon. Remember, you're mainly just interacting with other users like yourself. But, entering into the various role-playing chatrooms, a lot of users like to pretend and fantasize that they are other people.
Fucking Features
As stated, this site offers 175 different categories to choose from. Imagine typing away with a complete stranger from the UK about your favorite standing sex position and then going into a different type of chatroom and spewing out your lust for videos featuring shy, amateur teens giving blow jobs like it was going out of style. Personally, just thinking about all of that gives me a hard-on strong enough to bust through the Great Wall of China.
Again, hard to pass up on something being free. Especially when it's talking to total strangers about how much you love dripping, wet vaginas. So, no need to whip out your wallets and spend your hard-earned cash on this site. Instead, whip out your Johnsons and beat off to the tune of a new song; it goes like 3-2-1-SexChat!
Conclusion
Pros:
Completely FREE to use
Simple and straightforward website. Gets right to the point, long and hard
Very user-friendly experience
Over 170 sexual sub-categories to choose from
Easy to use on Mobile Devices
Cons:
Small degree of advertisements
New browser tab opens when you click on certain features
Sometimes difficult to get the attention of others
Most of its sub-channels are actually empty, or have less than ten people in them. Only a handful of channels have more than a hundred at any given time.
In my humble opinion (if those even exist anymore), I don't think 321sexchat is worth the time. I mean, yeah, it's really cool to talk to new people from all over the world, but you can always just go onto Facebook and add random strangers from different countries. Going onto 321sexchat sort of feels like a date-gone-wrong: sure, the first fifteen or so minutes might feel cool while you're figuring something new out, but then you start to realize this is getting dull very fast and you just want to leave without anybody noticing. I could be speaking for myself here. After all, this is just my "humble opinion." But I'd rather just go onto a site like PornHub.com, and beat off to actual porn than attempt this feat with a chatroom thread full of nude gifs and pictures of dudes' dicks. Unless that's your thing; remember, this is a judgement-free zone. Also, as previously mentioned, the layout seems kind of early-2000s. This is now 2021 where we have porn and CandyCrush at our throbbing finger tips. Each time I go onto 321sexchat for "research," I feel like I'm back in high school and trying to go onto IM or Myspace without the teacher noticing.
Visit 321sexchat