Top 7 Cam Sites For PayPal and Crypto (2023)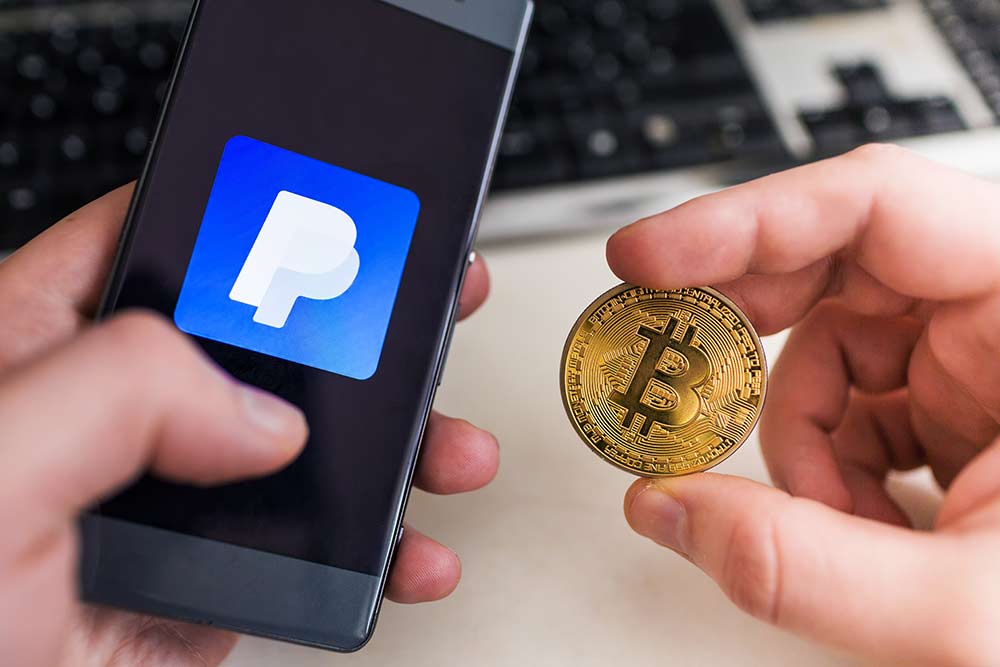 Every cam site accepts payments via credit card. That's to be expected. But what if you want to use an alternative payment method? In that case, your best bet is to use either PayPal or cryptocurrency. PayPal has been around for some time, and works like a bank account — except no statements are sent to your house. Cryptocurrency is even easier to use anonymously. Payments flow from your Bitcoin or other crypto wallet directly to the website, without any paper trail.
So where can you use these digital payment methods? We've put together a list of 7 top cam sites that accept PayPal and cryptocurrency. Let's take a look!
Livejasmin - PayPal and Crypto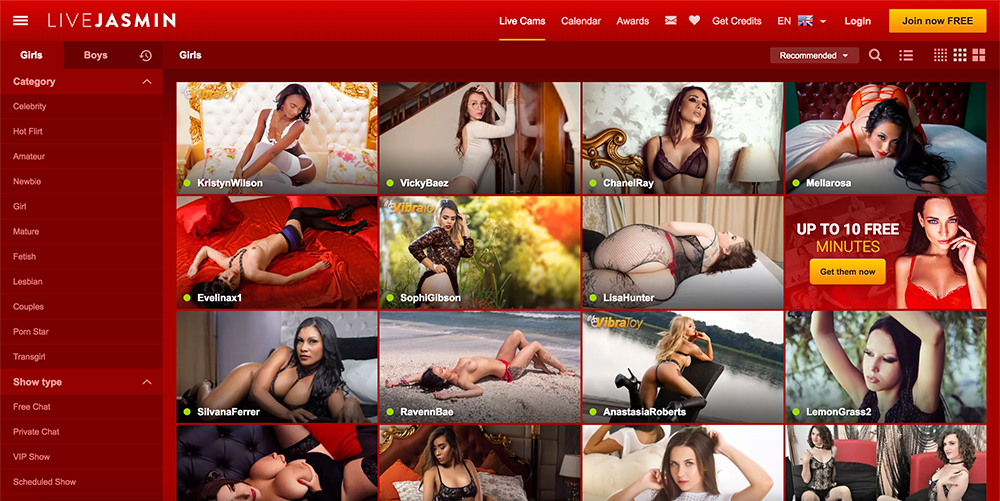 Livejasmin is one of those sites that needs no introduction. Unless you've spent the last several years under a rock, you've almost certainly heard of them. They have literally tens of thousands of models, including some of the biggest porn stars in the business, and their shows have a minimum resolution of 720p. In other words, you're getting the hottest cam girls in the business in the best possible quality. Of course, this doesn't come for free. Their private chat prices tend to be on the expensive side. Then again, you can always pay less and join a spy show, or just enjoy one of their affordable group shows.
Regardless of what you're watching, you're going to need credits. Once you've created your account, click the link on the top right that says "Get Credits". An overlay will pop up, displaying Livejasmin's different credit packages. By default, you'll be asked to pay by credit card, but there's a small link in the top left that says "Payment method". Click that link, and you'll have the option to pay with PayPal or various types of cryptocurrency. One nice thing about Livejasmin is that they don't charge more for PayPal than other payment methods.
To learn more about Livejasmin, read our full Livejasmin review!
BongaCams - PayPal and Crypto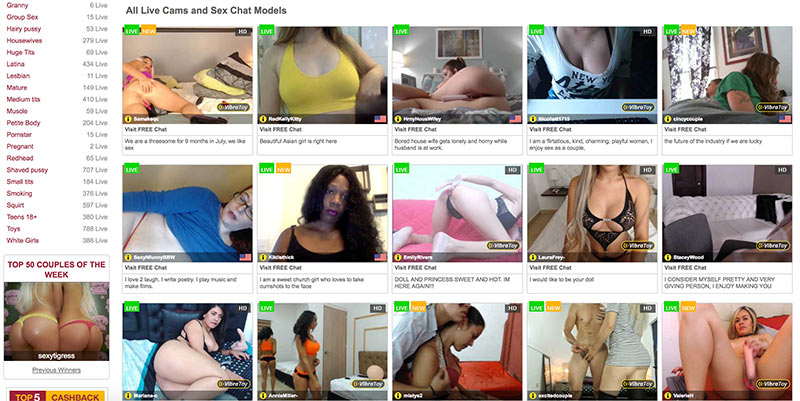 BongaCams is another major cam site, but they sweeten the pot with totally free shows. Typically, the models will set a tip goal, and once that goal is met, they'll start dildoing themselves for free. Of course, you'll need to tip if you want to have any input on the action. You'll also need to tip if you want to participate in any teledildonics shows, where a model's vibrator will buzz each time they get a tip. It's like you're fingering her just by tapping your mouse!
Creating a BongaCams account is free. However, by purchasing tokens, you can upgrade your account status to obtain additional perks. Upon your first purchase, you'll be upgraded to "Gold" status, which unlocks many of the site's core features, such as the ability to participate in group chats. By continuing to buy tokens and participate in shows, you'll eventually upgrade to their "Platinum", "Unlimited", "Diamond", and "Exclusive" tiers. These tiers unlock even more perks, such as private messaging and higher purchase limits. The highest tiers even offer significant discounts on token packages!
To get your first token package, first you'll need to create a free account. Next, click the green "Buy Tokens" button at the top of the screen. There, you'll see a list of token packages, along with various payment options. BongaCams supports PayPal payments, along with several types of cryptocurrency. They even allow payments via Skrill, a payment site that's similar to PayPal. Like Livejasmin, they don't charge extra for using alternative payment options.
Check out our full BongaCams review to learn more!
CamSoda - PayPal and Crypto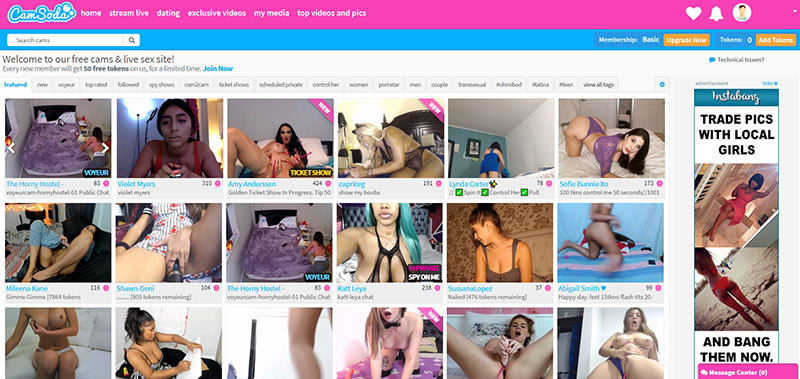 CamSoda is a relatively new cam site, only founded in 2015, but they've quickly grown to become one of the web's most popular cam sites. Like BongaCams, they offer free shows with masturbation and teledildonics. However, you'll need to have some tokens to take advantage of these features. Buying tokens also gets you access to pre-recorded shows, as well as to private shows where you can pay per minute to direct the action.
To buy tokens, create a free account, which requires you to confirm your email address. Once that's done, you'll be able to buy tokens. Just click the orange "Add Tokens" button in the top right, and you'll see a list of packages and payment options. CamSoda supports 8 different types of cryptocurrency, including Bitcoin, Etherium, and Litecoin. They also allow PayPal payments, although you'll pay a bit more to use this payment method.
To learn more about CamSoda, read our full review!
Cam4 - PayPal Only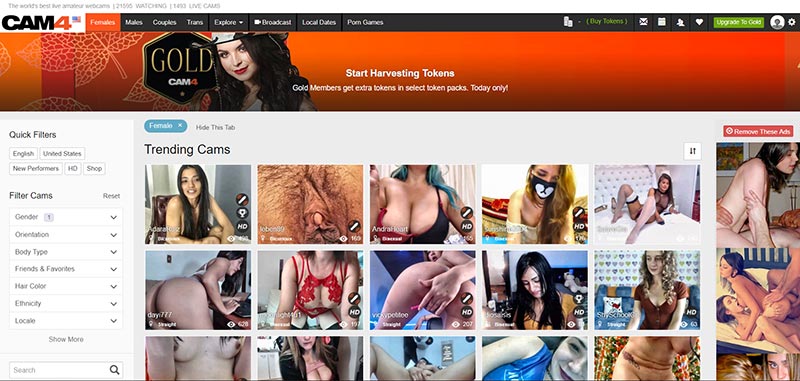 Cam4 has been around for over a decade, and has more active models than most major cam sites. They're particularly well known for offering a variety of show types, including females, males, trans models, and even couples getting their freak on for your enjoyment. Recently, they've also begun watching shows in VR. For now, these shows are small in scale, limited to a handful of models who have the necessary equipment. That said, they're putting a lot of resources into this program, so you can expect to see more and more VR shows as time goes on.
Of course, all of this innovation comes at a price; Cam4's shows cost more than your average site. You can still get a good deal by participating in a group show, but most of the good content will cost at least a small number of tokens. To buy, first create a free account, which will require email verification. Then click the "Add" button at the top of the page, and you'll see a payment window. At this time, Cam4 does not accept cryptocurrency payments. You can use PayPal, though, as long as you're willing to pay a 10% premium to cover the site's transaction costs.
You can learn more about Cam4 by reading our full Cam4 review.
Flirt4Free - Crypto Only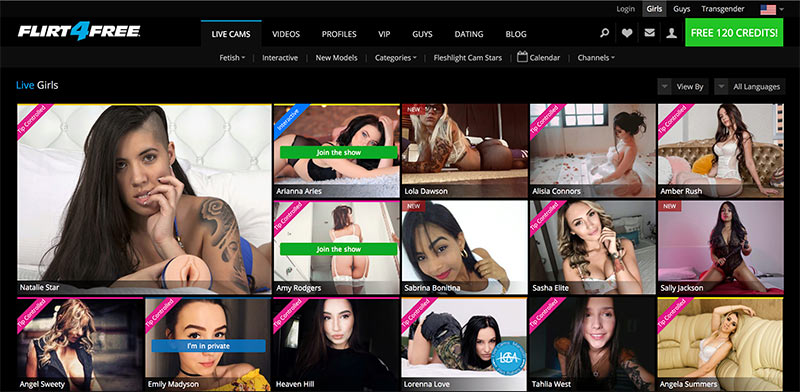 Flirt4Free's name makes it sound less explicit than other cam sites, but make no mistake: these girls are here to fuck… their toys, that is. But hey, you get to watch! They're also a fairly inclusive site, with plenty of male and trans models if your tastes run in that direction. Many of Flirt4Free's shows are free, which means you can enjoy the action while other people pay for it. But if you want the best action, you're going to need to join a group show or, better yet, a private show. It all depends how much you're willing to pay for a more personalized cam experience.
As with any cam site, you'll need to create a free account before you can purchase any credits. Once that's done, just click the green "Buy Credits" button on the top right corner of the site. This will open an overlay, where you'll be prompted to enter your credit card information. If you want to use cryptocurrency, you'll have to click the small grey link that says "Want to use a different payment type?". This will net you fewer "bonus" credits than using a credit card, but it does support multiple cryptocurrency wallets. Flirt4Free will process Coinbase transactions instantaneously, but other wallets will take up to 60 minutes for confirmation. At this time, Flirt4Free does not support PayPal payments.
Want to learn more? Read our full Flirt4Free review!
Chaturbate - Crypto Only
Launched in 2011, Chaturbate changed the cam site business forever. They were the first major cam site to offer private chat options for paid members, and to offer free shows where the models could do whatever they wanted in exchange for tips. While these features are now common in the cam site industry, we can thank Chaturbate for paving the way. They also offer some 4K streams, when the model has the appropriate equipment. That said, like most other cam sites, you'll get the best Chaturbate sex shows by going into a group or private show. And to do that, you're going to have to get your hands on some tokens.
To do that, set up your account, then log in. In the top right side of the site, you'll see a control panel for your account, including your token balance, which will show a depressing number: "0". Click the link that says "Get More" to add tokens. This will open a popup window with a variety of payment options. Choose cryptocurrency, and you'll see a dropdown list with 16 different options, including Bitcoin, Litecoin, and Etherium. You won't get the option to pay via PayPal. Keep in mind, though, that cryptocurrency is only good for paying for tokens. If you want to upgrade to a premium account, you'll need to use a credit card.
To find out more about Chaturbate, read our Chaturbate review.
LivePrivates - PayPal and Crypto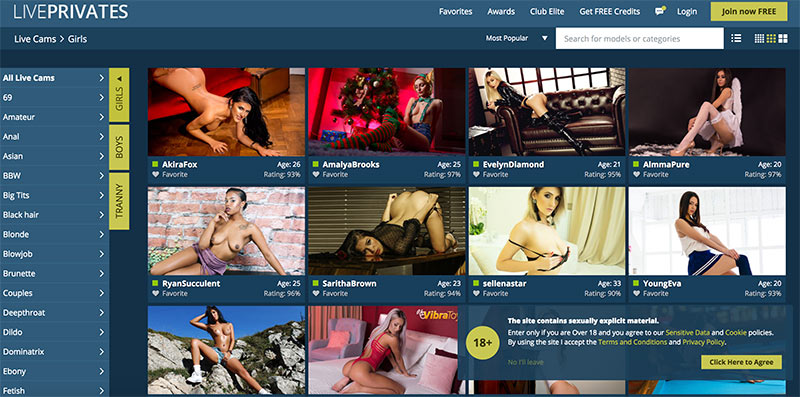 LivePrivates is dedicated to glamor models. In other words, you're not just getting girls who are willing to do the nasty; you're seeing some of the hottest models online. Their selection is comparatively small, but it's a premium experience that eliminates a lot of the sorting you'll need to do on other cam sites. In general, you can find plenty of content in free chat, but the best action happens in private shows and group shows, which require payment.
So, how can you pay for credits? First, register for a free account and confirm your email address. This will get you free 20-second sneak previews of ongoing shows. But if you actually want to get in a decent wank session, you'll need to pay. To add credits to your account, click the "Get Credits" link at the top of the page. This will open an overlay where you can make a payment. By default, you'll be asked to pay by credit card, although there's a PayPal button at the bottom of the overlay. PayPal payments cost a small premium. To use crypto, click the tiny "Payment Methods" link above the PayPal button. Cryptocurrencies are charged at the same rate as cash, but you'll need a CoinGate account in order to use them.
Want to learn more about LivePrivates? Read our full review to find out about all their offerings!
Pros and Cons of PayPal and Crypto For Cam Sites
So, why might you want to use PayPal or cryptocurrency? Or why might you want to use a traditional credit card? Here's a quick look at the pros and cons of these payment methods.
Pros:
You Can Save Money on Bank Fees
Many banks charge transaction fees for direct wire transfers. If you're looking for a credit card alternative, cryptocurrencies can help you avoid these fees.
You Can Save Money on Taxes
Many countries charge a value added tax (VAT) or a goods and services tax (GST) on cam sites. PayPal won't help you avoid these taxes. But paying with cryptocurrency will save you 20% or more on your cam site transactions.
The Market Can Work to Your Advantage
Bitcoin and other cryptocurrencies rise and fall seemingly at random. If you time your token purchase right, you can buy tokens when the market is down, getting the maximum bang for your buck.
Crypto Transactions Are Easy to Process
If you have a crypto app installed on your phone, you don't need to whip out your credit card before you whip out your dick. Just type in your username and password, or use fingerprint authentication, and you're ready to jerk off with hot models.
Crypto Transactions Are Anonymous
If your significant other gets jealous about cam sites, you might want to think twice about using a credit card, which is traceable. By using cryptocurrency or PayPal, you won't have to worry about these charges showing up on your monthly statement.
Cons:
The Market Can Work to Your Disadvantage
The flipside of cryptocurrency volatility is that it can unexpectedly rise in value. This is good for your investment portfolio, but it means you might be overpaying for your porn.
Some Sites Charge a Cryptocurrency Penalty
Because cryptocurrency is volatile, some sites charge a premium for crypto payments. The same goes for PayPal, which charges a small fee for each transaction.
PayPal and Crypto Don't Offer Chargebacks
Want a refund for your token purchase? With a cryptocurrency or PayPal payment, that isn't going to happen. Thankfully, this shouldn't be an issue for reputable sites where you know what you're getting. Steer clear of shady cam sites, and this shouldn't be a problem.
Conclusion
So, should you use cryptocurrency or PayPal to fund your cam site purchases? For most people, it's a good idea. The anonymity and tax savings are a huge plus. You can buy cam tokens without paying exorbitant tax fees, and your partner won't need to know every time you jerk off. Keep an eye on the crypto market, and you can even get better prices than you will with a cash transaction. As long as you're avoiding fly-by-night sites, and you can see that you'll get plenty of value with these alternative payment methods.
Similar Articles