SecretFriends Site Review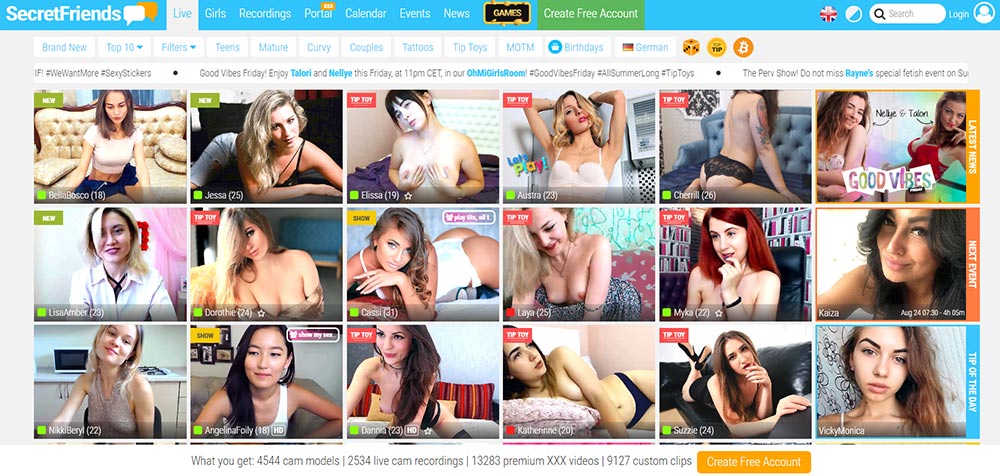 The site is owned by International Media Company BV, who is also a corporate relative of several European porn studios/sites, such as Club Seventeen, SinfulXXX, Submissed, Teenrs, Beauty and the Senior, Rodox, AmsterdamSexTrips, PassionXXX, DomMyMom, and many more.
SecretFriends Chat Costs
The site uses credits for all pay shows, tipping, various chat features, and access to the premium XXX video portal on the site. These credits can be purchased with credit card, bank ACH (for Dutch and European users only), Paypal, or via one of four cryptocurrencies – Bitcoin, Bitcoin Cash, Litecoin, or DASH. The credit packages are the same regardless of payment method, but only certain packages are available depending on payment method, as outlined in our chart below. All cryptocurrency purchases are processed at the then-current market rates by the payment processor, to reflect an equal cost with credit card, ACH, or Paypal transactions.
| | | | |
| --- | --- | --- | --- |
| 25 Credits | $25.00 | $1 | CC, ACH, Paypal, Crypto |
| 50 Credits | $50.00 | $1 | CC, ACH, Paypal, Crypto |
| 100 Tokens | $75.00 | $1 | CC, ACH, Paypal, Crypto |
| 150 Tokens | $100.00 | $1 | CC, ACH, Paypal, Crypto |
| 210 Credits | $150.00 | $0.968 | CC, ACH, Paypal, Crypto |
| 275 Credits | $200.00 | $0.952 | ACH, Paypal |
| 560 Credits | $250.00 | $0.909 | ACH, Paypal |
| 560 Credits | $500.00 | $0.893 | AHC |
One of the best things about SecretFriends is that, in most cases, a credit costs $1 USD, so it's very easy to keep track of how much things will cost you. We use the default pricing for the different site features in our review, though models can adjust the pricing as they see fit, so some models may cost more or less than the credit amounts we show here.
| | | | |
| --- | --- | --- | --- |
| Spy/Peek Chat | $1 | $1 | $5 |
| Group Chat | $1 | $1 | $5 |
| Private Chat | $2 | $2 | $10 |
| Full Private VIP 1 on 1 | $3 | $3 | $15 |
In general, these prices are very affordable as compared to other cam sites. The tradeoff is a smaller catalog of models, and many cams that are not full HD quality. But, you can definitely get a lot more show for your money here than many other big-name sites.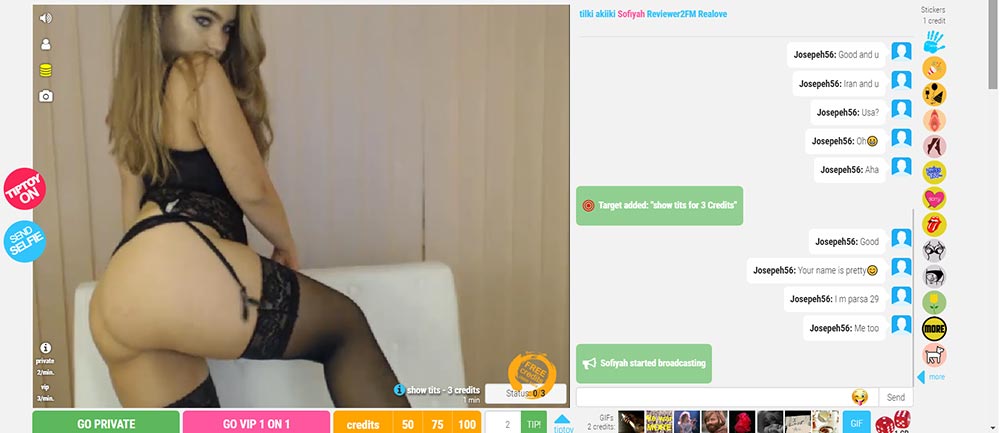 Model Manifest
Most of the models on SecretFriends are based in Europe, and many are multilingual. The site only features women and hetero couples, with women being the vast majority of the models online most of the time (with a few couples sprinkled in for good measure). Many of the girls are quite beautiful, and there's a good mix of body types and different looks available.
There are a lot of younger girls on the site, along with some MILFs for those who like more mature ladies. Body types vary from thin and petite to curvy and thicc. There are nerdy-looking girls who would be at home playing video games with you, and drop-dead gorgeous top-tier model types, and everything in between.
Additionally, there are occasionally some pornstars on. The site currently has 3 verified pornstars, 1 from Europe and 2 that will be familiar to some US members, Little Caprice and Gina Gerson. They are usually only online for scheduled shows or events, however.
There are usually around 100 women on, sometimes more, sometimes less, with a few couples typically online as well. The total model catalog has around 4500 registered models, all of whom can be browsed, bookmarked, contacted, etc. even if they are not online at the current time.
SecretFriends' Fucking Features
SecretFriends offers a number of standard cam site features, as well as some interesting ones that we haven't seen in a lot of other places. Site features include:
Fully explicit free chats (usually tip-based)
Tipping in free and any premium chats
Gifting to models, whether online or offline
Private chats
Full private chats (where no one can spy on your chat) called VIP 1 on 1 chats
Spy/peek mode, where you can see the private chat but not interact
Group chat, where two or more users can be in a private chat with a model at the same time
Fully-functional mobile version of the site
Interactive toys are fully supported
Cam2Cam functionality is available in all private and VIP chats, letting users stream their cam to the model, while watching the model's stream
Private messaging to models is available
Scheduled events, a calendar, and ticker of featured shows and upcoming special events
Verified members can access up to 5 models' streams at once
Model profiles include a bunch of info about the model, a means to contact them via private message, pre-recorded videos for purchase, and other goodies
There are several games on the site, that allow you to wager and win credits
There's a "dating" feature, where you can use the site interface to schedule a private chat time with your favorite model in advance
Also, the site features a premium XXX video portal, with access to over 13,000 premium adult videos from both the owner's sites as well as third-party sites, all for only 1 credit per day ($1/day), viewable online as long as you have paid access
The site also has a library of over 9,000 free video clips, which are generally short, 3-8 minute clips of some of the longer, premium videos in the portal
Sexy Systems
As the servers are hosted in the Netherlands, you'd expect a bit of lag access the site, but it's quite responsive. Video streams are not laggy at all, either. The biggest downside is that many of the cams are not HD – in fact, it's about 10% HD to 90% SD or less-than-HD (specifications aren't listed). Video can be resized, made fullscreen in several modes, and is as good as the quality of the model's cams.
The chat interface is pretty robust, with lots of built-in options, including taking snapshots, sending selfies to the models, reaction GIFs, lots of emojis and custom stickers/other options, some free and some pay. And of course you can chat in the chat box, trigger the interactive toys with tips, and all the usual goodness that goes with a quality webcam experience.
The layout of the site is also pretty straightforward. You can search for models by name, browse on the main page, click one of the 9 or so categories at the top, or use the filters. The filters let you narrow down your model choice based on body type, breast size, and hair color, along with descriptive tags. There are over 100 tags available that models can use to describe themselves and their shows, which make for very easy filtering to find just the model you want. Like many sites, you can also bookmark your favorite models to your profile, in a section called "My Girlfriends", to find them again easily next time.
Also from the main navigation bar, you can easily access the calendar, XXX Video Portal, pre-recorded shows available for purchase, the various games where you can wager and win credits, a listing of upcoming events, site news, and all the other site features.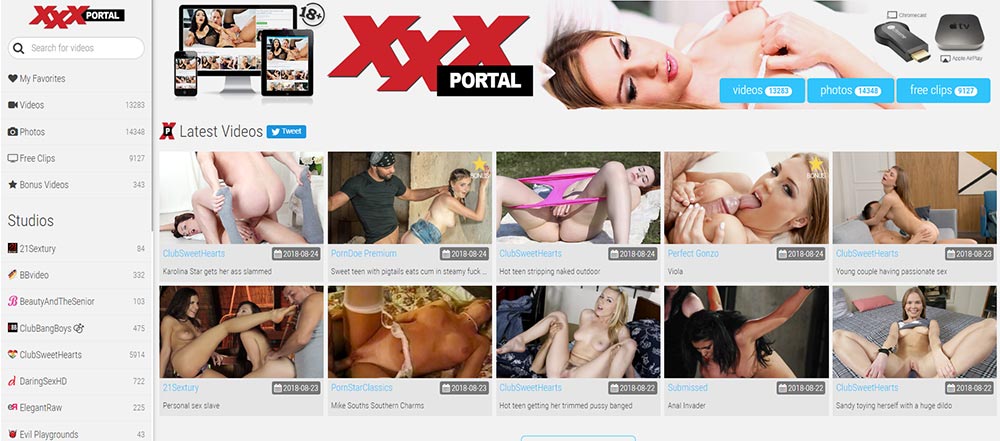 Cam Climax
Pros:
Credit costs for different shows that are quite competitive compared to many other sites (around 20 to 75% less, in many cases)
Simple credit system that basically translates to $1 USD/credit
Standard and special features that a lot of sites don't offer
Various types of shows for different budgets
Affordable premium XXX content is a nice bonus
Several payment options
Cons:
Small catalog of models online compared to many larger sites
Private show costs can still add up quickly
Only a small percentage of models have HD cams (though you can select HD only from the tags in the filter section)
No male, gay, transsexual, or group sex shows on the site
Not as much nude and explicit free/tip-based content as larger sites
Overall, it's hard not to like SecretFriends for all their positives, and want to overlook some of the negatives. They do a good job of presenting a variety of models, various types of shows, lots of payment options, and a number of cool features that you don't find on every cam site. Prices are affordable, and you can definitely get a lot for your money here. The main downsides are the relatively small percentage (10%) of models who have HD cams, a smaller catalog of models than some larger sites, no male, gay, transsexual, or group sex content, and a bit less free or tip-based nude and explicit shows available.
With that said, the models who are online are hot, the technology and interface work well, and the premium XXX video portal is a great value bonus as well. Check out the site and sign up for a free account – all you need is a valid e-mail address. You've got nothing to lose, and perhaps some new SecretFriends to gain…
Visit SecretFriends