Dxlive - dxlive.com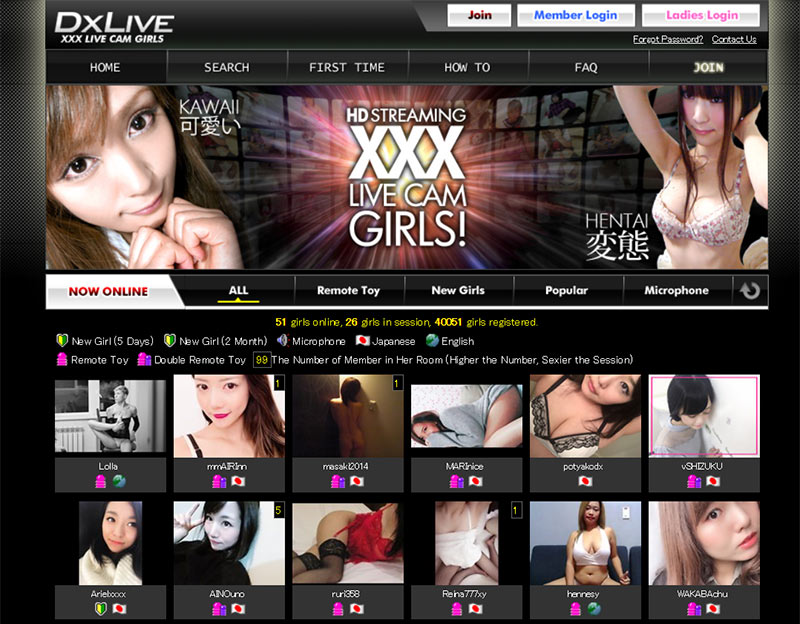 DxLive is a Japanese-themed webcam site. It mostly features solo girls of Japanese origin (though not all are in Japan – many are elsewhere), available for paid explicit chats of varying types. While it's not a traditional cam site in approach, a lot of the typical cam site features are present. And while some non-Japanese models are available on the site, it's definitely more of a niche cam site than your typical mainstream, general kind of atmosphere.
The site is run by DTI Services/DI Serv Corp, of Los Angeles and the UK. They are the same company behind sister sites sakuralive.com, caribbeangirlcom.com, and the non-cam, more well-known Japanese porn site, caribbeancom.com. The site is available in both Japanese and English. They rank in the top 5,000 sites by traffic globally across all categories, and are in the top 400 in Japan specifically. The vast majority of the traffic comes from Japan, and many of the models communicate in only Japanese, or Japanese with varying degrees of English.
DxLive Chat Costs
There's almost nothing you can get for free on DxLive – even explicit group chats require payment. All services are charged on a per-minute basis, based on the options chosen by the model as well as the customer. The site's chosen currency is "points", rather than the traditional tokens or credits. There is a base cost for either a group chat (what many sites call free chat or public chat), or for spy/voyeur mode (here called Peep mode). In the group chat, you can use a Cam2Cam feature (2WAY), for an additional fee. You can go into a full private show (2SHOT), or a full private show with Cam2Cam (2WAY) functionality for an additional fee. If the model has interactive toys, you can control one (or two in some cases) for an additional fee as well.
In terms of purchasing points, it's a bit confusing, admittedly. When you purchase, you're really purchasing one of the packages of "minutes" rather than points. We believe this equates 1 minute to 1 point based on site verbiage, and some of this confusion may be due to English translations from the original Japanese version of the site. As the cost of services is clearly listed in terms of points, this seems to make sense. There are four different pre-made packages of minutes/points available, that provide better value the more you spend, as is common with most cam sites. These packages are outlined in the table below.
| | | |
| --- | --- | --- |
| Credit Card | | |
| Bronze – 25 minutes | $49.95 | $1.99 |
| Silver – 50 minutes | $99.95 | $1.99 |
| Gold – 100 minutes | $199.95 | $1.99 |
| Platinum – 170 minutes | $299.95 | $1.76 |
While it's not made clear in the FAQ or guide on the site, we believe the chat costs to be additive. This means the point consumption per minute can add up very fast if you're using multiple private chat features. Most of them are toggles during the chat, e.g. interactive sex toys, and not a fixed fee for the entire chat. If you only use a sex toy for one minute, then it's only a single minutes' charge deducted from your balance.
To get a sense of costs, first you pick either chat mode, which puts you in the basic (group) chat, or peep mode, which lets you watch what's going on but not interact. From there, you can choose other services, such as going private, using your own cam, and controlling interactive sex toys. Since all of those latter options are toggles, rather than try to create a dizzying matrix of prices, we've listed out those costs, without the usual indication of how much a 5 minute show with those features would cost. Rather, we list a few hypothetical shows in more detail after the table, to further outline this unusual cost structure more clearly.
| | | |
| --- | --- | --- |
| Basic (Group) Chat | 1.2 | $2.39 |
| Peep Mode | 1.2 | $2.39 |
| A La Carte Features | | |
| Cam2Cam (2WAY) in Group Chat | 1 | $1.99 |
| Private Chat (2SHOT) | 1 | $1.99 |
| 2WAY in 2SHOT | 2 | $3.98 |
| Control 1 Toy | 1 | $1.99 |
| Control 2 Toys | 2 | $3.98 |
So, let's get to some examples of how this works.
Scenario 1:
You enter the basic chat and talk to your favorite model for 2 minutes. You then go private, and watch her privately. You don't do any Cam2Cam-style stuff. You activate 1 sex toy for a total of 3 minutes. The private chat lasts 8 minutes.
This works out to:
Basic chat rate 1.2 points x 10 minutes = 12 points ($23.88)
Private chat rate 1 points x 8 minutes = 8 points ($15.92)
1 sex toy 1 points x 3 minutes = 3 points ($5.97)
Total 10 minute experience cost = 23 points ($45.77)
Scenario 2:
You go into the basic chat and spend 5 minutes in there watching your favorite kawaii girl and talking to her. You use your microphone for those 5 minutes, which counts as the 2WAY feature fee.
This works out to:
Basic chat rate 1.2 points x 5 minutes = 6 points ($11.94)
2WAY chat in basic 1 points x 5 minutes = 6 points ($11.94)
Total 5 minute experience cost = 12 points ($23.88)
Hopefully, that provides you with a better understanding of how the site features and functions are priced!
In terms of membership, there really isn't any kind of tier system like many sites. Rather, you are either a guest (free member), who can't enter any of the basic or private chats or do much but browse the site, or a member, meaning you've purchased one of the point packages at least once.
Do be warned, however – you need to spend at least 0.1 points every 6 months, or your point balance will expire.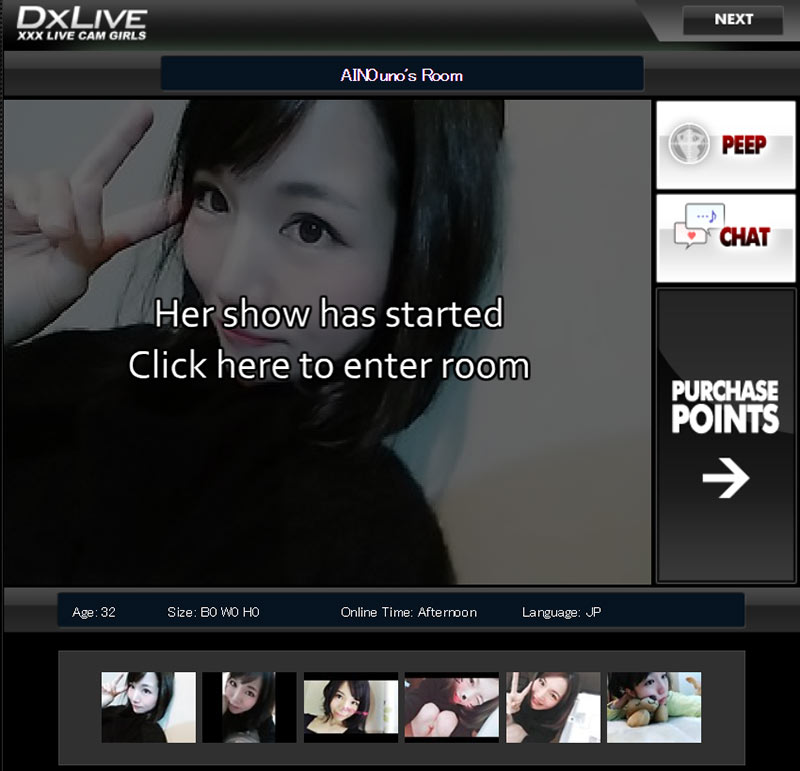 Model Manifest
DxLive boasts over 40,000 registered models. The vast, vast majority are solo females from Japan, or Japanese ex-pats living abroad. There are usually around 50 models on at any given time of day in the US. There are a few models of other nationalities who appear on the site, and a very, very tiny minority of two girl models (lesbian, bi, or just performing together, it's unclear). About 90-95% of all models speak Japanese only, while 5-10% speak English as well. Profiles and other information for the Japanese speaking models is also in Japanese, which can make this site a bit inaccessible for Americans and those who aren't fluent in Japanese.
The majority of the girls are cute, 18-29 year old Japanese girls, with varying looks, from innocent to slutty – though most tend more towards the stereotypical Japanese fantasy looks. This means there's a lot of schoolgirl and innocent looks going on for most of the girls. However, rest assured that all of the paid features include full and explicit, uncensored nudity content. And there's certainly no doubt that the Japanese youthful female aesthetic is alluring, even if you don't read or speak the language.
DxLive's Fucking Features
While DxLive is a bit different than traditional cam sites, a lot of the same core cam site features are available, both paid and free, as part of the experience. These include:
Tipping models
Fully explicit basic group chats
Spy/voyeur (Peep) mode
Private chats (2SHOT)
Cam2Cam or microphone, or both, in group chat (2WAY)
Private chats with Cam2Cam/microphone
Interactive sex toys (1 or 2)
Private messaging (for points)
Tipping (digital gifts in chat, for 3, 5, 10, or 15 points each)
Mobile version of the site (Japanese only)
Model information and profiles
A comprehensive guide on how to get started
Various search features and fields (though more limited than many other sites, likely due to the smaller model population and niche appeal)
Regular updates of top/new/most popular/etc. models
Sexy Systems
The site seems to run fairly well. While guests can only see non-nude teaser chats when girls are not otherwise engaged in a group or private chat session, and the video quality is only SD in these cases, paid chats are in full HD quality. With a relatively limited number of models online at any given time, and no live stream previews (rather, just profile headshot thumbnails), the browsing interface loads very quickly. We experienced no issues with browsing, searching, or streaming during our testing.
In terms of finding your ideal model, you have a few options. Near the top of the main page, there's a basic quick navigation feature, letting you jump to see all models online, only those using remote/interactive toys, new girls only, the most popular (as chosen by members), or those offering only microphone-based voice chat. You can browse the results below, or choose the search feature. From there, you can search by model name, age, bust, waist, and/or hip measurements, language(s) spoken, and a few other filters.
The category list for each division ranges from around 34 for the women, to somewhat shorter lists for couples, men, and transsexuals.
While it's not the most robust search, sort, browse, and filter interface we've seen, it gets the job done for this particular niche cam site just fine. Pages load fast, finding girls goes fast, so there are no complaints from the technical side of things.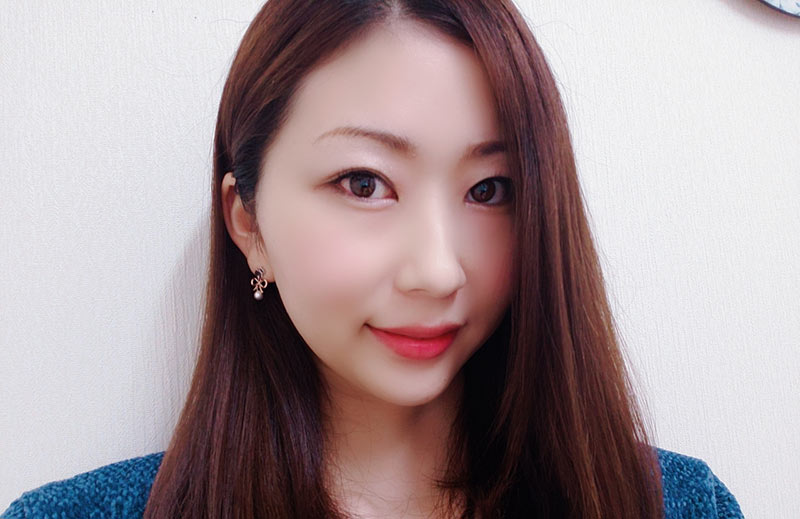 Cam Climax
Pros:
Unique niche site that makes it easy to find Japanese girls for cam chats
Lots of site options and features
Good technology with the site running and loading well
Many a la carte options to make the chat as intimate or interactive as you choose
Fixed pricing for features/shows that aren't variable by model
Cons:
Costs can add up very fast for full-featured chats
Some ambiguity in information listed on the site vs. reality
Limited payment options and purchase packages
Pricing is a bit more confusing than many other sites
Only a small minority of models speak or write in English
DxLive is definitely a different kind of site than your average, general audience cam site. But if you're looking for sexy Japanese girls, and you want the real, authentic thing, then this is a great site for you. They have most of the usual cam site features, and the site works well. The pricing is a bit different than we're used to, at least in the US, in terms of structure. The actual costs are about comparable to many other cam sites when you get down to it, or maybe slightly on the higher side depending on what features you choose. But the prices are fixed and don't vary by model, which is a plus. The English translations are a bit janky and confusing in some places, and there aren't a ton of non-Japanese models, or models who speak or write in English on the site. If you're into Japanese girls, though, say kon'nichiwa to DxLive!
Visit Dxlive