Best Gay Roulette Sites (2023)

If you spend a lot of time watching porn, you'll already be familiar with the concept of chat roulette. You go to a website, fire up your webcam, and start jerking off with random strangers. But, as with the rest of the porn world, most of these sites are straight by default. Sure, you might find another guy to jerk off with. But you'll have to work your way through a bunch of straight dudes who — let's be honest — might not be thrilled at the proposition.
So why not go for a more tailored experience? A dedicated gay chat roulette site can provide all the benefits of a regular chat roulette site, without all the straight dudes turning you down and clicking "next". To help you find the best sites available, we've put together a list of the best gay video chat sites on the web. For each one, we'll tell you what's hot, what's not, and any features you should be aware of. So pull out your dick, and get ready to rub one out.
Chaturbate Gay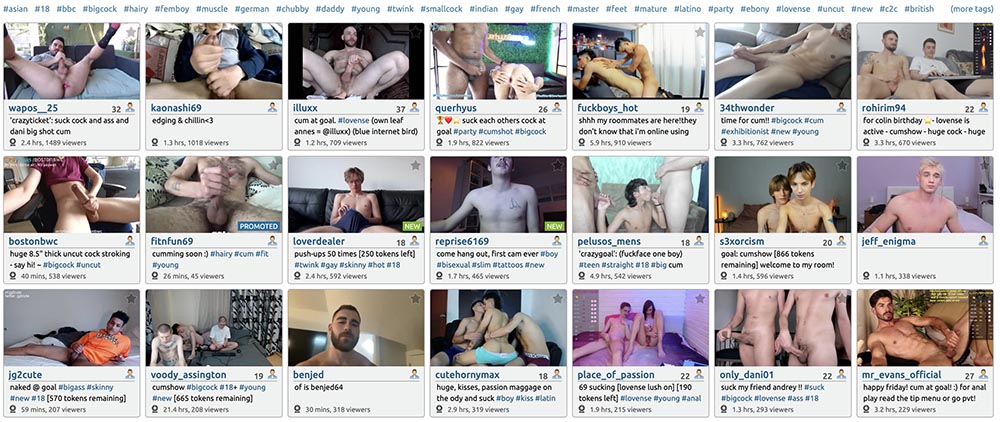 Chaturbate is one of the web's most popular cam sites, with tens of thousands of active models. Is it exclusively gay? No. Is there a dedicated section for gay cams? Hell yes! The thing we liked most is that many of the shows are free. Without creating an account, you can watch the vast majority of models.
That said, if you want to have any input into the shows, you're going to need to tip the models. And, when you think about it, it's just common courtesy. After all, they're jerking off for a living. Furthermore, some of the hottest action takes place in private or group shows, which require a paid subscription. Our full review on Chaturbate can be found here.
Pros:
No membership required
Reasonable token pricing
Thousands of hot models
Cons:
Some shows require a paid account
GayConnect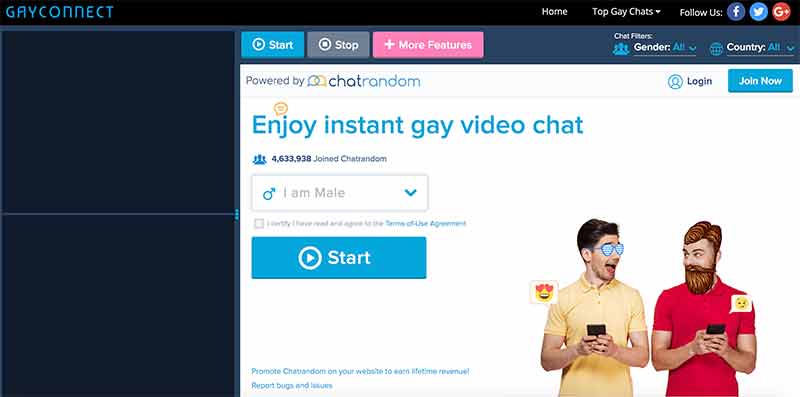 GayConnect is a gay partner site to ChatRandom, which is one of the most popular roulette sites on the web. It's easy to use. Just go to the site, check the box to agree to their user agreement, and start chatting. That said, we couldn't help but feel like it was a bit of a bait and switch. It's actually just a clone of ChatRandom, so you'll still encounter a lot of straight dudes, and even the occasional female user.
There is a gender filter available to help you sort this out, but it requires a paid ChatRandom subscription. But even with this restriction, the free site is pretty good. The fact is that there are plenty of hot, gay users that you shouldn't have any problem finding someone to jerk off with. The load times are also very fast, so you can click "next" as fast and as often as you need to.
Pros:
Easy-to-use interface
Large user base
Quick load times
Cons:
Not actually restricted to guys
Gender filter requires a paid subscription
Manroulette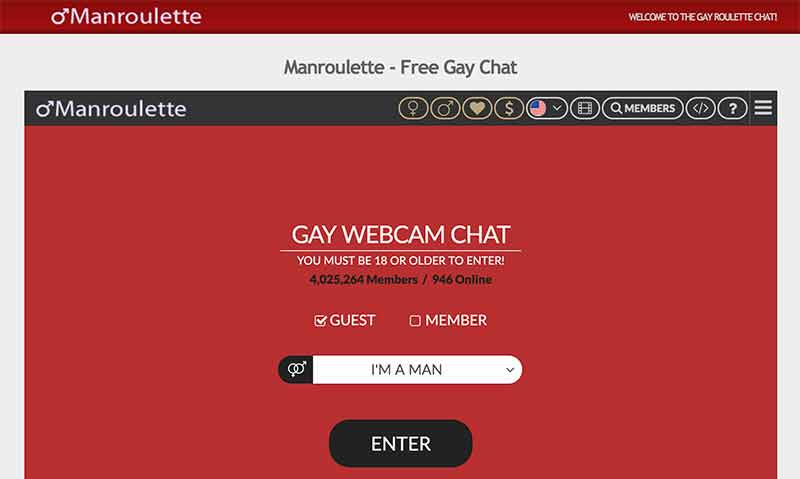 Manroulette is a fun, unique roulette site that offers a lot of features you won't find anywhere else. Log in as a guest, and you'll be able to watch live cams in mere moments. When we gave it a spin, it took about 10 seconds to find a guy furiously masturbating. The site isn't technically restricted to gay users, and there are definitely some female voyeurs in the rooms. But if you go to the dedicated gay chat room, you'll find plenty of horny guys looking for some action.
The real attraction here is the interface. Instead of skipping through random rooms, you go into a chat room, with all the users displayed on a right-hand menu. Clicking on a user's name will immediately display their cam, if they have one. To show off your own dick, you'll need to create an account, but accounts are free and signup only takes a few seconds. Just beware of the VIP users. They'll charge a fee before they actually show off their cocks.
Pros:
Fun, unique interface
Large user base
Full features are available to free users
Cons:
Some of the cams cost money
DirtyRoulette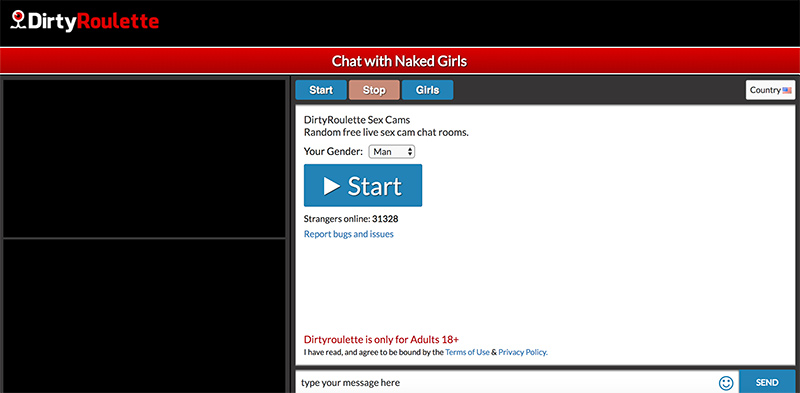 DirtyRoulette has been around for a long time; since 2010, in fact. This is just a year after the original chatroulette site was founded. But just because the site is older doesn't mean it's outdated. Dirty Roulette has launched several updates over the past decade, and replaced the old, clunky Flash interface with a cleaner Javascript interface. If you visited in the past and didn't like the way it works, it's definitely worth taking a second look.
The downside of DirtyRoulette is that it's not a dedicated gay site. As a result, there are a fair number of straight dudes. On the other hand, there are lots and lots of gay dudes as well, far more than you'll find on your typical chat roulette site. To filter specifically for guys, you'll need to sign up for a paid subscription. This requires a monthly subscription, which costs $19.99. That said, since almost all of the users are guys to begin with, you won't need to worry about hitting "next" on too many ladies. Have a look at our full review of Dirty Roulette here.
Pros:
Free accounts get full access
Clean Javascript interface
Gender filter available to show only guys.
Cons:
Not a dedicated gay site
Gender filter available only for paid subscribers
GayPage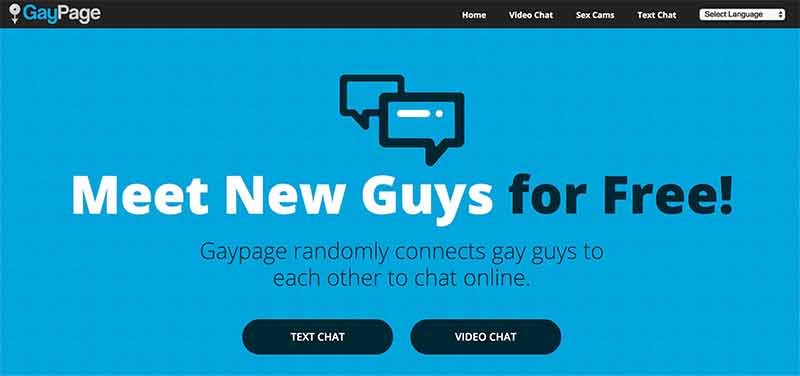 GayPage is one of the most active gay chat communities on the net. All you have to do is accept the user agreement, and you'll instantly start video chatting with random dudes who are looking to jerk off. Technically, women and straight dudes can also use the site, and the gender filter costs a fee. In practice, though, you won't need to worry about that. There aren't many straight guys or women on the site; the name of the page makes it pretty clear what it's for.
In addition, GayPage also sports a selection of gay cam models, ready and willing to put on a private show. As with most cam functions, though, this doesn't come for free; you'll need to pony up some cash if you want to watch a private show. But why would you even bother, when you can jerk off with another user for free?
Pros:
Combines roulette and cam site functions
Easy-to-use interface
Thousands of active users
Cons:
Some features require a paid account
ChatRandom.com/gay
ChatRandom is one of the most popular chat roulette sites on the web, so we were excited to see that they offer a dedicated gay portal. Imagine our disappointment when we found that the "/gay" subdomain is just a clone of the regular site. You'll still end up with girls and straight dudes in your feed. On the other hand, there's a gender filter available, but it requires a monthly subscription that costs $19.99 per month. The paid subscription also removes ads, though, so it's not totally devoid of value.
One thing we did appreciate about ChatRandom is the easy-to-use interface. Right from the get-go, you'll have access to text, voice, and video chat, with a clean interface that doesn't clutter up your screen or bog down your computer. It also works great on mobile, with a slimmed-down interface that still offers all the same features as the desktop site. Check out our full review of ChatRandom.
Pros:
Advanced, full-featured interface
Fully functional mobile site
Supports both text and video chat
Cons:
Not actually a dedicated gay site
Requires a paid subscription for gender filter
Supermen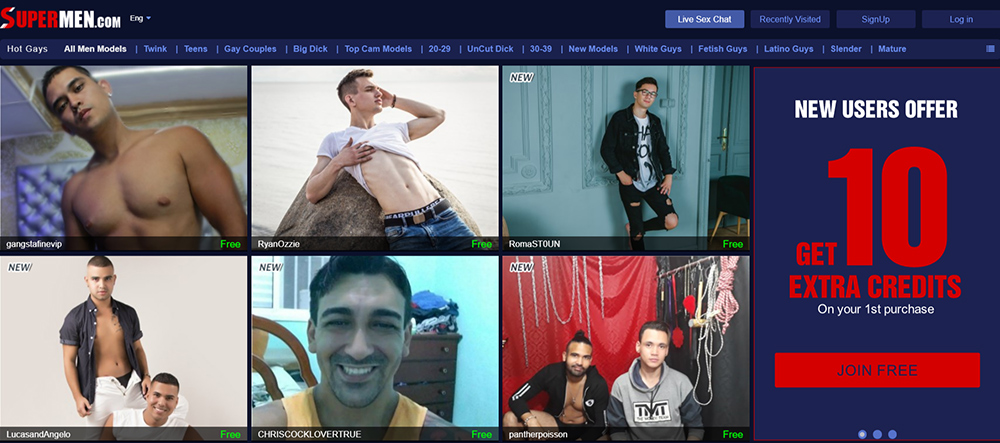 Supermen is a gay cam site, not a true roulette site. That said, it's well worth looking at. While the site's branding is all about big, buff jocks and bears, there are plenty of twinks around as well. The top search bar allows you to easily filter between different categories of model, so you'll be able to quickly find whatever type of guy that suits your fancy. The site is also very popular, so there's no shortage of guys at any time of day.
That said, you're not going to get full access as a free user. The free chats generally don't involve any actual dick, just a lot of teasing. You'll need to whip out your credit card and buy a few credits if you want to get the full-on gay action you're looking for. On the other hand, you get your choice of many models, and you don't have to keep on clicking "next" to find the guys you're looking for. Find our full review on Supermen by going here.
Pros:
Popular site with many models
Easy-to-use interface with live previews
Wide variety of horny guys
Cons:
It's a cam site, not a true roulette site
Full access requires a paid account
XloveGay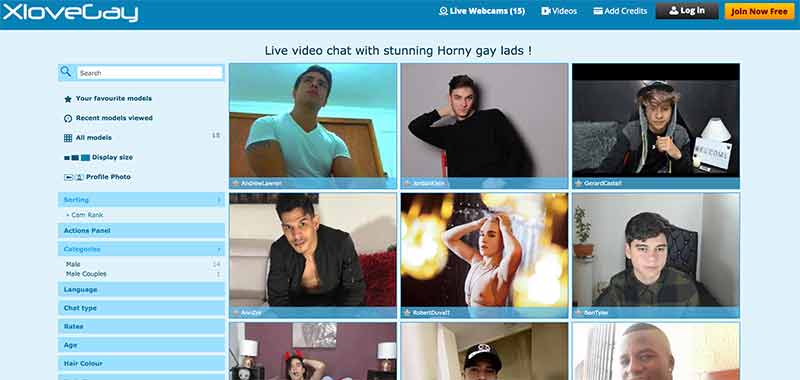 XloveGay isn't technically a gay chatroulette site at all; it's a cam site that's designed specifically for gay users. This isn't necessarily a criticism; there are a variety of horny guys on the site, including all your favorite flavors. Bears, cubs, jocks, and twinks are all available for your viewing pleasure. European users will also appreciate the fact that the site's models come from all around the world. If you prefer to chat in Spanish, German, French, or Italian, you'll have options available.
However, XloveGay comes with two significant downsides. First, the user base is fairly small. At any given time, there are only about 15 to 20 models online. So while there is a wide variety of models, you might not find what you're looking for right this second, which can be frustrating when you've got a raging hard-on that needs some attention. And because it's a paid cam site, most of the truly explicit content is going to require a credit card.
Pros:
Free to use
Feature-rich interface
Fully functional mobile site
Cons:
Small user base
Fully nude content requires a paid subscription
Cameraboys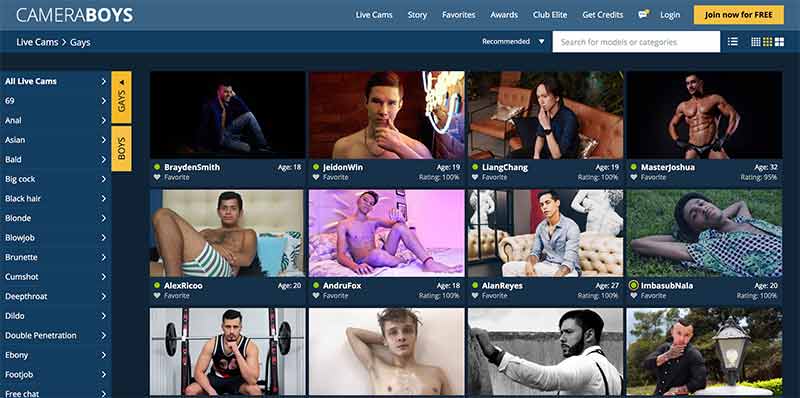 Like a few of the other sites we've reviewed, Cameraboys isn't technically a roulette site; it's a cam site, with all the benefits and drawbacks that implies. The interface will be familiar to anyone who is familiar with cam sites. Visit the main page, and you'll see a grid of thumbnail previews, so you can see what's going on in each model's room.
There are literally thousands of models in total, with hundreds of them available even in off-hours. You can easily find bears, jocks, twinks, and whatever else floats your boat. Just be aware that some models will only show off all their goods in private shows, which can get a bit pricey.
Pros:
Simple, easy-to-use interface
Thousands of models available
Built specifically for gay users
Cons:
Private shows are a bit pricey
Jizz Roulette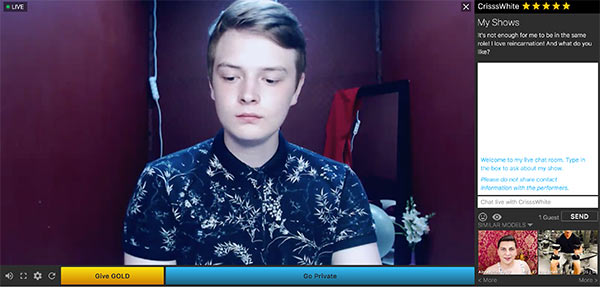 Jizz Roulette is the gay partner site to Slut Roulette, which is one of the most popular straight cam sites on the web. The interface is simple and easy to use. Just navigate to the site, and you'll get thrown straight into a chat room with another dude who wants to jerk off. From there, you can either reciprocate by pulling out your dick, or click "next" to find another guy who's more your style. Within a few minutes, you'll find yourself jerking off, talking dirty, and whatever else you want to do.
There's also a text chat feature, which some people might be more comfortable with. This requires a credit card for verification. As it turns out, this "verification" process takes you to Jizz Roulette's paid cam site, which we've reviewed in the past. As cam sites go, it's not bad. But it can be a bit disappointing if all you wanted to do was jerk off with another dude for free. That said, the only thing you have to pay for is text chat. If you're comfortable with the regular voice and video chat, Jizz Roulette delivers the goods. Take a look at our full review of Jizz Roulette.
Pros:
Lots of hot dudes
Built specifically for gay users
Quick, easy signup
Cons:
Premium features require a paid subscription
Conclusion
So, which of these gay chat sites is the best of the bunch? We'll leave that to you to decide. For our money, Supermen offers the best hunks, while Manroulette has the most interesting, unique interface. But at the end of the day, the only thing that matters is what gets your rocks off. Just remember, there's plenty of free content on most of these sites. If you don't want to bust out your credit card for the privilege of busting a nut, there's no reason to.
Similar Articles