Flirt4Free Gay (LiveGuys4Free)
The Gay version of the popular cam site Flirt4Free (also called Liveguys4free) is the absolute best choice for gay cam action. While the straight version side tends to have higher prices, the models on the gay side charge way more reasonably. Plus, there are plenty of free gay cam group shows where cute guys tease for tips. Whatever your price range or interest, this site is a good bet.
Pros
Best value
Very hot Pre-recorded clips
Free Credits on sign up ($5)
Great site design
Useful rewards program
Cons
Lower model count than some other sites
How much does Flirt4Free Gay cost?
Signup is free, and there are plenty of free group shows to make it worth the time even if you never want to spend any cash. Still, participating in these shows via tips is relatively cheap. Tokens can be purchased in packages , where 120 is roughly a $5 value. Going by this, private chat rates go from about $1.50 to $3.00. This is unbelievably cheap for private gay chat! Other sites can run up to $7.00 a minute - but not here! You can also keep adding streams in super voyeur mode if you want to watch half a dozen hunks simultaneously. Even after 6 streams you won't be paying as much as some other sites. Weirdly, the straight version of flirt4free has much higher prices. But we won't complain about hot gay cams at a good price.
The V.I.P program is probably the greatest value-for-dollar deal for any gay cam site. You get access to a rolling selection of videos (150 per day, 1050 at a time). They cycle out 150 videos daily. But they can be any length, and most of them are long and incredible. Tons of assplay, lots of oil, and way more explicit stuff than what you get in a free chat session. You also get free access to select shows and unlimited gay chat. If you find yourself becoming a regular, this membership is very economical at $40 a month, especially with the site's generous reward program. I know that sounds like a lot of cash, but with the rolling video selection it's sort of like a gay amateur porn site membership PLUS a cam site. Overall an amazing value for the quality and quantity of content.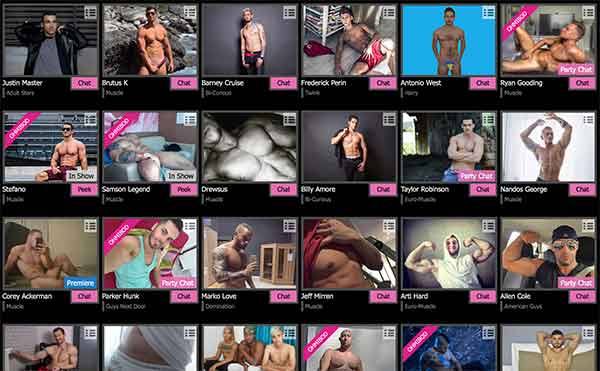 What are the models like on Flirt4Free Gay?
Some of these dudes must be european, because any time of the day or night is covered. Usually 150-200 models are online at any time. They are all consistently gorgeous and very fit. We have found the models very diverse in ethnicity, though that's really the only way that they vary. With the exception of a few smaller twinks the models on this site look pretty built. There's not a ton of variety with regards to age and body type, so if you're into a really specific kind of model they may be extra hard to find here. However, if you like dudes who look like they do a lot of heavy lifting, this site has you covered (get it?).
The vibe from these models is that they are seasoned pros who take their job pretty seriously. This isn't a chaturbate-style amateur situation - all these guys have high-def cams and have a routine that looks practiced. Most of them are frustratingly good teases. By the time the jock comes out it will be hard to resist diving into private chat. Once in private chat they tend to get right down to business. We've found all of them to be polite, accommodating, and super hot guys.
It's also not just singles here. While they aren't as common, I usually see at least a few couples when I log on. Some of the hottest gay cam shows I've seen have been with couples on flirt4free. They always seem very into it and have incredible chemistry.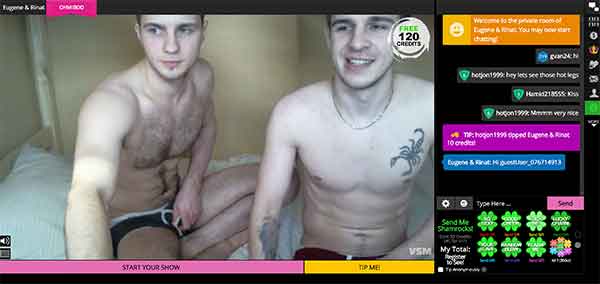 What are Flirt4Free Gay's features?
Basically any gay chat option you can imagine is on Flirt4Free. It's probably the most comprehensive offering out there. You have standard free gay cam group shows with tips, private chat, cam to cam, multi-feed streams, spy cams, and porn star shows. As mentioned before the library of pre-recorded videos is astoundingly good. It's a library of the hottest amateur videos you've seen in addition to the cam features.
Flirt4Free has an absolutely crazy rewards program. It's basically designed to reward repeated use of the service. Virtually every action you take on the site earns you points which you can spend on a variety of great items, including a permanent 30%(!!) discount to all purchases. You can also buy 24-hour long video passes - access to the ENTIRE video library, which is enormous. You can buy virtual gifts for your favorite models or, interestingly, use your points to boost their popularity and help them out. The rewards system is actually pretty fun and addictive (which is probably the point). But it really does reward long-term use with permanent discounts.
How well does Flirt4Free Gay function as a website?
Here at ACR we really care about excellent web design. We make sure that our site is secure (see the https in your browser?), that it loads quickly, and that its pleasant to look at. Of all the gay cam sites we've reviewed flirt4free is one of the best in its web tech and design.
Video chats load quickly with great resolutions. I don't think I had to wait more than 3 seconds for a feed to connect. The chat is responsive, and the model profile areas are all solid as well. Images are high quality and give you a great idea at a glance if you've found the right stud.
We also really appreciate the unobtrusive design which puts the talent front and center. Notice how the colors in the site are mostly grey and black? This makes the models POP on the screen, and also highlights the text you need to see. It's a simple and pleasing look that makes everything super clear. This site is frankly a joy to browse around. I've never once been confused with how to accomplish something, which is remarkable.
The final word
I know it's starting to sound like a hard sell, but this really is the best option for paid gay cam content, and possibly the best for free content as well. It doesn't have the staggering model count of some other sites, but what you're getting here is unparalleled quality. The web design is intuitive, the dudes are hot, the prices are low, and I'm struggling to find stuff to complain about.