The Hottest Cam Girls on MyFreeCams
MyFreeCams.com has been streaming live, sexy video since 2002. Today, they have hundreds of thousands of models, and over 5 million users. This site is so huge that even established porn stars like Bree Olson, Teagan Presley, Alexis Texas, Sunny Leone and Eva Angelina have become MyFreeCams models.
As per the site's rules, there isn't a dick in sight. Just hot girls playing alone or with each other. You can find everything from dirty talk to stripteases to masturbation and interactive sex toy shows. Not only do these girls do whatever you can imagine, they do it wherever you can imagine. I've even watched a girl dildo herself in a library.
MyFreeCams' free features are some of the best you'll find. Most models perform group shows or interactive shows that are open to the public, and so many tips are rolling in that they don't seem to mind having a bunch of free members in the room.
But let's say you want more. You want a one-on-one, private show with the hottest MFC cam girl you can find. Private shows don't come cheap, so you'll need to find the right model. We're here to help, with a list of the 15 hottest up-and-coming MyFreeCams models of 2019.
EmilyLynne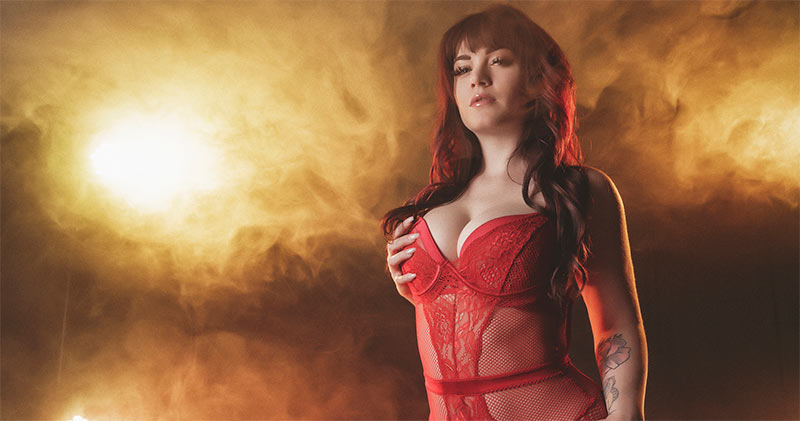 EmilyLynne is a PAWG with manic pixie dream girl bangs and small tits that are still big enough to jiggle while she's fucking one of her toys. She usually performs in lingerie, and has a soft-spoken vibe that's so classy you'll be surprised at all the dirty things she says.
She specializes in POV shows, sucking off dildos and fucking her male sex doll while you watch her ass bounce up and down. She also has a sex machine, and enjoys doing roleplaying and jerk off instructions in private chats. If you're looking for a private chat, she's on her MFC cam almost every day.
EmilyLynne posts on her Twitter several times a day, and constantly keeps fans updated on all her latest videos. She's less active on her Instagram, but still occasionally posts work-safe pictures there. If you're looking for less work-safe content, she also has tons of premium videos available on MFC, as well as on her OnlyFans page.
DulceMoon
DulceMoon is a hot, Latin cam girl who's built like a 90s swimsuit model. Athletic legs, a tight ass, and enormous tits. She also has a perfect, tight pussy that'll make you want to eat out so badly you may find yourself at the nearest restaurant.
She doesn't say much in public chats, but really opens up in private and group chats. She'll finger herself, fuck herself with her favorite vanilla dildo, and put her smooth, tight ass right in the camera while she's doing it. DulceMoon performs live Monday through Friday most weeks, so she's easy to find if you want to chat with her yourself.
She updates her Twitter and Instagram pages regularly, though her pages are locked and you'll have to follow her first to get any updates. She also has a ManyVids profile, where you can find tons of her premium videos if the ones on MFC aren't enough for you.
Kissofacobra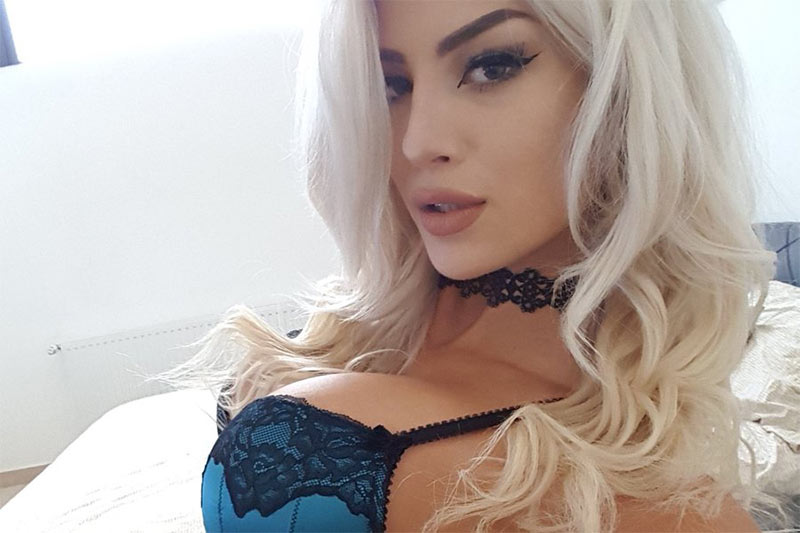 Kissofacobra is a slim, blonde European beauty with small, perky tits and a tight, round ass. She's very talkative in public chats, and likes to laugh and joke with her fans. She usually wears comfortable clothes like sweats during public chats, but always has some sexy lingerie ready underneath.
In private, Kissofacobra loves to play with her special dildo that shoots cum all over her face or tits. If that's not your style, she also loves to play with her pussy for you, and isn't shy about doing butt stuff. She performs 4 or 5 days a week, and has tons of premium videos available if she's not online when you are.
She's very active on Twitter, where she lets her fans know when she's online, and shares fun social posts and short, work-safe videos. She also has an Instagram page, with lots of sexy, non-nude photos.
Ariana_Gray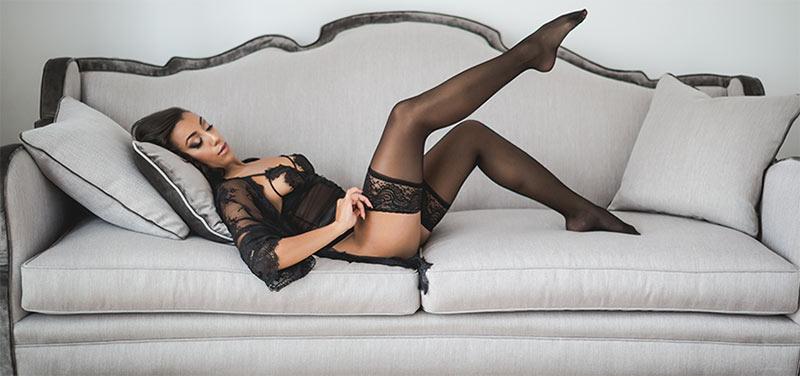 Ariana_Gray is a Latina bombshell from the US. She's athletic, and has big, bouncy tits and a firm ass that has just enough jiggle to be certified phat. She's chatty in public, and is funny and entertaining in addition to being 100% fap-worthy. Ariana usually performs in a swimsuit if she's wearing anything at all.
In private, she really turns up the heat. She'll ride her sybian, fuck herself with any dildo of your choice, and even participate in fetish play. This girl cums hard, the kind of quivering, shaking orgasms every guy wants to give a girl. She's online most days if you want to chat.
Ariana_Gray has a Twitter account where she's active sporadically, mostly to let fans know she's online. She posts more frequently on her Instagram, where she shares non-nude photos on a regular basis. In addition, she also has a large selection of premium videos available on MFC.
ClaraKitty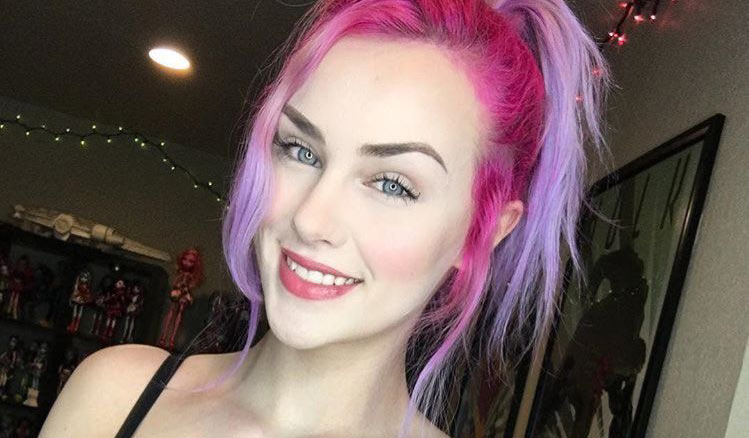 ClaraKitty is a smokin' hot blonde with slim legs, a small ass, and tiny titties with perfect pink nipples. She loves to chat, and even has her own YouTube channel where she posts work-safe videos just to keep up with her adoring legion of fans. In public chats, she's usually wearing casualwear or a sexy nightie.
Clara will only chat in private with MFC members who have reached "Boyfriend" or higher rank in her fan club by tipping 666 tokens. Short of doing that, you can still enjoy her group shows and public chats, where she uses her Hitachi when she's in a good mood. She also has over a hundred premium videos available for purchase.
ClaraKitty is a prolific tweeter. She tweets several times a day about her shows, upcoming events, and life in general. If you're looking for work-safe pictures, she shares them regularly on her Instagram page.
stellarloving
stellarloving is a petite, Asian model from the US. Her look is best described as "cute". She has small tits and a small ass, and is always wearing pigtails and preppy schoolgirl outfits in her chats. She's a little shy, but she smiles a lot and can be talkative when she gets going.
Stella has a thing for glass dildos. If you're taking her private and want to see her cum as hard as possible, definitely let her use one. She also does a lot of group shows with other girls, so she's one of the best MyFreeCams models to follow if you want to see some lesbian action.
Stella doesn't currently have any premium videos available on MFC, which is a shame. That said, she performs most days, and keeps her fans updated on her Twitter. There, you'll get show notifications, random funny posts, and the occasional steamy nude photo.
HyruleFairy
HyruleFairy is a tiny brunette with small tits, a round ass, and big round eyes that start rolling when she gets turned on. Her pussy is a hairy, but neatly trimmed. She's into cosplay, so depending what day you visit she may be a video game character or a superhero, or just relaxing in a bathrobe and some sexy underwear.
When she's in a private show or a group cumshow, HyruleFairy really gets into the action. She'll cum multiple times in one session, just because she craves having her pussy stuffed with toys, fingers, or whatever else she can handle. She's online most days, and has over a hundred premium videos available for purchase.
HyruleFairy is active on twitter. She posts multiple times a day, usually anime clips or video game memes. As you might expect from a cosplay model, she posts frequently on her Instagram page. Her pictures range from sexy NSFW photos to funny pictures, like her dressed up as Gandalf.
OctaviaMay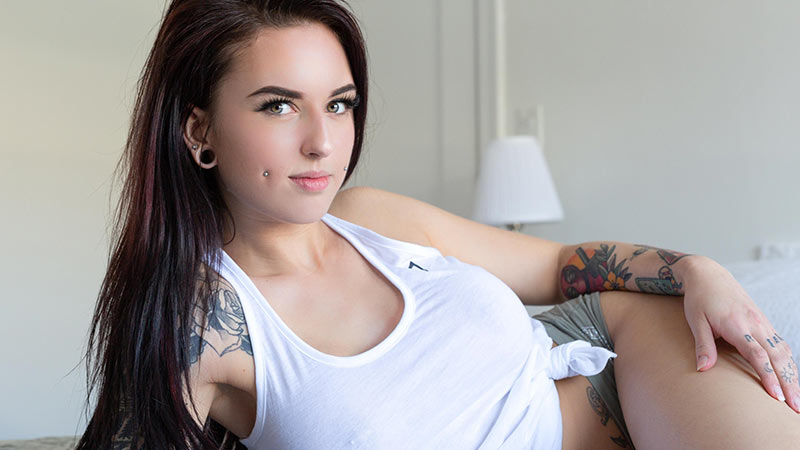 If you like girls with tattoos, you'll love OctaviaMay. This girl is tatted out from head to toe, and a slim body with plenty of curves where you want them to be. She has an active, sporty vibe, and often appears in sweats or wife beaters. She also has a tiny, bald, pink pussy that gobbles up huge toys like there's a worldwide dick shortage.
Octavia gets down and dirty in group or private. She's not into fetishes, roleplay, or any kind of "extreme" content. But if you want to jerk off with a hot, tattooed wife, this is your girl. Oh, yeah, she's married, and she talks about her husband a lot, which can be hot if you're into that kind of thing.
Octavia is extremely active on social media. She posts regularly on Twitter and Instagram, and also has a YouTube channel for keeping in touch with fans. If you're looking for premium content, she has dozens of videos available on MFC, as well as on her ManyVids page.
MandyLohr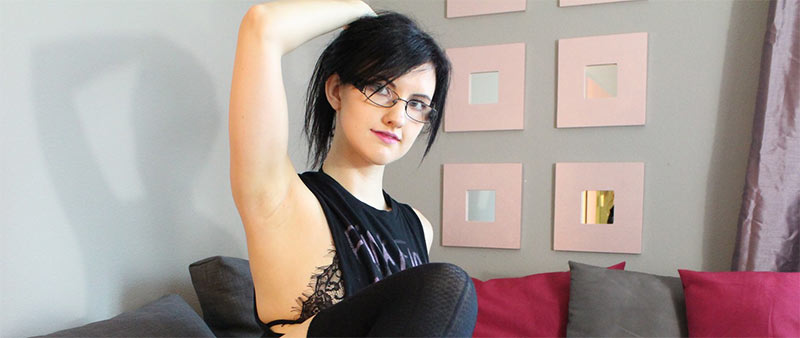 MandyLohr is another gamer/cosplay model. She has small tits with tiny brown nipples, and slim hips with a small ass. She's usually nude in her chats, but sometimes wears fun video-game themed clothes to change things up. She's talkative, and likes to interact with her fans by setting long-term group tip goals for big events like an outdoor public cumshow or a new piece of clothing.
In private chats and cumshows, this girl loves to be double penetrated. We're not talking about a gangbang, since MFC would frown on that. We're talking about Mandy's blue butt plug, which she puts in for most shows. Her premium videos include some boy/girl content, as well as plenty of dildo action.
MandyLohr has a Twitter account, where she posts work-safe updates several times a day. She also has a YouTube channel, although she hasn't posted anything there yet.
MissMolly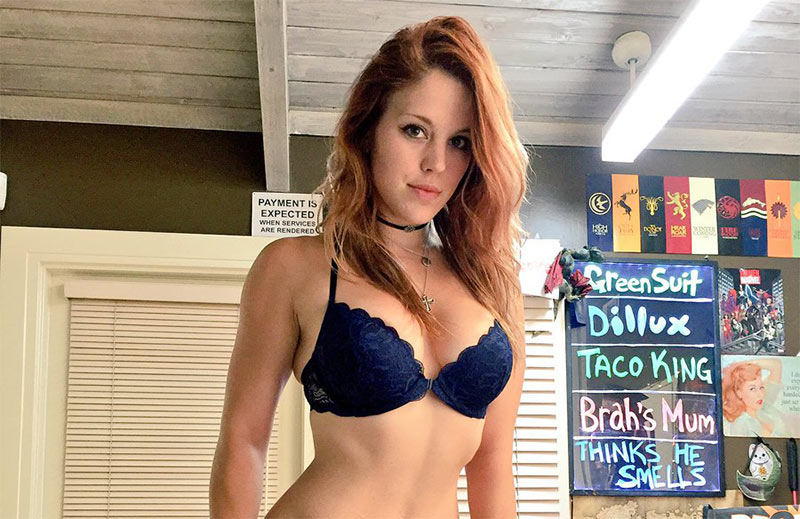 MissMolly is a redhead who looks like a supermodel. She's tall, slim, and has gorgeous red hair that's long enough to cover her perfect, round C-cups. She goes for a glamorous look, and is usually wearing an evening dress or lingerie when she's not showing off all her assets. She's recently branched out into professional porn, and has an exclusive contract with Twistys.
Molly is the kind of classy, sexy girl who starts out her shows all restrained, then slowly loses control as she fingers herself, and eventually starts convulsing when she cums. Since she's started shooting girl on girl porn, she's been less active on MFC, but you can still catch her three or four days a week.
She posts show updates and work-safe photos on her Twitter and Instagram pages. She also has hundreds of premium clips available for download on MFC.
EliseLaurenne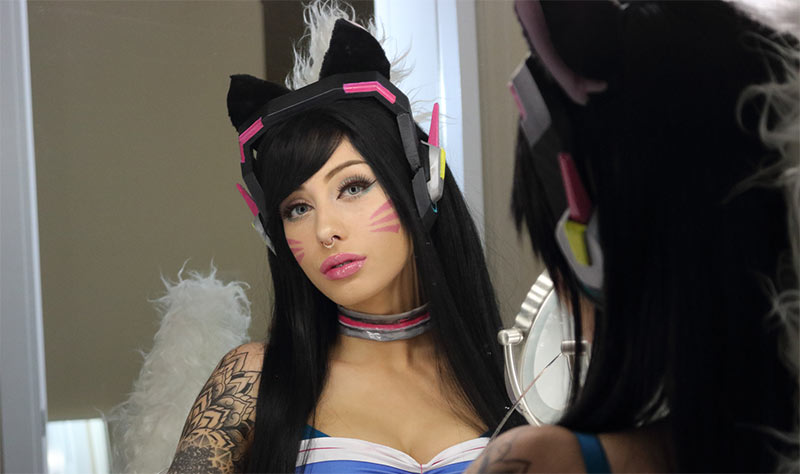 EliseLaurenne has a small, tight body with nice, round tits and enough ass to grab onto – or at least imagine you're grabbing onto. In addition to being a cam girl, Elise is also a professional cosplayer, so you never know what she'll be wearing or what color her hair will be.
Elise is really chatty in public, but once she starts fucking herself, she gets quiet. Soft moans, little squeaks, and some writhing at the end. She performs a few days a week in group chats, but only offers private shows to fans who have donated at least 1,600 tokens.
She's extremely active on Twitter and Instagram. Since she also uses these accounts for her cosplay work, everything she posts is work-safe, though some of it is still pretty hot. At this time, she doesn't have any premium videos available for download.
Harli_Lotts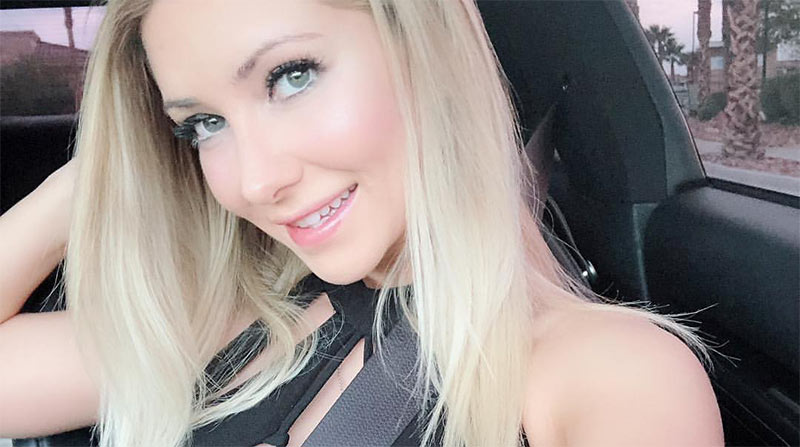 Harli_Lotts is a young blonde from Texas who's exploded onto the cam scene in the last 2 years. She's got a rockin' tight body with perfect round tits, and a plump ass. She's a college girl, and usually performs in lingerie or casual clothes. Harli loves to chat, and is one of the friendliest girls you'll meet on MFC.
Harli does a lot of group cumshows, and likes to keep them interactive with a separate cumshow tip menu with choices like mute, unmute, edge, stop, start, and having her insert a butt plug. She usually fucks a dildo, but can be persuaded – with tips – to use the Hitachi wand for even more fun.
She is active on Twitter, where she posts work-safe pictures and show updates. She's also a regular on Instagram. Harli has a YouTube account, but hasn't posted any video there yet.
SnugglePunk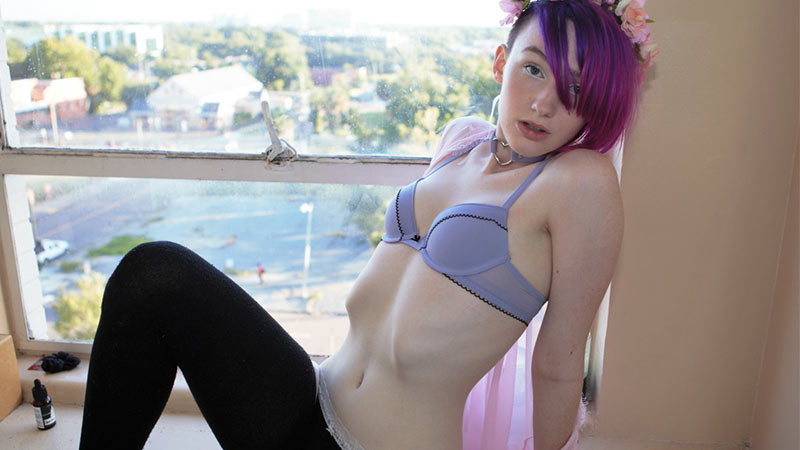 SnugglePunk is one of those girls who's so tiny it's hard to believe she can handle being fingered, much less handle a monster dildo. She's a flat-chested model with a small ass and a beautiful bald, pink pussy. She has a girl next door look, with natural hair and clothes that are revealing, but everyday.
When she gets going in group or private chats, she loves dildos and her fuck machine. She doesn't do a lot of fetish stuff, and is shy about putting anything in her ass. She has dozens of premium videos available for purchase on MyFreeCams, including some boy/girl action and several lesbian clips.
SnugglePunk has a Twitter account where she posts show updates, fun content, and the occasional sexy non-nude picture. She's also active on Instagram, but that account is only viewable by her followers.
Cabaret_Panda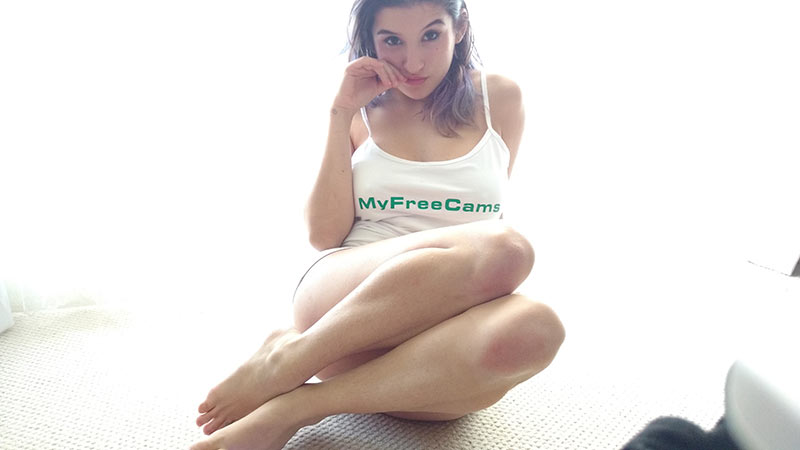 Cabaret_Panda is a short, fit Australian girl with a big ass and enormous tits. She usually starts her shows in a loose sweater or blouse that makes it easy to flash people, and tends to get topless pretty quickly. She's chatty, and enjoys answering questions from fans.
In group and private chats, she likes to finger herself or fuck toys while playing with her perfect breasts. Of course, her tits are her main attraction, so she does a lot of simulated blowjobs and boob-jobs to show them off. She also has a few dozen videos available on MFC, including blowjobs, lots of girl-on-girl action, and her first boy/girl scene.
Cabaret_Panda is active on Twitter every few hours. There, she updates fans on her latest shows, posts memes and comics, and also shares explicit, NSFW photos you can store in the spank bank. She has an Instagram account as well. She's not as active there, but she still posts sexy pictures now and then.

Similar Articles