VR Cam Sites (2023)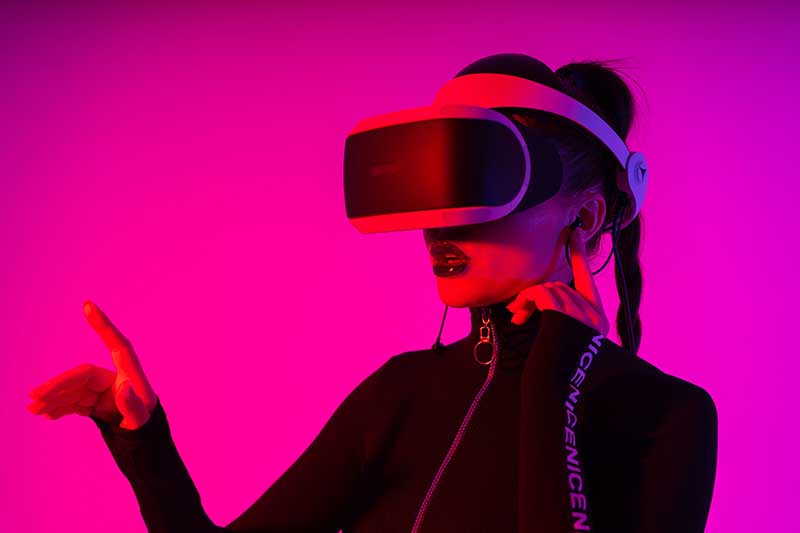 As VR technology becomes more common and affordable, it makes sense that people would direct their horniness to the latest media form. Instead of watching the girl on your computer or phone screen, you could be in a room as she dances and strips around you. It sounds like a dream come true, right?
Well, in a way, it is, but there are a few problems with the current VR cam girl site industry. Keep reading to learn about VR camming, where you can find sexy VR girls, and how much it will cost you.
What is VR Camming?
VR camming is exactly what it sounds like. Instead of cam girls broadcasting to your computer or phone, you access a website via your VR headset and watch them in VR. Not many girls currently do VR camming, mostly because it can be costly to get the necessary equipment.
Couple that with the fact that VR is still a fairly new technology that not many people have, and you can see why VR camming would not be very lucrative. However, companies are working on providing cam girls with the necessary equipment to start camming in VR.
While we are currently a fair ways away from VR cam girls becoming the norm, there is hope for a future when you can pop on your headset anytime you get horny and jerk off to a sexy girl right there in the room with you.
How Much Does VR Camming Cost?
To enjoy the slim pickings of VR cam girls, you will need, at a bare minimum, a Google Cardboard VR headset, though even that will cost you a fair amount. If you decide you want a better quality headset to use other VR applications, you are looking at an investment of several hundred dollars minimum.
Besides the initial several hundred dollars investment, Stripchat will still cost you as much as it normally does. It still uses a tipping system, though you are extremely limited on options. For instance, there is no cam2cam or other features that make Stripchat one of the top camming sites in the world.
So when you consider how much headsets are, it is not worth the price just to enjoy 10 - 20 low-quality grainy VR rooms on Stripchat. You are better off just booting up your computer and paying for cam2cam to jerk off to. It would not cost you nearly as much and would be much more effective in dealing with your horniness.
What do I Need To Watch VR Cam Girls?
If you decide to check out VR cam girls, you simply need a headset, a pair of controllers, and a PC depending on what type of headset you get. The Oculus Quest 2 is a standalone headset, so you do not need a PC capable of running VR to use it. This tends to be the most commonly used headset and will work for all your VR needs, including watching VR cam girls.
Where Can I Watch VR Cam Girls?
There are only two sites where you can see VR Cam Girls: Stripchat and sexlikereal. Stripchat.com is the only major cam site currently doing VR and typically boasts around 15 - 20 rooms online at any given time.
Not much of a selection, so you are better off watching a cam show on your computer like normal or watching some good old VR porn. It won't be live, but it will probably be better than the few shows on Stripchat's VR section.
Most of the Stripchat shows are all in 2D, but sometimes you may find a VR cam girl with the equipment set up for a 3D experience. Those rare girls are the cream of the crop, as it puts a whole new spin on watching cam girls.
There is just a realism about virtual reality that makes you feel like you are there with the girl, and her tits are swinging in your face.
Alongside Stripchat, a separate site called SexLikeReal.com produces, distributes, and sells VR porn videos. However, the models you see on SexLikeReal.com are the same ones you will see on Stripchat. So, in reality, there is nothing to gain from using this website either.
Simply put, currently, VR cam girls are not really an option, though you may get lucky and find one on Stripchat that you like. Not very likely, but it is also not completely impossible. Until VR equipment becomes cheaper and more widespread, we will unlikely see any real VR cam sites become popular with high-quality cam girls.
Vex Ruby on Viro.com
If you do not care about watching IRL girls get naked on stream for you, there is another option when it comes to VR cam girls. A single performer, Vex Ruby, has a virtual avatar that does live shows on her website Viro.com.
She does a show every Wednesday and Friday on CAM4, a camming site that used to offer VR options but put it on hold after a small audience response. With several toys and a special feature called Touchback, this is the most immersive VR cam experience currently available.
Now, a bit about the Touchback feature. What that is, it is a haptics-controlled feature allowing you to feel the same sensations through your sex toys as Vex is on her shows. It is a great way to connect with the model and adds a new level to the VR cam experience.
So while Vex Ruby may only be a virtual 3D model, her shows are impressive and, honestly, the best choice currently for VR cam girls. If you do not care if you jerk off to a real live girl or a virtual girl, head over to Viro.com and join the fun!
Conclusion
VR camming is still in its early days, but there is hope for it eventually becoming a staple in the camming and porn industry. After all, there will always be horny people looking for the next best way to jerk off, and sexual desire is one of the greatest motivators for invention. So get out there, let the big companies know you want VR cam girls, and enjoy jerking off to the slim selection currently available.

Similar Articles