All About LiveJasmin Hacks
If you know anything about live cams, you know that getting a model alone for some one-on-one time, especially a talented and attractive one, isn't cheap. While creating an account is free, you won't see much action on LiveJasmin without some Credits - the currency required to buy time with a model. This is probably why I see so many people asking about "LiveJasmin credit hacks" or "credit generators". This is a major scam and NOT legit in any way! Please don't fall for these fishing attempts to solicit your personal info.
LiveJasmin Credit Hacks and Generators Are a Scam!
Here's how this scam works: A site advertises "free LiveJasmin Credits" - all you gotta do is enter your email address or phone number for "verification". Then these thieves sell your personal information to spammers who hammer your phone/email with garbage. Oh, yeah - you also won't get the Credits.
Even if this did work, and you could instantly generate (as one of these sites promised me) 5000 Credits (~$4100), then you would probably be caught and banned quickly by the LiveJasmin admins. I can promise you that if a new account suddenly gets a huge amount of their currency, they'll notice and follow up.
In short, any advertisements that you see for LiveJasmin token hacks or generators are just ploys to steal your personal info and resell it to the shadiest people possible.
How to Actually Get Free Credits on LiveJasmin
Luckily there's one way to actually get free Credits on LiveJasmin without defrauding anyone! Granted it's not a huge amount (about $10 worth) but it's plenty to try out the site and see what it's like to be a paid user.
LiveJasmin doesn't exactly make it obvious how to get this offer. To claim the $10 of free credit for free, do the following:
Create a free account on LiveJasmin here
Click the link in the menu labled "Get Credits"
When you're presented with the different Credit packages, click the tiny red "X" in the top right
This will pop up the offer of 9.99 Credits for 0$
Enter your valid card info - NO CHARGE will be made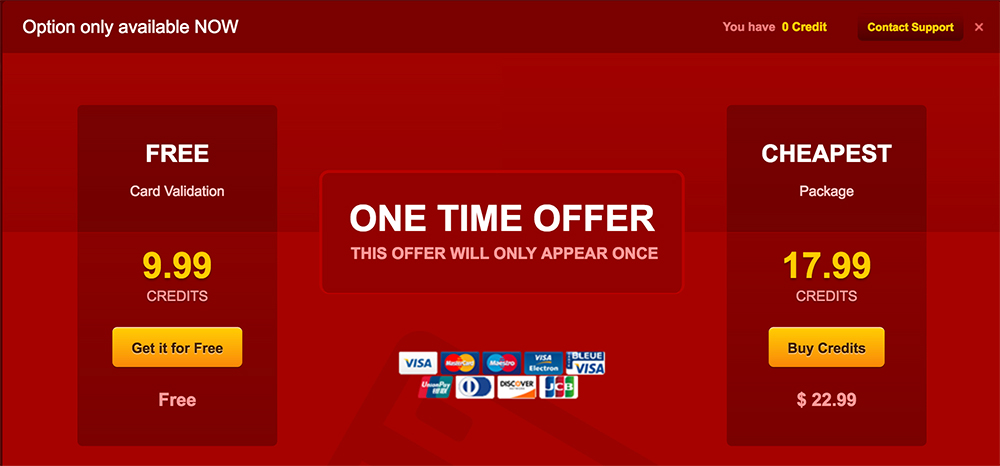 Rest assured that LiveJasmin is a trusted website that uses secure and discreet billing. Your info is safe with them, and even if you make purchases you won't be billed by "Live Jasmin".
Consider Other Cam Sites
Though LiveJasmin has free signup and the free $10 offer mentioned above, it's still not the best value for free users. That's because LiveJasmin really pushes their private chat shows. They know they have great models and tech, and people will pay for that level of quality. If you're dead-set on a totally free cam site, then consider these options:
Most adult cam sites allow free accounts, but very few sites give you this kind of value for just an email signup. Most all the shows on MyFreeCams are public, meaning any free user can watch with hundreds or thousands of others. You're free to hang out and watch the action, which is moved along by paying customers who tip performers. Free users may be stuck with their dicks out, waiting for a paying customer to advance the show, but they're free to watch!
While not many Americans know about BongaCams, it's a big deal in Europe. Most of the shows are public, so anyone who's made a free account can join and watch. Unlike MyFreeCams and LiveJasmin, BongaCams features women, men, couples, trans girls, and every obscure fetish you can imagine. It also has a clear, straightforward design that makes it easy and intuitive to find the action you want quickly.
Even though they're both cam sites, LiveJasmin and Chaturbate don't have much in common. While LiveJasmin is professional and clear, Chaturbate is a total mess of thousands of amateurs. It's also totally hot and addictive to browse through, once you get past the dated interface. Like the other sites on this list, Chaturbate provides enormous value to free users. You won't see the same caliber of show as you would on LiveJasmin, but it will be free!
Like LiveJasmin, Flirt4Free is a professionally made website that features pro models. This is usually the kind of action you have to pay for - the kind that people make credit scams for! But luckily it also features a few "party chat" shows. To find them, make a free account with a valid email, then sort shows by "party chat". These are essentially public shows where the models are paid in tips. Totally worth signing up and checking it out.
Over the years CamSoda has begun to overtake LiveJasmin in popularity. When you check it out it might be obvious why. CamSoda has a fun vibe, tons of features, and top-notch web design. We recommend CamSoda to both paid and free users. Also, if you're into porn stars, a few of the biggest names in the industry, including Gianna Michaels and Farrah Abraham, have performed there. And if you have a VR headset or smart toys, this is the site for you. In terms of cutting edge tech, Camsoda is consistently ahead of the curb.
Hopefully I've given you a lot of reasons to NOT fall for a token hack scam. There are plenty of totally free and legal ways to see great models live on cam. If you need even more free adult cam recommendations and reviews, we have you covered.
Similar Articles