All About Flirt4Free Credits (2023)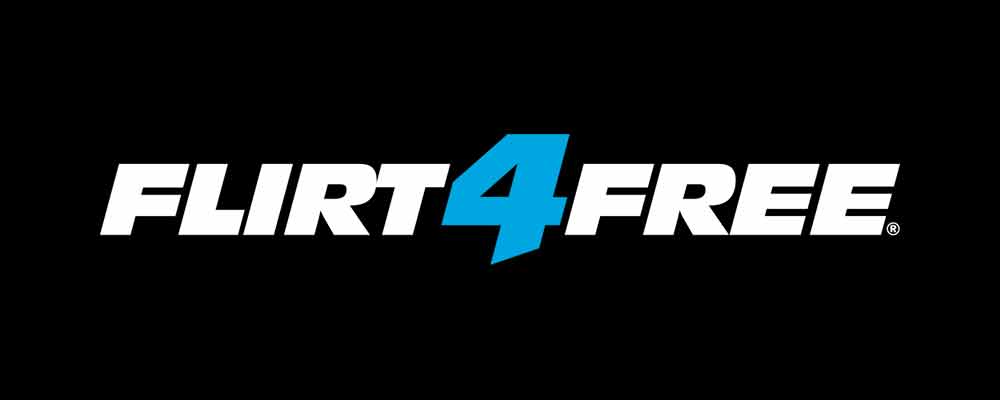 Visit Flirt4Free
Flirt4Free is one of the most popular cam sites online. It's the flagship site of the VS Network, a network of white label sites run by hundreds of independent webmasters. They're kind of like the Captain Planet team; with all their powers combined, they're a force to be reckoned with in the online camming world. They're well-known for being particularly inclusive, featuring an array of female, male and trans models. This makes them one of the few mainstream sites that also offers gay and trans options.
Like many webcam sites, Flirt4Free offers a variety of cam show options. The most basic shows are free to the public. But these models don't work for free. The best action is found in paid group shows and private shows. And to get in on this action, you're going to need to get your hands on some credits. You'll also need credits to fully participate in free shows. For example, many free shows use interactive sex toys; besides, tipping is just the polite thing to do.
So, how do Flirt4Free credits work? We're about to give you a thorough guide to the process, from how to create an account, to the costs you should expect, to the goodies you can buy with them. We'll even talk about how you can get your hands on a free package. Let's get going!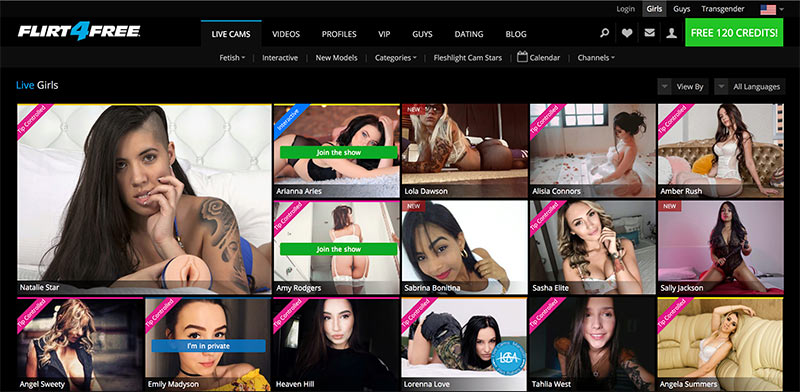 How Much Are Flirt4Free Credits?
Before you buy any Flirt4Free credits, you're going to need to create an account. The good news is that creating an account is 100 percent free. You don't even need to use your credit card! All you need is an email address. Click the "Create Account" button in the top right corner of the site, and you'll be prompted to enter your email address, and create a username and password. That's all you have to do. You should probably check your email anyway, though; your confirmation email may have been sent to your spam folder. This isn't a serious problem, but whitelisting Flirt4Free's emails is a good way to ensure that any promotional offers will end up in your inbox, not your spam folder.
Even without any credit purchases, creating a free account comes with a few of its own sweet perks. Significantly, many of the models offer free preview images and pictures to free members. Essentially, this free content is designed to entice you to buy some credits and participate in their paid shows. To buy your credits, you'll first need to click on the "Buy Credits" button on the top right of the page. This will open up a payment window. There, you'll see a variety of credit packages, along with their prices. We've put together a table that shows what you get from each package.
There are a few ways of paying for your credits. The first, and easiest way, is to use your credit card. Flirt4Free accepts just about every major credit card, so you shouldn't have any issues there. Of course, you can also use PayPal if you'd prefer not to hand over your credit card information. This option is a little more difficult to find. When you select a credit package, the page will prompt you to enter your credit card info. At the bottom of the page, there's a small link that says "Change Payment Method". Clicking that link will bring up another page with a variety of payment options, including PayPal.
You can also purchase Flirt4Free credits with cryptocurrency. Crypto options include Bitcoin, Bitcoin Cash, Bitcoin SV, XRP, Etherium, Ethereum Classic, Litecoin, TRON, Nano, DASH, Stellar, Dai, StableUSD, TrueUSD, EOS, Bittorrent, Mithril, and more than a dozen others. This covers just about every cryptocurrency option available on the market.
Finally, you can use a variety of retail gift cards, through a service called PayGarden. PayGarden allows you to use cards from Walmart, Home Depot, Lowe's, Target, Best Buy, and dozens of other major retailers. This is a great way to repurpose those old gift cards that you got for your birthday. Keep in mind, though, that you'll need to create a PayGarden account in order to take advantage of this feature. It's free, but it takes a few minutes to set up.
| | | | | |
| --- | --- | --- | --- | --- |
| Payment Method | Number of Credits | Price | Price Per Credits | Notes |
| Credit Card | 90 | $10.00 | $0.11 | |
| Credit Card | 500 | $50.00 | $0.10 | |
| Credit Card | 1,000 | $100.00 | $0.10 | |
| Credit Card | 2,625 | $250.00 | $0.095 | |
| Credit Card | 5,500 | $500.00 | $0.09 | Best value |
| PayPal | Same as credit | Same as credit | Same as credit | |
| Gift card | Same as credit | Same as credit | Same as credit | |
| Crypto | Same as credit | Same as credit | Same as credit | |
As with most cam sites, your value will vary depending on what credit package you purchase. The more you buy, the cheaper your cost per credit. As a result, the $500 package offers the best value. Of course, that's a lot of money to drop all at once on a cam site, so it's understandable that most people are going to start off with one of the lower-priced packages. You'll also notice that the costs for each package are the same regardless of your payment method. This is a welcome change from many cam sites, which often charge an added premium for using PayPal or cryptocurrency.
One thing you should be aware of is that Flirt4Free will autobill your credit card if you're in a group or private show and your credits ran out. They charge a rate of $20 for 180 credits. As a result, you'll want to keep your eye on your wallet when you're beating your meat. The VIP membership also automatically rebills on a monthly basis. We'll talk more about VIP memberships in the next section.
How Can I Get Free Flirt4Free Credits?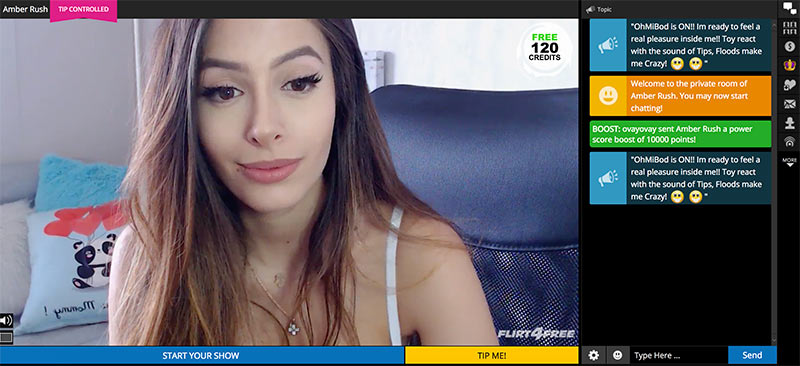 What's better than cheap credits? Free credits! Whether it's a food sample at Wegmans or something a little spicier, everyone loves some free swag. Thankfully, Flirt4Free offers several free options to sweeten the pot. The first is a basic signup bonus. The first time you buy a credit package, you get 120 credits. Depending on the package, the exact value may vary, but we're going to go ahead and call this a $12.00 value. Is it incredibly impressive? No. But it's sure better than nothing! And it will buy you a few minutes' of private chat or several vibes in an interactive show.
Another option is to purchase a VIP membership. Now, this method isn't exactly "free". On the contrary, it costs $39.95 a month. However, it comes with a variety of benefits. With a VIP membership, you get the ability to send private messages to models, essentially a special back channel to express the fantasies you don't want to talk about in group chat. You also get access to most of Flirt4Free's premium videos. These are videos that models have pre-recorded and marked as "VIP only". When you watch one, the model gets a small amount of money. Oh, and you also get 150 free credits, roughly a $15.00 value. Are the credits alone worth the $39.95? Hell no. But if you were going to buy a VIP membership anyway, the credits are a great added value, effectively lowering the monthly cost to $25.
You can also get credits by signing up as a Flirt4Free model. To be fair, this isn't the best option for everybody. You need to have an exhibitionist streak if you're going to get naked on camera. The good news is, as we already mentioned, that Flirt4Free is one of the most inclusive cam sites on the web. Whether you're a guy, a girl, or somewhere in-between, there's a place for you on this site. If you're down to show off your stuff, you'll probably earn a few credits. Then you can turn around and use those credits to pay for whatever services you like.
As with many cam sites, Flirt4Free is plagued by a variety of shady third-party sites that promise to give you "free credits" if you use their service. They ask you to enter your login information so they can provide you with these credits. Don't fall for these scams. At best, they actually work. In this case, you can be assured that Flirt4Free will find out. They don't make their money by being fools, and they'll notice a bunch of unpaid credits. This will earn you a quick frog-march to a lifetime ban. At worst, the scammers will use your information to get your credit card number, and rack up a bunch of charges in your name. Rest assured, these "free credits" hacking sites are far more trouble than they're worth. Instead of getting your rocks off, you'll be the one taking it up the ass.
What Can I Buy With Credits on Flirt4Free?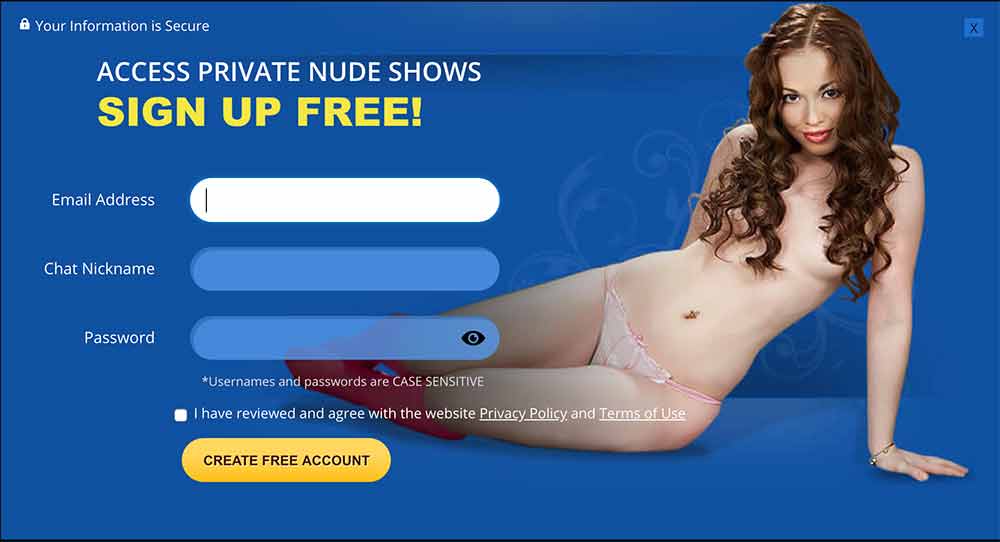 So, you've spent your hard-earned money to buy some Flirt4Free credits. What can you buy with them? As with most cam sites, you have a variety of options. The first is simply to tip the models. To begin with, this is just common courtesy. But it's also a great way to make requests. Most models don't take requests from non-tippers, so you'll need to have a few credits in your pocket to make any requests. It's also the only way to participate in live shows. Many models use interactive sex toys that vibrate when you tip. These models are marked with a "Tip Controlled" flag on their preview image. Sure, you can always spy on these shows. But it's a whole lot hotter when you're the one controlling the action.
In addition, you can also participate in group shows. For these shows, the model will set a tipping goal in advance. Any user can contribute towards the goal, which will reserve their spot for the show. Once you've reserved your spot, all you have to do is wait until the goal is met. At that point, the model will go into a locked, private show, where only contributors are allowed to watch. That's when all the action happens. Rock out with your cock out — or jam out with your clam out — as you enjoy watching a hot model bring your fantasies to life. Inside the group show, you'll have the opportunity to offer additional tips, giving you even more control over the action.
If you're not into group shows, you can ask the model to start a private show. This is entirely at their discretion, and VIP members will generally get first dibs. However, when you go into a private show, you're the only person who's able to chat with the model. Keep in mind that these shows will cost you a pre-set cost per minute. Some models charge as little as $2.00. On the other hand, Flirt4Free's most popular models charge as much as $20.00 per minute. Make sure that you negotiate the rate beforehand. If these rates seem a bit steep, you can also enjoy a "spy show". In this mode, you pay a discounted rate to watch a private show. Someone else is chatting with the model, and they get to negotiate what happens. But it's a great way to see some of Flirt4Free's spiciest content without paying a premium.
Finally, paid members get to buy access to premium videos. These videos are priced at the model's discretion, and range from as little as $2.00 to as much as $20.00. They're not available to free members, or even to VIP members. You have to purchase them individually, using your own Flirt4Free credits. That said, you can save them to a personal gallery, and even sort them into customized folders that make them easy to find. If there's a particular model that makes you extra horny, this is a great way to get even more of their content.

Similar Articles