Best Asian Cams (2023)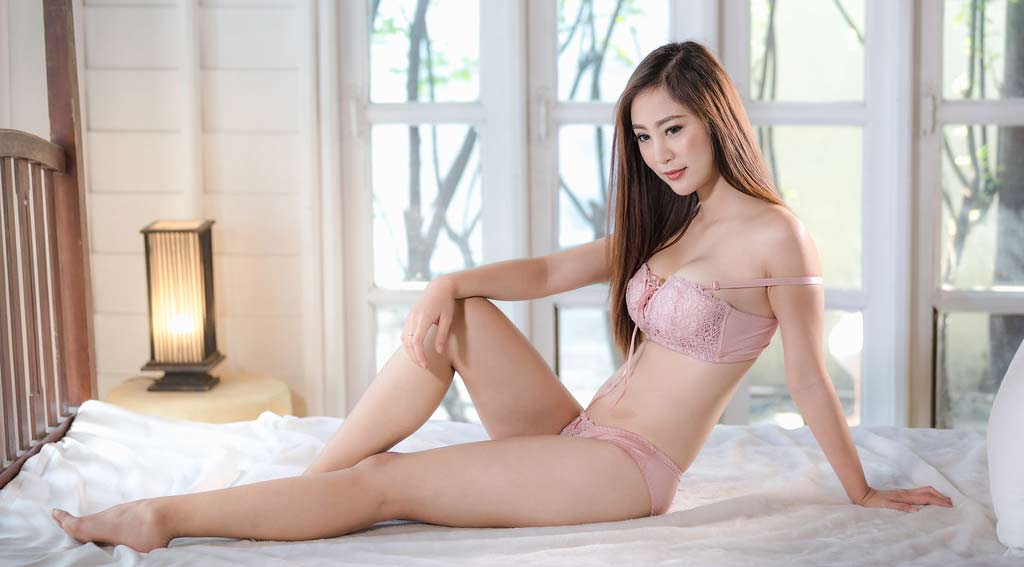 If you're looking for some hot Asian cam girls, you're not alone. 2019 was a banner year for Asian porn, with "Japanese" rising to the top of PornHub's most popular terms. "Korean" and "Asian" were also in the top 10, with both of them rising in popularity. But you know what's even better than Japanese porn? Japanese cam girls. If you want a truly personalized porn experience, there's simply no replacement for a smoking hot cam girl jerking off at your instruction.
The internet has spoken, and we're here to deliver. We've put together a list of the best Asian cam sites for you to enjoy. Whether you're looking for Korean cam girls, Japanese models, or you just have a thing for the hottest Asian babes, we've got you. Let's take a closer look, and see what each of these sites bring to the table. By the time you're done here, you'll have enough options to keep your dick happy for years. Let's get into it!
Quick Navigation
LiveSexAsian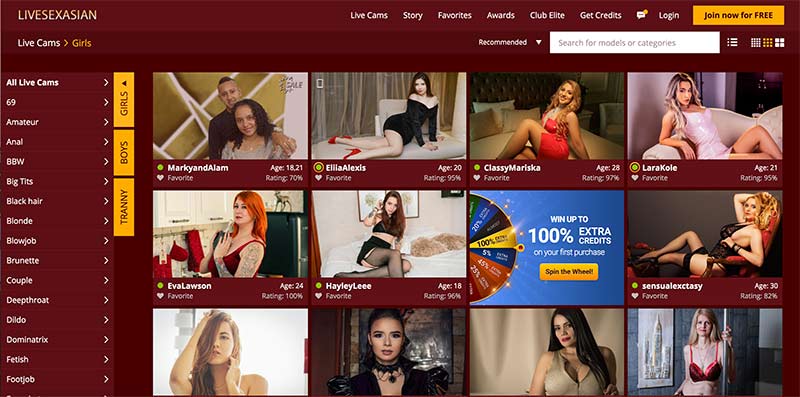 LiveSexAsian is a white label version of LiveJasmin, one of the most popular cam sites on the web. Rather than displaying LiveJasmin's entire catalog, it includes only their Asian models. On the one hand, this makes the site easy to search, and gives you access to the type of super-hot, premium models LiveJasmin is known for. On the other hand, a lot of models seem to have taken note of the growing popularity of Asian cams, and have tagged themselves as Asian. As a result, roughly half the girls are white or Latina, not actually Asian.
LiveSexAsian Pricing
LiveSexAsian accepts a variety of payment methods for their credits. You can pay with a credit card, PayPal, cryptocurrency, or even retail gift cards via PayGarden. Costs per token range from $0.10 to $0.14 each, depending on the payment method and package you choose. As usual, larger packages come at a discount, and credit card payments are cheaper than PayPal. Show pricing ranges from 1 credit per minute all the way up to 9.99 per minute for the top models. But most shows fall in the 2-3 credit range per minute.
LiveSexAsian Features
In addition to paid private shows, LiveSexAsian also offers group shows, which they call "VIP shows". These shows do not charge by the minute. Instead, users tip in advance towards a total goal. If the goal is met, everyone who contributed gets to enjoy the full show. You won't typically see explicit action in free chat. The one exception is shows with interactive toys.
Pros:
Same features as LiveJasmin
Most cams are HD
Large selection of models
Reasonable pricing
Cons:
Lots of non-Asian models
Most explicit content is not free
SakuraLive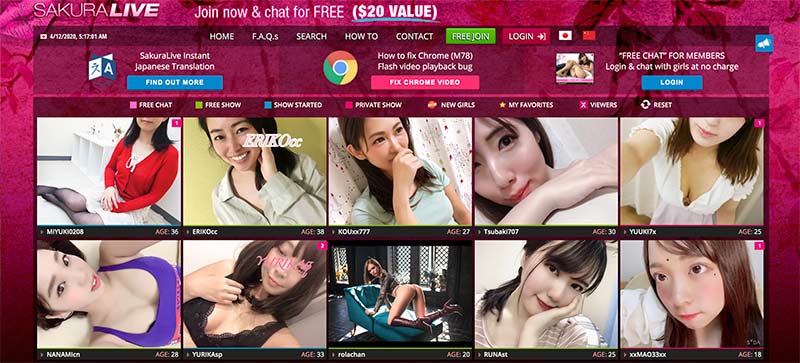 SakuraLive isn't just an Asian cam site, it's a Japanese cam site. The good news is that all of these girls are actually from Japan. You won't have your feed cluttered up with white girls and Latinas trying to surf the Asian wave. The downside is that many of them don't speak English. This can be disappointing if you're a US-based user. But if you're Japanese yourself, it won't be an obstacle.
SakuraLive Pricing
SakuraLive requires a credit card to sign up for a basic account. There's no charge for this — it's just for age verification — but it might be a turnoff to some users. Once you've signed up, you'll be able to view public shows for free. But these girls are savvy, most of them will only get down and dirty in a private or group chat. Pricing is consistent across the site. Points cost $2 each, and group chats cost 1.2 points per minute. Private chats cost 2.2 points per minute, with an additional 0.5-point charge for two-way voice chat.
SakuraLive Features
SakuraLive offers some of the best interactive action on the web. Plenty of sites offer interactive vibrators, but SakuraLive offers interactive dildos, sex machines, and even full-on camera control. Granted, all of this comes at a price. But if you want to have a truly hands-on experience, you're looking at the right cam site.
Pros:
All models are actually Japanese
Interactive toys available
Can control the model's camera as well as toys
Most cams are in HD
Cons:
Many models don't speak English
Credit card required for signup
Asians247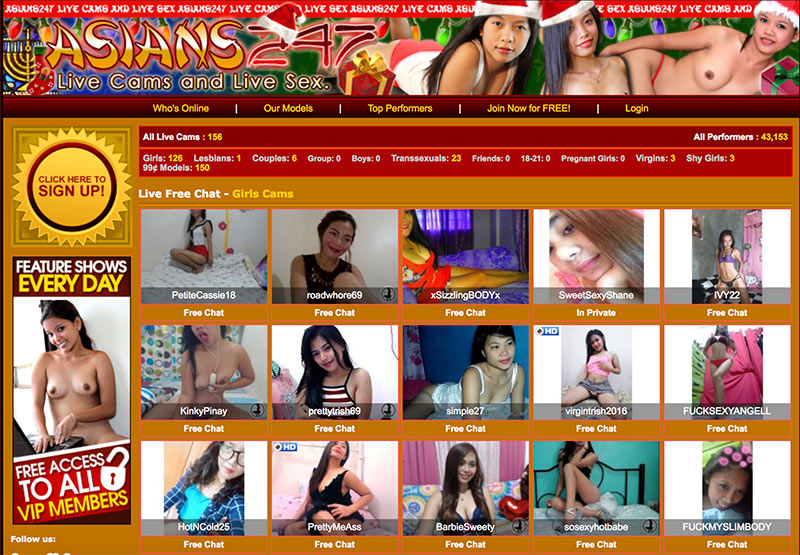 Asians247 is a relatively barebones site that features mostly Thai and Filipino girls. There's also a relatively large selection of trans models. Many of these girls speak English, although a small number do not. There's one downside we should mention here: the chat windows are relatively small. For some reason, the video will only occupy a small portion of your screen, and some of the models have very slow connections.
Asians247 Pricing
Asians247 charges pricing in real-world money, not in tokens. This is refreshing, since you don't have to do any calculations to figure out how much you're actually paying for a show. Pricing is very reasonable. Most models only charge $0.99 per minute for private shows, and you can enjoy a voyeur show for $0.69 a minute.
Asians247 Features
Like most cam sites, Asians247 offers private shows, group shows, and voyeur shows. A voyeur show is just a discounted private show, where you get to watch someone else's private show without being able to participate in the chat. There's also a VIP pass available. For $29.95 a month, you get to save archives of your private shows, and you get access to all pre-recorded videos on the site.
Pros:
Only Asian models
Very reasonable pricing
Model rates are charged in real-world money
Full-featured VIP membership
Cons:
Relatively low video quality
Small chat windows
AsianBabeCams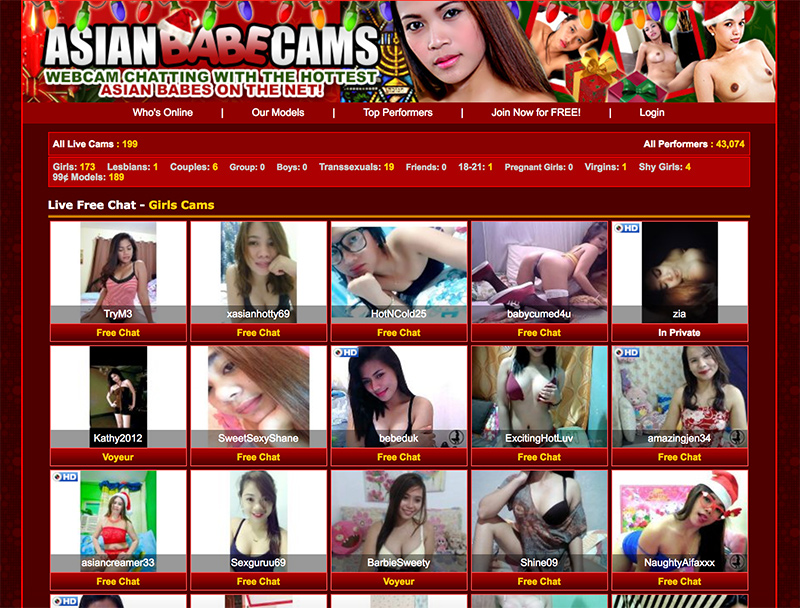 AsianBabeCams is another site that delivers just what it advertises: 100% Asian models. You won't find any stealth white girls on this site. At any given time, you'll find at least 100-200 female models, as well as a dozen or more trans girls. That said, it suffers from the same problems as Asians247: small chat windows and relatively low-quality video.
AsianBabeCams Pricing
One thing we appreciated about AsianBabeCams is that all of their models charge the same rates. Private and group shows cost $0.99 per minute, while voyeur shows will run you $0.69 per minute. All charges are in real money, not tokens, which makes it easy to understand how much you're actually spending on any given show.
AsianBabeCams Features
AsianBabeCams provides a variety of show types. You get access to paid group shows and paid private shows, which is where the spiciest action happens. If you want to save a few bucks, you can also enjoy a voyeur show, where you silently watch someone else's private show. Some models even offer pre-recorded videos. You can unlock all pre-recorded videos across the site for $19.84 a month.
Pros:
100% Asian models
VIP membership unlocks unlimited videos
Consistent pricing across the site
Easy to understand pricing
Cons:
Relatively low video quality
Small chat windows
DxLive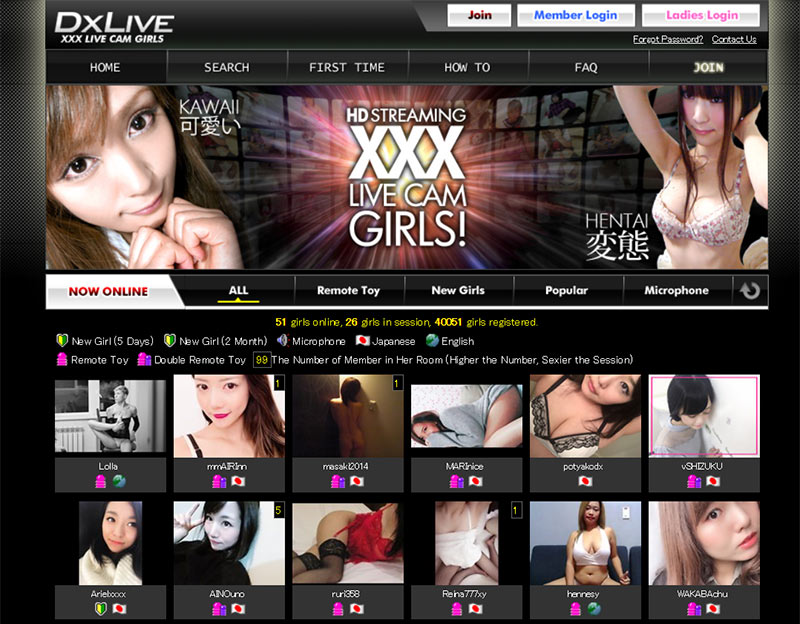 DxLive is a cam site that features primarily Japanese girls. If you have any doubts, just visit the website. The first thing you'll see is an age confirmation in both English and Japanese! To be fair, the site isn't totally limited to Japanese models. You'll also see some Thai models, and even some white ones. But the vast majority are Japanese.
DxLive Pricing
Pricing on DxLive is transparent and easy to understand. Transactions are conducted in "points", and cost the same for all models. Private chats cost 1 point per minute, while group shows and voyeur shows actually cost a bit more, at 1.2 points per minute. You can even control a model's toy for 1 point per minute. Point pricing varies by package, and varies from $1.75 to $1.99 per point. Payment can be made by credit card only.
DxLive Features
DxLive offers just about any type of show you can imagine. They offer group shows, private shows, and spy shows. They offer complete control over a model's toy, as well as cam2cam, or even a split-screen mode where you control two models' toys simultaneously. The downside? There's no explicit content in free chats. If you want to watch one of these models cum, you're going to have to pay.
Pros:
Almost 100% Japanese cam girls
Easy-to-use interface
Reasonable pricing
Pricing is consistent across the site
Cons:
Virtually no free content
Requires a credit card for account creation
Asian Cams @ Chaturbate
Chaturbate is one of the leading mainstream cam sites on the web, with a smorgasbord of content. They offer everything from grainy amateur feeds to high-resolution pornstars. Because they offer so many options, they also have a large number of Asian cam girls. As with most mainstream sites, though, there are a lot of non-Asian models using the #asian tag to try and garner more viewers.
Chaturbate Pricing
Pricing on Chaturbate is highly variable. Tokens range from $0.08 to $0.11 a piece, depending on your package and payment method, and can be purchased with a credit card or cryptocurrency. You can also pay by direct wire transfer, although there's a $250.00 minimum for that payment method. Show prices are also highly variable, ranging from $0.50 to $9.00 per minute. Shop around, and you'll find a deal!t card, PayPal, cryptocurrency, a bank wire transfer, or even by mailing in a paper check..
Chaturbate Features
Chaturbate offers a lot of X-rated action in free chat. If you want to see a hot Asian girl dildoing herself without paying a dime, you're looking in the right place. Of course, you'll get even better value if you're willing to spend a few bucks. Private shows, spy shows, and group shows are all available at a reasonable price. You can even join a model's fan club for a nominal fee. This will give you premium access to her pre-recorded videos and photo albums.
Pros:
More models than just about any other cam site
Plenty of free and low-priced options
Large number of trans models and couples
Easy to use and navigate
Cons:
Many non-Asian models using the #asian tag
Tough to filter options within the #asian tag
AsianCamSex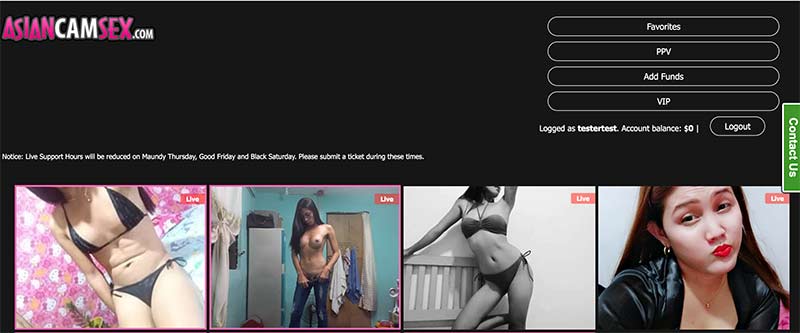 AsianCamSex is yet another site that features 100% Asian models. Most of the girls seem to be Thai, although there's some variation. There's a large number of trans girls on this site as well, almost as many as there are traditional girls. And gay and female viewers are in luck: there are more gay guys on this site than you'll find on most cam sites. The bad news? The overall number of models is relatively low.
AsianCamSex Pricing
Credits on AsianCamSex are priced consistently, whether you buy a smaller or a larger package. Packages range from $15 to $100, with several different packages in-between. Actual chat costs are controlled by the individual model. Most of them charge 1 credit per minute, although a few of the most popular models charge as much as 2 credits per minute. Regardless, the pricing is very reasonable.
AsianCamSex Features
On AsianCamSex, you can enjoy either a free, non-explicit chat, or a private chat. On its face, that doesn't sound like much. But a number of the models specialize in the girlfriend experience. In other words, you're not just limited to watching them jerk off. You can also have a more intimate chat and simulate an actual relationship with one of these gorgeous Asian babes.
Pros:
100% Asian models
Reasonable pricing
Lots of trans models, couples, and gay models
Easy sorting and filtering
Cons:
Relatively small model selection
Inconsistent cam quality
Asian Camly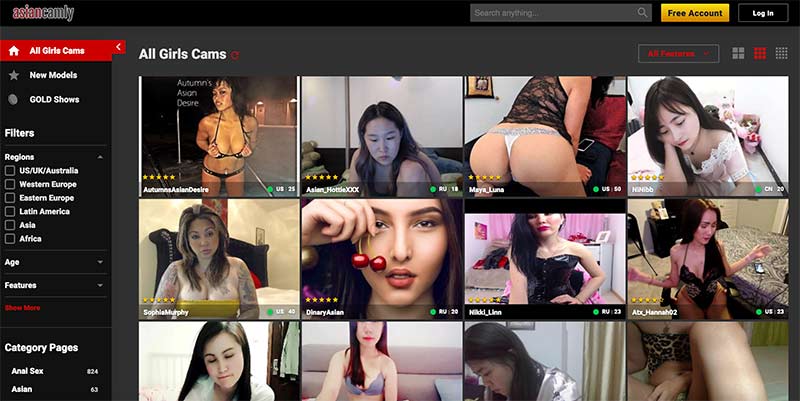 Asian Camly works like most other major cam sites on the web, with one significant difference. All the girls are Asian. Most of the models are Japanese, although there's a smattering of Thai and Chinese girls as well. With at least 500 models online, even during off-hours, you'll be sure to find a gorgeous Asian girl, no matter what flavor you're looking for.
Asian Camly Pricing
AsianCamly charges a consistent rate. Points cost $2 each, whether you're buying a small or large package. On the one hand, this means there are no bulk discounts. On the other hand, it means that you get a better value for small purchases. Chat costs are also consistent. Private shows will run you 1.2 points per minute, with an additional 2 points per minute for remote toy control.
Asian Camly Features
On AsianCamly, you'll have several different show options. There's no explicit action in free chat, but that's to be expected — these girls need to get paid! That said, private shows are reasonably and transparently priced. And if you want to save some money, you can get a significant discount by watching a voyeur show instead.
Pros:
100% Asian models
Consistent pricing
Easy-to-use interface
Generally good cam quality
Cons:
Relatively small model selection
Credit card verification required for free membership
Conclusion
As you can see, any one of these Asian cam sites would be a good choice. But there are a few questions you should ask yourself before you choose. The first, and most important, is whether you want to see only Asian girls, or whether you want to satisfy your Asian fetish while also having other options.If you want a full selection of cam girls, but you also want to see other girls, check out Chaturbate or LiveSexAsian. Chaturbate has literally thousands of models of every ethnicity. LiveSexAsian, meanwhile, focuses primarily on Asian girls, but with a selection of other models.
As for the rest, you're looking at exclusively Asian cams. So you won't be able to jack off to other girls, but they also won't be cluttering up your feed. Of particular note is SakuraLive. They have some of the hottest Japanese models around. To be fair, most of them don't speak English. But who needs words when you're naked and horny? Whip out your dick, and enjoy the show!
Similar Articles