AdultFriendFinder Pricing (2023)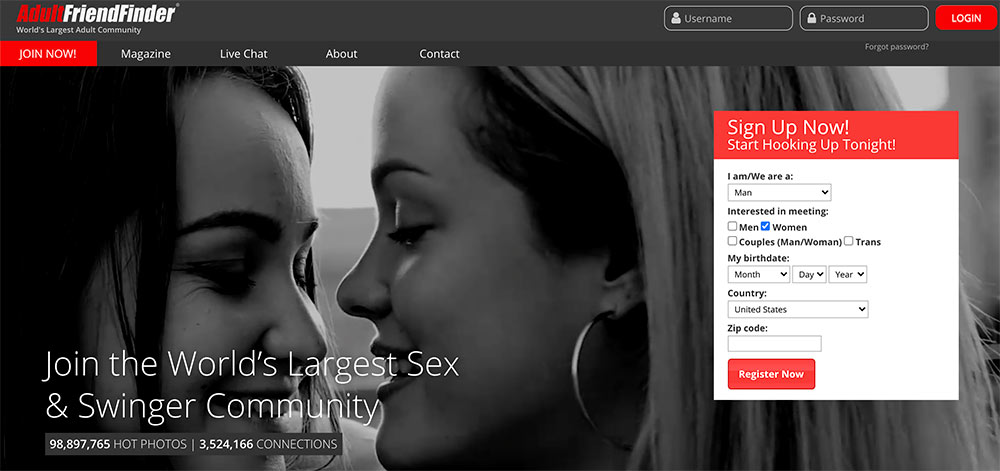 Visit AdultFriendFinder
AdultFriendFinder is a popular destination to hook up and get laid. The website also lets you watch live sex streams, sex chat, and catch up with people with similar interests. It's a safe sex heaven for guys and girls to enjoy some sexual entertainment and even meet in real life.
However, is AdultFriendFinder free? Do you need to pay to enjoy the services of the website?
Today, we will present a special blog on AdultFriendFinder pricing. We will discuss what's free, what's paid, and how much you need to become a VIP member.
So, let's dive in without any delay!
Is AdultFriendFinder Free?
Basic membership on AdultFriendFinder is free. You can register yourself and create a free account to browse profiles and chat. A free membership also lets you:
Create your profile and add photos
Create your list of favorite users
Search profiles and members with limitations
Send replies to emails you get
Send instant messages and chat online
Find out who visited your profile
Access forums and blogs
Get recommended matches
However, that's all you can do with a free account on AdultFriendFinder. You cannot embark on exciting journeys like watching live sex cams. For that, you will need to sign up for the Gold membership for monthly charges.
What Does Gold Membership Cover?
AdultFriendFinder has only one type of membership they call Gold. You can become a Gold member by paying monthly charges or enjoy discounts by paying for a few months together. What do you get by becoming a Gold member?
Full Profile Access
Paid membership allows you to view full member profiles with private photos. You may be able to catch a few revealing pictures where members dare to bare it all. On the other hand, a free membership only lets you view parts of a profile.
Limitless Searching
A free account only lets you perform basic searches to discover profiles. Gold membership opens the doors to advanced searches to find what you want. You can narrow down your choice by using a range of filters to meet the girl or boy of your dreams. Additionally, your profile can appear first when someone searches your name or region.
Endless Communication
You can only read emails and chat for free on AdultFriendFinder. Therefore, you will need to pay if you like someone and want to communicate.
The Gold membership helps you communicate seamlessly with anyone you want. You can send and receive emails from free and paid members without any restrictions.
In addition, you can send ice breakers to connect and hook up.
Watch Videos and Webcams
Video profiles are a rage on AdultFriendFinder. You can check out how someone really looks in person and even get to watch them without any clothes. However, these features are only available once you become a paid member. Additionally, you will need to be a gold member to watch webcams. You cannot video chat or access live sex shows with a free membership.
Priority Support
Gold members get priority support for any issues or queries they have. Free members can only expect limited support and may even have to wait for days.
However, you are on the top of the list once you choose paid membership. The support team will not give up unless they have resolved your problem.
How to Become a Gold Member on AdultFriendFinder?
The first step to becoming a Gold member is to create your account on AdultFriendFinder. Next, click on the "Upgrade Now" button on top of your username in your profile.
You will be presented with the choice to pay monthly, quarterly, or annually. Click on your preferred option and choose your payment method. AdultFriendFinder lets you pay for Gold membership in the following ways:
International credit cards
Bank transfer (available only in the US)
Direct Debit (only in specific regions of EU)
Sofort bank transfer (only for countries in the EU)
AirTM digital wallet (only for 3 months and annual packages)
Money orders and paper checks
SMS (only in the UK)
Gift Cards
Select your preferred payment method to complete the transaction. You should receive confirmation from AdultFriendFinder notifying your Gold membership is activated.
Next, enjoy the features of the site without any restrictions.
Note: Some payment methods like direct debit or bank transfer can take several days to credit AdultFriendFinder. As a result, you may have to wait for a few days before receiving your confirmation mail.
The Cost of AdultFriendFinder Gold Membership
How much do you need to pay to become a Gold member on AdultFriendFinder? As noted earlier, AdultFriendFinder sells only one type of membership – the Gold Membership. However, you can save money by paying the membership charges for a few months together.
AdultFriendFinder provides the following options:
Pay monthly at $40 per month
Pay for 3 months at $27 per month or $81 in total
Pay $240 annually at once ($20 per month)
You can save more money by paying for a year. However, that may not be the best thing for first-time users. We recommend you pay for a month to get a taste of the website and if it suits your needs. You can then pay annually or quarterly to keep enjoying AdultFriendFinder services.
Can You Become a AdultFriendFinder Gold Member for Free?
Gold membership is only available when you are ready to pay. Otherwise, you can create a free account and use AdultFriendFinder with restrictions. There is no way you can become a Gold member for free.
Final Thoughts
AdultFriendFinder is one of the best platforms to hook up and find a fuck date in your area. You can also enjoy live webcams, blogs, videos, and more to keep you busy for hours. The platform offers free standard membership but with a lot of restrictions. You won't be able to enjoy the best of AdultFriendFinder with a free account. For that, you will need to pay and become a Gold member. You can save money by paying for your membership fees quarterly or a year together. Best of luck finding someone to get laid tonight!

Similar Articles