Porn Discord Servers (2023)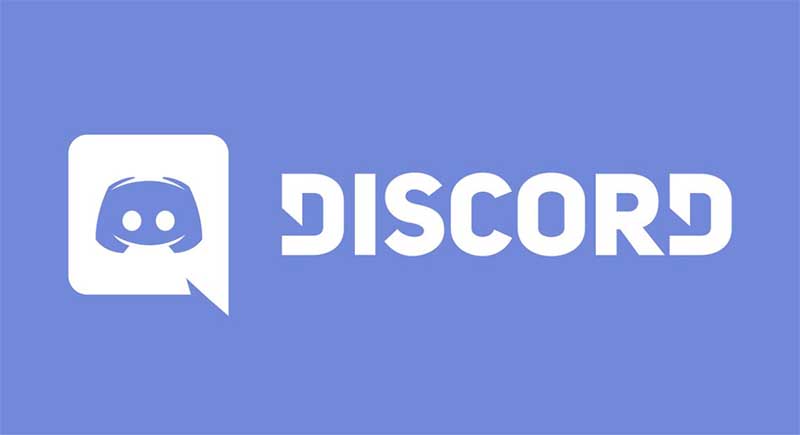 Are you looking for a community of fellow horny people like yourself? Would you like not only to see NSFW content but also get to enjoy chatting with other people? Well, then you are the reason we made this list!
What is a discord server?
A discord server is basically just a chat room. Usually each discord is dedicated to a specific topic, such as gaming, sports or porn. It's a good place to connect with people with the same interests.
The biggest difference between discord and something like Reddit, is the ability to have live interactions with people. Besides just texting, you are also able to connect with other members using video and voice messages.
The best porn discord servers
Compiling ten of the best Porn Discord Servers on the internet, you will be hard-pressed not to find a porn community right for you.
So, what are you waiting for? Get your hand out of your pants and check out these porntastic communities!
Quick Navigation
Pornhub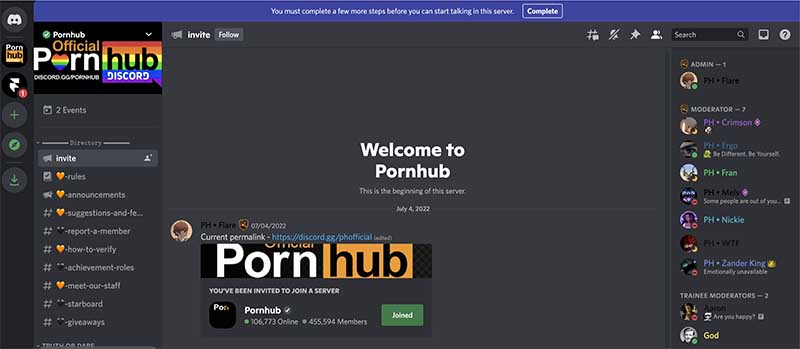 Coming in number one on the list is the official Discord Server for Pornhub, the largest porn website in existence currently. With half a million users, hundreds of channels for porn, and run by real pornstars, this is the go-to server for all horny people.
No matter what your flavor of porn is, you can find it on this server. Check out the latest videos from top companies like Brazzers or various amateur pornstars.
This server is where you come for the porn, not the community. With such a huge community, though, it can be hard to connect with members. At least the porn makes up for it, right?
Lust
Lust is up there as one of the largest NSFW communities on Discord, though it is not focused around any specific porn website. You can find a variety of porn from different sites and genres in its numerous channels, including hentai, furry, and LGBTQ porn. Talk about that representation.
The community is always ready to chat and hang out with fellow horny folk, and they even hold events and giveaways. If you want your porn with a side of the community, then Lust might just be the server for you.
Note: You will need to verify you are 18+ before joining Lust and partaking in all the nasty porn it offers.
Porn NSFW 18+
It is hard to find a more straightforward porn server than Porn NSFW 18+. Dedicated entirely to porn content, it is focused less on community and more on sharing porn with horny people worldwide.
Do you like top-notch content from Brazzers or RealityKings? Do you like social media porn? How about indulging that fantasy of yours in roleplay?
Well, Porn NSFW 18+ has all that and so much more. With over 50 channels dedicated to sharing NSFW content, your mind will have difficulty deciding what you want to get off to this time.
Gone Wild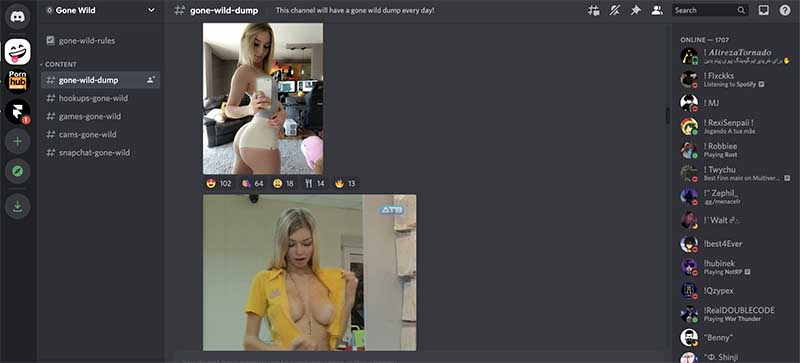 Tired of getting DMs from that creepy person after posting your nudes? Don't feel safe showing your body on other porn servers? Well, check out Gone Wild, where they aim to share adult content while cutting down on creepy DMs. Taking a step away from the usual porn Discord server, Gone Wild promotes itself as one of the safest on the internet.
It is a smaller community, with only around 80,000 members in total. However, they are not worried about creating a massive network. They simply want to share adult content with the world to enjoy.
Thus, they only have five primary channels to share NSFW content to keep it simple and streamlined.
They are:
Gone Wild Dump
Hookups Gone Wild
Games Gone Wild
Cams Gone Wild
Snapchat Gone Wild
NSFW Rabbit Hole
Here is a rabbit hole you will find yourself stuck in for a long time, as there is so much available to enjoy here. Boasting a massive community of over 150,000 users, it is the perfect place to chat with thousands of other people about everything NSFW.
With various Rabbit Rooms, you can go from one in which you are discussing the latest porn video to another in which you chat about your favorite pop songs. The whole point is to promote a sense of community, not just a place to find porn.
So, come for the porn, stay for the community. You are guaranteed a great time in the NSFW rabbit hole, and we doubt you will ever want to come out.
Visit NSFW Rabbit Hole Discord »
Porn Central
Porn Central is the perfect server for you if you love hardcore content. With around 120,000 members, the community is large and offers a vast amount of content for you to consume as much as you want.
>Like many other porn servers, though, while Porn Central offers dozens of channels dedicated to porn, you can also enjoy a wonderful community. You will feel at home with daily streams, events, meetups, and even requests.
Hentai Folder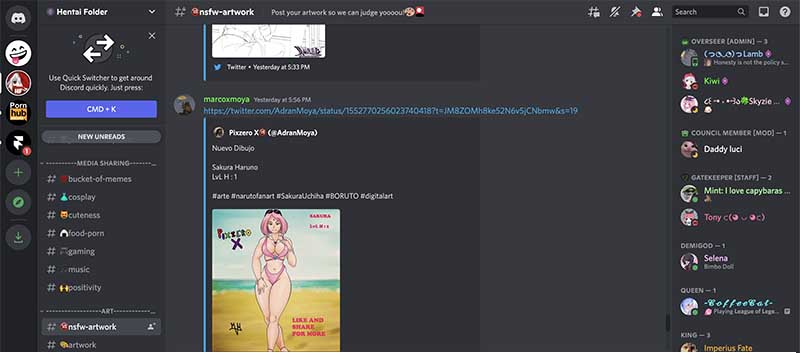 Perhaps regular porn isn't your style. If you prefer porn that is more furry and hentai-themed, then Hentai Folder is the server for you. As one of the largest hentai servers currently on Discord, you will have no trouble getting your hands on only the highest quality of hentai content.
They have a massive and varied library of content, including IRL NSFW. So if you enjoy the hentai but still want that IRL NSFW, check out their section for that.
Besides its massive hentai collection, the server also boasts a wonderful community. With over 77,000 members, regular events and giveaways, and hundreds of custom emotes, you can talk hentai with like-minded people.
M&Y
Another massive hentai server, M&Y, truly knows how to appeal to everyone. Do you like pussy-licking? How about waifus? Maybe you enjoy watching catgirls messed up. No matter your specific enjoyment, M&Y probably has a channel on it.
With a super interactive community, channels to share your nudes, and numerous giveaways, this server is highly focused on creating and curating its community. No more being left to scroll through NSFW channels alone aimlessly. Instead, you can now chat about your favorite furry or hentai with fellow hentai lovers.
Sexytime
Are you tired of paying to interact with sexy e-girls as they show their bodies to you and other people? Well, then check out Sexytime! Brimming with a huge community of thousands of e-girls, you are guaranteed to find one you want to watch and chat with.
It is up to them if they want to put on a public or private show, but either way, you will have a great time on this server.
Chat with the community, watch the girls show off to you and other people looking for a good time, and then hang around to talk about how great it was.
Sex Chat
We have the smallest server here for the final server on this list. With a community of only around 8,000 members, it is focused more on sharing NSFW content with a close-knit community.
If you are more interested in enjoying an NSFW community versus just consuming endless amounts of NSFW content, then Sex Chat is perfect for you.
Not only that, but unlike the other servers on this list that do giveaways, Sex Chat gives you the chance to win actual money playing different games. That's right, ACTUAL money. So, what are you waiting for? Check out Sex Chat!
Similar Articles