Chaturbate Ebony Models (2023)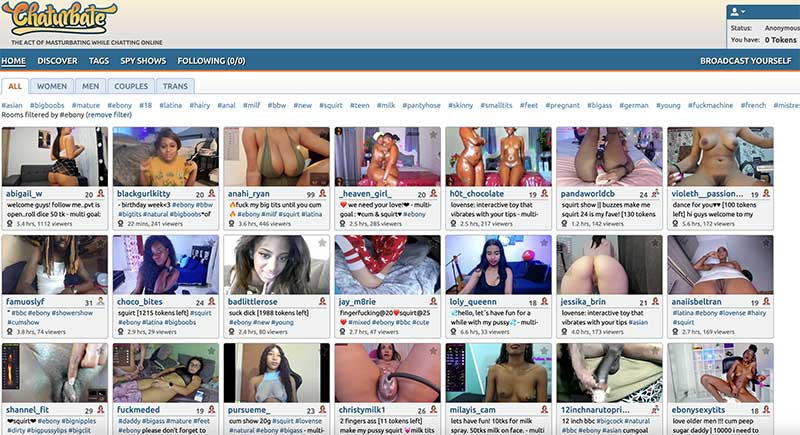 Sometimes you just want to spice up your masturbating sessions, and what better way to do that than checking out the ebony models on Chaturbate? These ebony girls are always ready to show off their sexy bodies to their viewers with tits, ass, and pussy galore.
So get ready to learn about these ebony models and all the spicy details you want to know. After all, you are here to learn about how these models are sexy, so without further ado, we present to you the models!
Blackchiina
First on our list is a BBW beauty from Colombia who is well-versed in the art of camming and showing her sexy body off to her viewers.
With her massive butt and sizable tits, you are sure to get off as you watch her move and touch her body sensually.
She loves using various toys and oiling herself up, so if you are into a beautiful ebony girl covered in oil and fucking a sex doll, Blackchiina is the girl for you.
She has not gathered over 160,000 followers on Chaturbate for nothing after all.
Quick Facts:
Age: 26
Birthdate: May 6th, 1996
Stream Schedule: 6 days a week, 3 - 9 PM EST
Interested In: Men
Speaks Spanish and English
Social Media:
Sweet__ebony
Do you prefer your ebony cam girls to be slimmer but still with massive tits and a beautiful butt? If so, Sweet__Ebony is the girl for you with her thin body. Even with her slender body, she still boasts some large tits and a beautiful bubble butt that is just waiting to bounce for you on cam.
Not only does she have a beautiful body, but at 20 years old, she is in the beginnings of her career. She is no ordinary amateur, though, as, after only two years of camming, she has already gathered over 207,000 followers.
So what are you waiting for? Go join her cam and get jerking off!
Quick Facts:
Age: 20
Birthdate: September 19, 2002
Interested in: Men, Women, Couples
Speaks Spanish and English
Social Media:
Nightnurse44
Few ebony cam girls can compare to Nightnurse44 when it comes to showing off her perfect body for everyone to see.
It does not matter who you are; she loves bouncing her huge tits and ass in front of a camera, all while touching her pussy.
She is one of the sexiest models on this list, and she also loves taking part in weird kinks and fetishes. Providing you give a generous tip of course. After all, while she may love to participate in weird kinks and fetishes, she is still there to get paid for showing her sexy body to you. Providing you give a generous tip of course.
Open to almost anything, Nightnurse44 can fulfill many of your fantasies, and as an exhibitionist herself, there is nothing she loves more than spreading her legs wide to show off her beautiful pussy.
Quick Facts:
Age: 26
Birth Date: April 29, 1996
Interested in: Men, Couples, Trans
Speaks English
Missksavage
Another sexy ebony model, Missksavage, has a curvy body that will make your dick hard after seeing her. Constantly showing off her body on camera and fucking her pussy with her fingers, vibrators, and dildos, you will be hard-pressed to last very long as she creams her pussy.
Not only that, but she loves fulfilling various fetishes ranging from footjobs to wearing a leash to Jerk Off Instructions. Whatever your taste, Missksavage can probably fulfill it.
At 30 years old, she is one of the oldest models on this list, but she still looks like a young beauty, and her age has simply made her a better cam girl.
So if you want an ebony model guaranteed to get you whipping your dick out and jerking one out, then Missksavage is perfect for you.
Quick Facts:
Age: 30
Birth date: July 25, 1992
Interested in: Men
Speaks English
Michellesantini
With one of the sexiest pairs of tits on this list, Michellesantini is a young ebony model with a sportsy figure and a round ass.
She loves showing her body off on the camera and often draws viewers' eyes to her beautiful tits because a slim frame and large tits are a sexy combination.
Due to her only beginning camming recently, she is still learning the ins and outs of Chaturbate, but her channel is still a must-watch for anyone interested in Ebony models.
Especially because she is open to experimenting with different kinks and fetishes, so if you have a specific kink taste, then Michellesantini may be the girl for you.
The final thing to mention about Michellesantini is she does custom photos and videos for viewers. So if you have anything, in particular, you want to see her do, then send her a message with a good tip and get that custom photo or video.
Quick Facts:
Age: 21
Birth Date: Aug 8th, 2001
Interested in: Men, Women, Trans, Couples
Speaks English
xyomara_brown
Finally, but not least, on our list is the Colombian beauty known as Xyomara_brown. She is sporting a sexy and slim body with small tits and ass and is slightly different from the other girls on this list.
While most ebony cam girls tend to be curvy with large tits and butts, Xyomara_brown fills that gap of beautiful skinny ebony girls.
However, while she is perfect if you want to jerk off to a skinny ebony model, most of her shows tend to be more on the vanilla side. So if you are looking for a girl who will be kinky and freaky on cam, you should probably check out a different ebony model.
Regardless of your taste in cam girls, you should give Xyomara_brown a chance. Your dick will go straight up after seeing this sexy girl take her clothes off and show her body off to the camera.
Quick Facts:
Age: 23
Birth Date: December 14th, 1998
Interested in: Men, Women, Trans, Couples
Speaks English and Spanish
Similar Articles