Chaturbate's Hottest BBW Women (2023)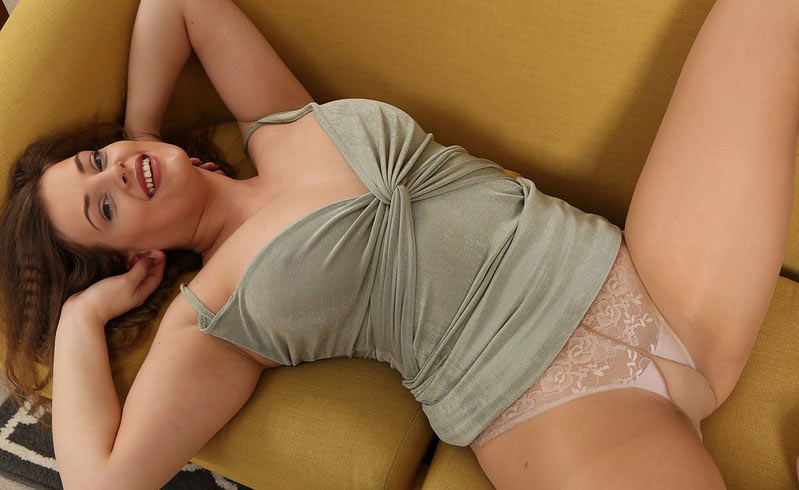 Chaturbate has been in the business for quite some time now, and if you're in the mood for some thick beautiful women, you know chaturbate never disappoints. However, there are plenty of BBW models, and we're confident you wouldn't want to pull out your love stick and waste your precious time trying to find the one that makes you hard. That's why we're here for you. Our naughty editors have reviewed and brought to you our list of the best BBW models on chaturbate. All of them have the biggest fuckable bodies in the business and have garnered a sizeable following, so they know exactly what to do to turn you on. Check them out as they're sure to quench your thirst.
Blackgurlkitty
This vivacious woman has been gaining a lot of steam on the internet these days, and we can completely understand why. At just 5.1, she's as petite as they come, and with such a luscious body, there's no way you won't get a hard-on. She is an absolute beauty, and the most attractive part, definitely those gigantic boobs. It's one of the most drool-worthy pair of boobs you'll see on chaturbate, and she certainly knows how to play with them. It cost nothing to say hi to blackgurlkitty, and she gets as nasty as you would want a BBW to get. Whether it's playing with her fresh pink pussy or sucking on a humongous dildo, blackgurlkitty knows exactly how to turn you on.
She also loves to interact with her fans and keep them updated. If you want to keep up with her, you can follow her Twitter account, where she constantly updates and also teases a little bit every now and then.
Sexymoonlatina
Who wouldn't love a busty Latina, and if that's what turns your wheels, sexymoonlatina is just the gal for you. With such a voluptuous body, it's hard not to get turned on by this Latina. On top of that, those glasses certainly add a naughty flair to her. She's gifted with huge natural boobs, and if you prefer natural women with big bellies, she's the girl for you. The way she moves her body with so much confidence and sensuality is a sight to behold. She also has one of the tastiest asses on the site, and she isn't afraid to bare it all.
Sexymoonlatina has a bubbly personality, and when it comes to getting raunchy, she knows how to get it done. Whether you want her to play with her dildo, deepthroat or finger her ass, she does it all. For some tokens, you can even connect with her on WhatsApp. For kink lovers, you should undoubtedly watch her oil her belly and play with herself. If you want to see her perform, visit her chaturbate page to see her menu for various types of performances. She also has an Instagram account, but you'll have to shell out 100 tokens if you want to follow her.
Lusycandy
Russian women are regarded as one of the most beautiful in the world, and if you're into Russian BBWs, you should certainly check out lusycandy. She's a curvaceous woman weighing in at 65kgs and love to chat and interact with her fans. She has one of the most beautiful faces and body on the site, and the best part is, she isn't shy to show it off. What's the best part of her? Those 38D size tits will make you cum in a matter of seconds. You're a man if you can last a few minutes on her broadcasts. A few minutes into her videos and she's already down and dirty. She loves to play with her pussy and stuff dildos in her yummy pussy. Trust us, seeing her finger herself and make those horny noises is something otherworldly. Sadly, she's not the type of girl that likes it from the backdoor. If you're into that, check out other BBWs on our list.
Megan_Dreams1
If you want them as big as they come, check out Megan-dreams1. With such gigantic knockers and a full-body, you won't be able to resist Megan's appeal. Add to that her spank-worthy fat ass and huge boobs; you'll be as hard as a rock. Compared to other girls on chaturbate, she has a more mature look, so you should check her out if you're into that type of woman. She does pretty much anything you would want a BBW model to do, and seeing her play with a vibrator is such a massive turn-on. After a while, the moan and noises she makes will make you want to nail her and her lusty body for real. However, you'll have to open your wallet if you want to see her spread her legs. If you don't mind spending a few bucks to treat yourself to some quality BBW content, she's the one for you.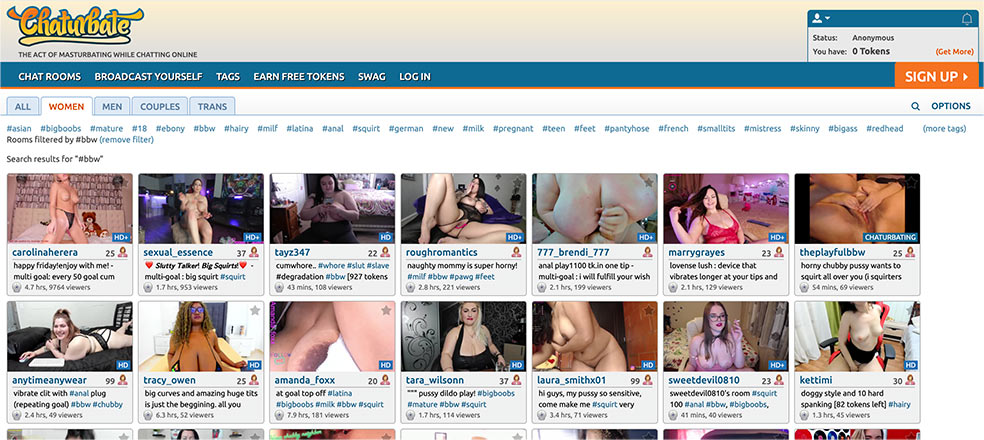 Ori_BBW
Ori_bbw offers porn star quality content on chaturbate. With her trademark gothic pixie cut look and luscious body, she can be your dream BBW model. Her curvaceous body is covered in beautiful art, and with such huge tits and a fat ass, you'll be turned on in a matter of seconds. She loves showing it all to her viewers, and seeing her make seductive noises and faces while inserting stuff into her pink shaved pussy will drive any man wild. Ori-BBW is only 18 but already possesses a voluptuous ass, and seeing her twerk and slap her behind while making dirty noises is every BBW addict's dream. You'll have to pay for most of her content, but they aren't very expensive.
Gracey_may
Ah! There's no way you can resist those smokey eyes and bangeable body. With one of the most fuckable bodies on chaturbate and 85E bra size boobs, Gracey may is as hot as they come. What makes her even more desirable is that she genuinely likes sex and wants to see you cum. She has a massive stack of sex toys, and watching her blow a huge dildo will turn you on instantly. In most of her shows, she loves to tease with sexy lingerie on, and she certainly knows how to get men riled up. Gracey is also blessed with a gigantic pair of knockers, and watching her play with them is a massive turn-on. She has a Twitter account, and you should follow her if you want a sneak peek of what she has to offer.
Tara_Wilson
Crave a mature blonde woman with a fuckable body? Then Tara Wilson is your girl. She's just the type of girl that makes you want to pull her hair and take it from behind. Seductive body, beautiful face, kissable lips, and a pair of gigantic knockers that would make you want to slide your meat in between and ejaculate on her face. She has enough experience to know how to turn on men, and she does it all. For a few tokens, you can watch her play with her pussy or boobs, stuff her toys and make dirty noises that'll send you into sexual overdrive. Tara also likes to dance seductively with her viewers and with toys; she can get as nasty as you can think of. She also loves to interact and know about her fan's fetishes. For men that love BBW milf's, she'll be impossible to ignore.
Christina Mingle
If you're on the hunt for a BBW that does virtually anything, trust us, you can't find someone as hot as Christina Mingle. With a full natural body, she's the type of woman you would want to go raw all night with. Christina loves to mingle with her viewers and does whatever it takes to help them achieve pure ecstasy. With 34C boob size and a booty to die for, you'll want to watch her perform again and again. On her channel, she does it all. She loves to finger her pussy, stuff various toys into it, and twerk her gigantic ass. What man wouldn't want to watch a woman squirt, and if you're into that, Christina can certainly make your wildest dreams come true. That's not all; she even loves to play with her butthole, which most performers aren't brave enough to do. If anal play turns you on, she's the BBW of your dreams. A busty fuckable woman that does it all, that's simply hard to resist.
Visit Christina Mingle 's Room »
Conclusion
This brings us to the end of our list of the hottest BBW models to satisfy your cravings. All kinds of women are beautiful, but full-bodied women certainly have their appeal that's hard to resist. For us, it was not just about their luscious body but also their personality and performance. They are all excellent in what they do and will surely help your dick get some release; it's all a matter of preference, so do check out their cam shows to find out which BBW model turns you on the most. We hope you enjoyed our list, and do stay tuned for more raunchy content.
Similar Articles