Best BDSM Cams (2023)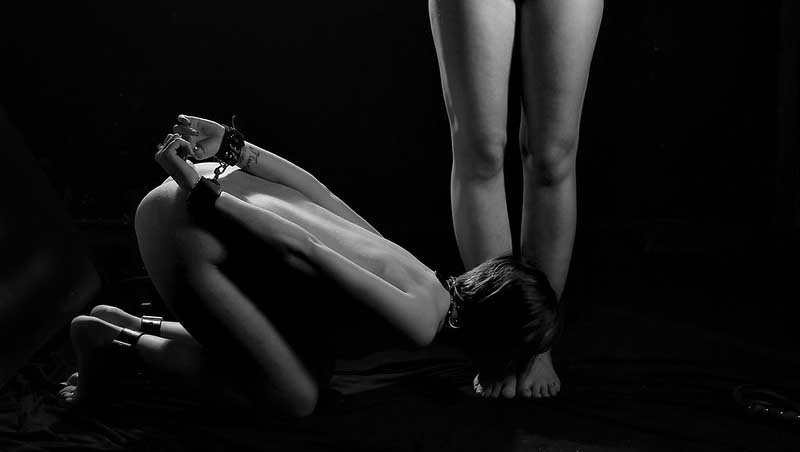 Sometimes normal and vanilla sex gets boring, and you want to find something kinkier, to jerk off to. While BDSM porn can be incredibly easy to find, it is not always easy to find it being cammed live.
Luckily for you, we have gathered all the information you need to know about some of the best and sexiest BDSM cams on the internet. Everything from the cam giants Camsoda and Chaturbate to lesser known camsites such as Imlive.
They all have incredibly sexy girls and offer a healthy BDSM category to jerk off to.
Quick Navigation
Camsoda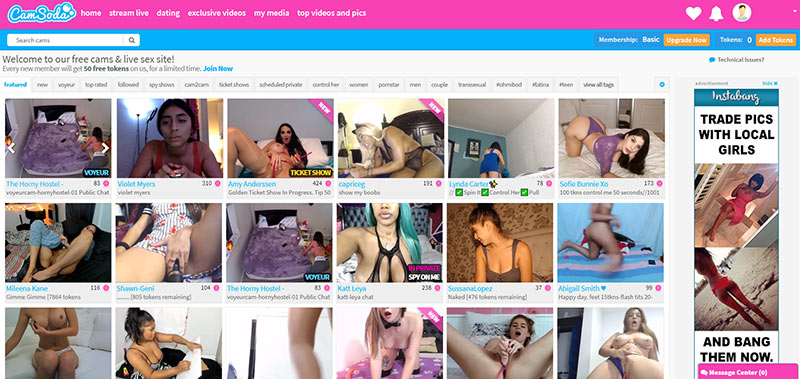 Recognized as one of the largest cam sites in the world, Camsoda is well-known for its large variety of amateur and professional models, including those that stream in the BDSM category. With around a hundred+ girls in the BDSM category, you can typically find at least a few streaming at all times of the day.
However, there are not always many girls active in the BDSM category, so if you are looking for guaranteed BDSM live action, Camsoda may not be the choice for you. But make sure to check it regardless, as you never know.
Chaturbate
Another one of the top cam sites in the world, Chaturbate, offers a huge section of BDSM cams. However, how they set it up is slightly different from other cam sites. Rather than using a dedicated BDSM section, they have a massive list of tags you can use to find the exact content you want to watch.
For example, if you look up the tag #BDSM, you will find everything related to that topic, including couples, women, men, and transgender streamers. But if you want to get even more specific, you can look up tags like #pegging, #doms, #impactplay, and dozens more. No matter what your taste in BDSM is, you can find it on Chaturbate.
While Chaturbate has thousands of active streamers at all times, the amount of BDSM streams varies throughout the day. On average, though, you can typically find between 70 to 200 streams going at any time related to BDSM.
Livejasmin
If you prefer higher quality cams but at an added cost, Livejasmin is the site for you. With a vigorous vetting process, this old streaming site only lets the best of the best join their camming service.
However, there are many downfalls to using Livejasmin for their BDSM cams if you just want to enjoy live nude shows of kinky girls. Firstly, you can only enjoy free live shows for 10 minutes. After that, you must get their membership or credits to continue watching your favorite girls.
Even though this site is mostly known for its traditionally vanilla streams, Livejasmin does offer a fairly large BDSM scene. So if you have the money, Livejasmin is a great place to fulfill your kinks with high-quality and professional cams.
StripChat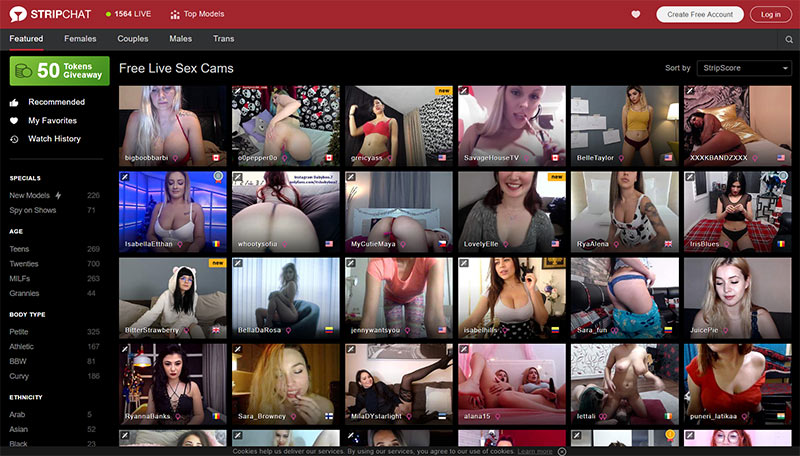 A massive site with around 3000 models live at any time, Stripchat is a great place to find BDSM models to fulfill your kinky desires. While it may not offer as easy a way to find specific kinks like Chaturbate, it still has a large BDSM scene.
You can filter models by age, location, ethnicity, and even body type to find the perfect model to jerk off to. Not only that, but the site also offers the ability to sort models by filters such as cosplay, fisting, squirting, and more!
If you want a huge selection of girls waiting to fulfill your kinkiest desires, then you should check out StripChat. While it may not be one of the biggest names out there, it still has a ton of bang for its buck.
Streamate
If you prefer mostly American girls, Streamate is a great choice for you, as the big-name sites typically employ European girls for the most part. However, you can still find plenty of European girls on the site, so do not worry about not finding the right girl.
There are two downfalls to using Streamate for your BDSM desires. Firstly is that there is no specific BDSM category on the site. Instead, they offer a Bondage category and your usual fetish categories like BBW, Lesbian, and Petite.
Secondly, even in the Bondage category, there are not many streamers on an average day. You may get lucky and find around 100 girls active, but that will only be on a good day. So you are better off looking at the bigger cam sites if you want a large selection of girls in the BDSM category.
Imlive
An incredibly small site, Imlive still offers a huge number of BDSM models, though, like Streamate, there are not always many online. However, the benefit of using this site is that you can get credits much cheaper than some big-name sites.
Imlive currently has around 3,900 BDSM models on the site, which, compared to sites like Chaturbate and Camsoda, is next to nothing. And then, on average, only around 70 - 200 of those models are active at any given time.
The only real downfall to the BDSM scene on Imlive is the limited variety of fetishes and kinks available. It mostly only has shows related to the most common kinks and any specific ones you would require one-on-one shows with a model.
Flirt4free
Flirt4free is one of the first cam sites ever to exist, starting in 1996. Unfortunately, though, the site has not grown much and is often forgotten in lieu of the larger cam sites like Chaturbate, Camsoda, and Jerkmate.
Because of its incredibly small size, Flirt4free only has around 10 - 15 max girls at any given time. And those girls only perform the common kinks, so you will have a hard time finding any specific kinks on this site.
While Flirt4free may be one of the original cam sites, you are much better off visiting any other sites on this list if you want good BDSM cams.
Conclusion
BDSM cams can be some of the best on cam sites because they offer a way to enjoy non-vanilla sex. Finding the perfect cam girls for your BDSM tastes will probably take some time, but you are guaranteed to find them from this list of cam sites. Happy jerking off!
Similar Articles