Best Ebony Cam Sites (2023)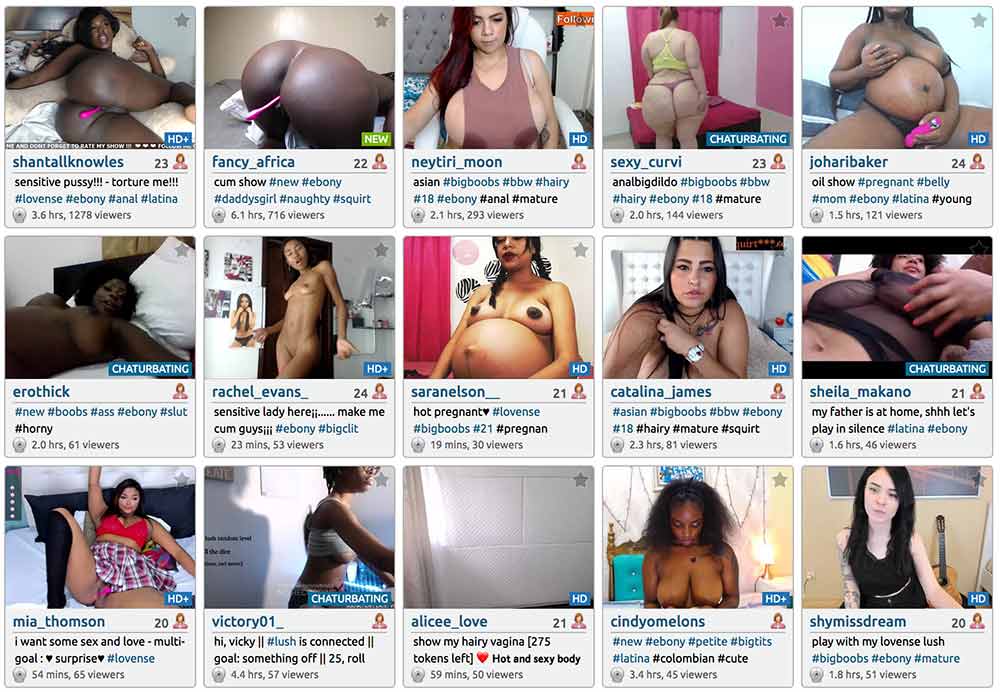 If you're on the hunt for ebony cams, you've probably noticed that mainstream cam sites are overwhelmingly white. Meanwhile, most dedicated ebony porn sites just don't have the same polished look and features as mainstream sites. The solution? Visit a mainstream cam site and head on over to the ebony category. This way, you get the best of both worlds: the features and polished look of a mainstream site, and all the black pussy you can ask for. And that's exactly what we've done.
We've scoured the web, looking for the hottest ebony cam girls on mainstream sites. Now, we're going to tell you everything you need to know. We'll look at the signup process, the pricing, and, of course the best way to find free ebony cams on these sites. Let's get going!
Chaturbate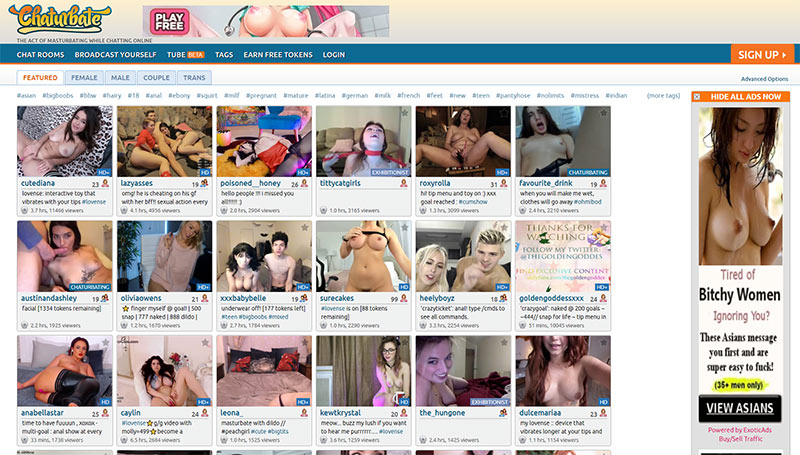 Chaturbate is one of the most popular cam sites on the web, and for good reason. The layout is clean and easy to understand, and there are a large number of public shows. This means you get easy access to some of the best free black porn available. In fact, Chaturbate's best feature is the ability to add models as favorites, even with the most basic, free account.
That said, the free account comes with some significant limitations as well. Because the public shows are tip-based, you won't actually have any control over the show. If you want the model to use a dildo, but the tippers want her to use a Hitachi, guess which one she's going to use? Thankfully, the token pricing is very reasonable, especially when compared to other premium cam sites like LiveJasmin and MyFreeCams.
The ebony section itself is pretty well-populated. To be fair, there are a handful of white and asian girls who use the #ebony hashtag. But for the most part, there's a good selection of hot black girls ready to rub one out for you on live camera. Just be aware that a lot of these girls are amateurs, not the experienced porn stars you'll find on some other sites.
Pros:
Well-populated ebony section
Good value for free membership
Reasonably-priced token packages
Camsoda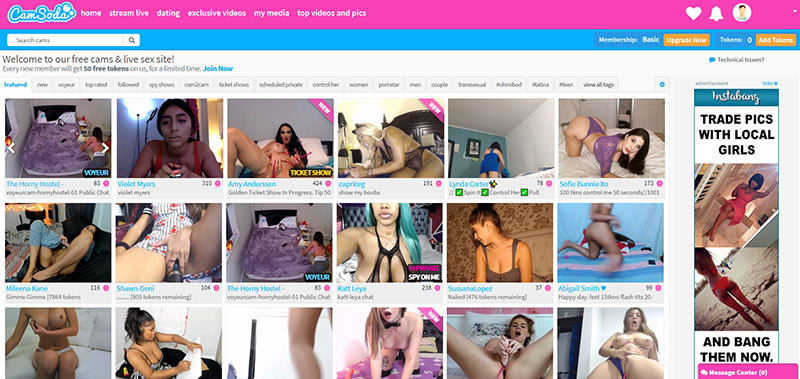 Camsoda is nearly as popular as Chaturbate, but tends to have more actual porn actresses and fewer amateurs. These girls are hot, and they're ready and willing to pound their black pussies for your entertainment. Whip out your dick and get ready to bust a nut all over them.
One thing you'll appreciate is that many of the basic shows are free. Because there are so many tippers, you can get a lot of action without spending a single token. That said, as with many free sites, the models are going to cater to the tippers. That's only fair, after all. And if you want to buy a token package, the pricing is reasonable. The recurring membership even comes with "free" tokens that you can use to buzz a girl's teledildonic toy. Just watch out for the private show pricing; it can get pretty steep. If you're not careful, a small pile of tokens will evaporate before you've even gotten past "hello".
There are a lot of models in the ebony section and — good news! — all of them are actually black. When we visited, we even found a Jamaican girl, rolling her eyes in ecstasy while a bunch of strangers tipped her and made her vibrator buzz. And we didn't even have to spend a single token to watch her cum.
Pros:
Tons of hot black girls
Lots of free features and quality free shows
Popular site for ebony porn stars
Cons:
Steep pricing for private shows
BongaCams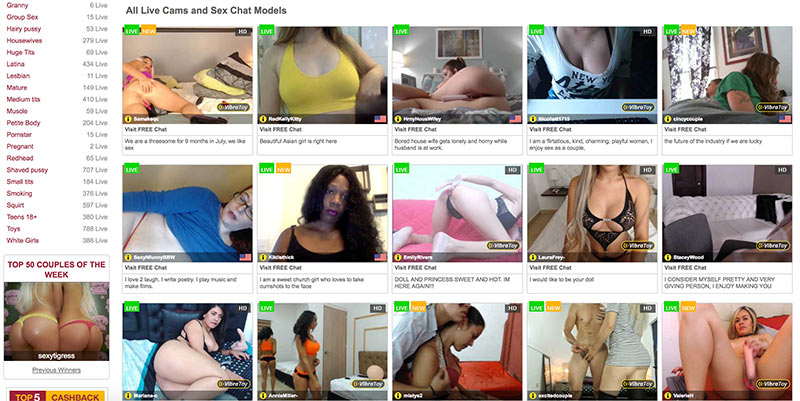 BongaCams focuses primarily on Russian and Eastern European girls. If you navigate their vanilla section, it can be tough to find a girl who speaks English. But head on over to the ebony section, and you'll find plenty of American black girls who are willing to do just about anything for a handful of tokens. The model selection is relatively small, but these girls are pros. Whether you want to see a dildo show, play with a teledildonic sex toy, or just watch her finger that black pussy, you'll have plenty of options.
Of course, the best action always happens in private and group shows, but BongaCams' models tend to charge more reasonable rates than you'll find on some other premium cam sites. For a group show, you're looking at as little as 10 tokens per minute, or about $1.00. You won't find this kind of pricing on most cam sites, so BongaCams is a great choice if you want a more personalized, custom experience.
One other thing that BongaCams excels at is providing a lot of fetish options. Many of these girls are into BSDM, spanking, anal, and roleplaying. If you've got the tokens, you can easily find just about anything you want.
Pros:
Plenty of fetishes
Affordable group and private shows
Sexy, enthusiastic models
Cons:
Relatively small ebony model selection
ImLive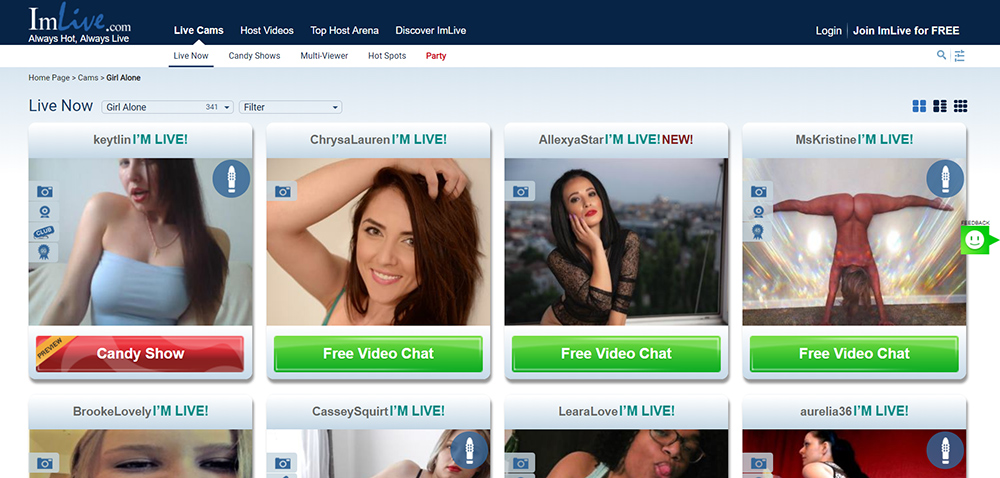 ImLive is a very popular cam site, with more than 65,000 models. To be sure, the ebony section is smaller, but they seem to have found a niche: ebony BBWs. If you're looking for the fattest asses and the biggest titties, ImLive is your best destination. They also have a fair selection of couples and trans models, so you're not just limited to solo ladies.
In terms of free content, ImLive has a lot to offer. Yes, you get access to public shows and free chat, but they also sweeten the pot with some free pre-recorded videos. Creating a free account requires only your email address, and you can immediately download videos from some of their top models. That said, as with all cam sites, you'll find the hottest action in private and paid shows. Most models prefer these, since they offer the best pay. The group shows in particular are a great value.
There are also plenty of free shows that make use of teledildonics. You'll be able to watch for free, but you'll need some tokens to play along. Our only serious complaint is that there are no live previews. The preview only shows the model's profile picture. To see what's actually going on, you'll need to enter her room.
Pros:
Lots of ebony BBWs
Easy interface and navigation
Free membership includes free video downloads
LiveJasmin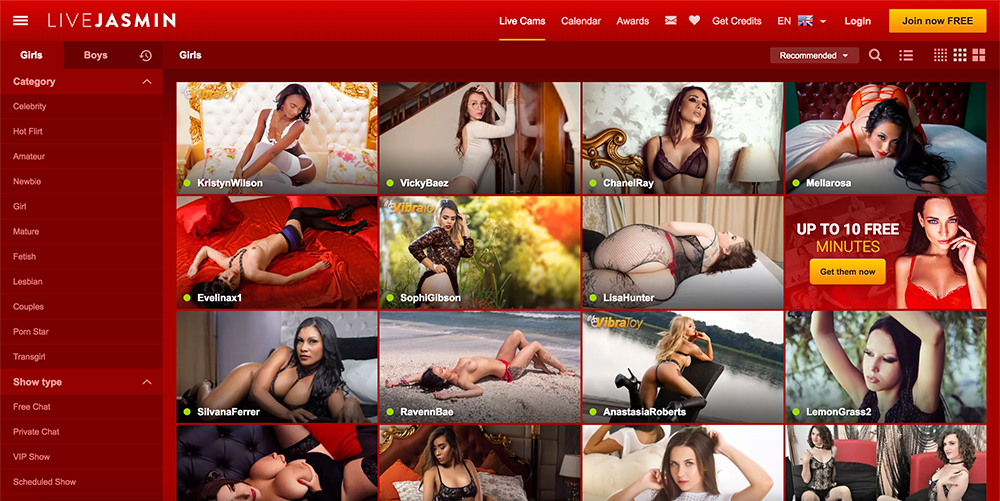 LiveJasmin is the undisputed queen of all cam sites. If you name a current porn star, chances are good that she's appeared in a LiveJasmin show or two. This is what makes LiveJasmin so popular, with the largest user base of any cam site on the web. The best part is that this user community can work for you, by providing plenty of tips while you jerk off for free.
While the free offerings are good, the paid shows are, obviously, even better. Most models prefer to wait until a tip threshold has been met before they actually start working that sweet, sweet black pussy. Of course, if there's a big tipper in the room, that's going to happen pretty quickly. You can also get a great, custom experience in LiveJasmin's premium shows. Just be prepared to pay a lot of tokens; their premium shows are priced as high as $10 a minute for the hottest models.
Perhaps the best feature of LiveJasmin is the huge selection of models. The more models there are, the more ebony cam girls you'll find, and there are plenty of them. Whether you're looking for a nasty American, a classy British girl, or a busty BBW, you'll easily find exactly what you're looking for.
Pros:
Large model selection
Active user community
Plenty of free content
Mobile site works very well
Cons:
Steep rates for private shows
Cam4
Cam4 is an up-and-cumming cam site that has a lot to offer. To begin with, it's easier to search than many other sites. The models attach hashtags to their profile, which makes them easy to find via the search bar. The only downside is that if you're looking for some raunchy ebony models, the selection is fairly small compared to some other cam sites. That said, if you like the girls on offer, there's a lot to like.
To begin with, signing up for a basic, free membership will net you 50 free tokens. This is enough to get a model's attention in a free show, and maybe even make a request. Not only that, but it's enough to make her cum if she's performing a teledildonic show. Hit her up with a stream of 1-token tips, and she'll soon be creaming all over her sex toy.
There's also a large selection of free picture galleries. You'll need to sign up for a free account to access them, and not all models share them. But there are enough free pictures to get your rocks off without even entering a live show.
Pros:
Easy sorting and searching
Lots of free picture galleries
Free tokens with basic membership
Cons:
Small ebony model selection
PornHubLive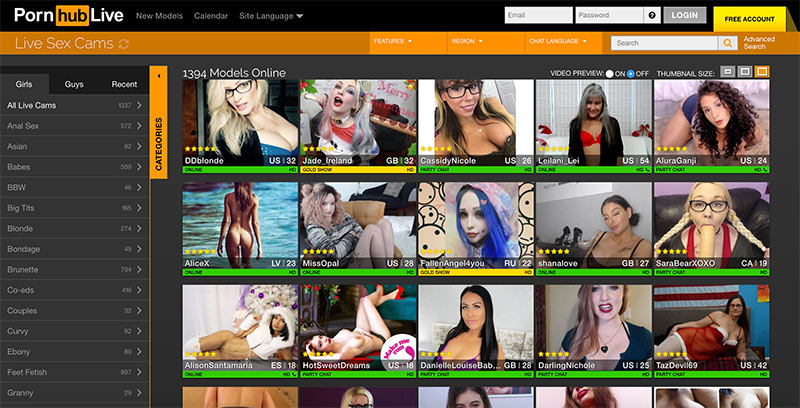 PornHubLive offers a fully functional chat system to free users, which is a rarity among paid cam sites. Enter your email address and credit card number, choose a password, and you can chat with any girl on the site. You can even participate in free chats as a guest, although your options will be more limited (for example, you won't be able to tip). That said, with a free account, you can easily buy a small token package, tip the model, and even make a few requests.
On PornHubLive, your credit card number is used only for age verifications. There will be no charges unless you specifically authorize them. Keep in mind, though, that there's not a lot of actual pussy in free chat. The girls tend to sit around in lingerie, waiting for a big tipper to come along. On the other hand, how much can you really expect from a free site? These ebony beauties need to pay their bills somehow, and the electric company doesn't accept compliments as payment.
Pros:
Wide selection of ebony models
Easy-to-use search function
Over 40 searchable categories
Cons:
Limited content in free chat
XHamsterLive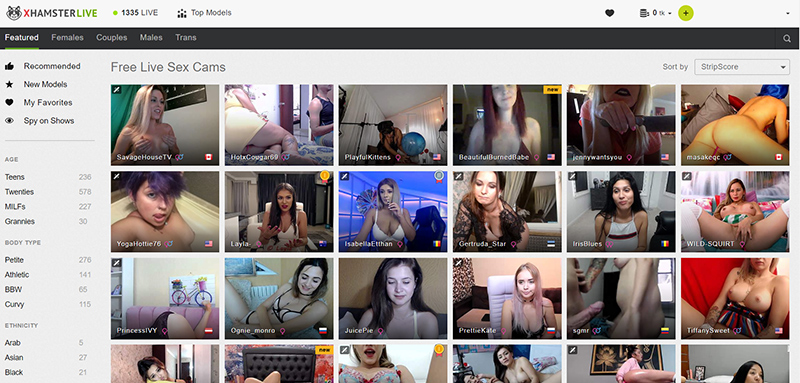 XHamsterLive offers one of the largest selection of ebony models on any mainstream site. Their selection isn't just limited to solo girls, either; they have plenty of trans models, and even couples fucking on live cam. Chances are, you'll easily be able to find whatever gets your rocks off.
The interface is also easy to use. You can run searches on dozens of different categories, and we're not just talking about ethnicity. That part is easy. Just check the "ebony" box. We're talking about kinks and more specific needs. Suppose you want a British black girl with tattoos and piercings. Click your mouse a few times, and you'll soon be watching that perfect ebony girl double-click her own mouse.
On the other hand, XHamsterLive requires a paid membership for a lot of functions that are normally free. For example, you'll need to buy a monthly membership just to participate in the text chat. Want to tell the girl how sweet that pussy is? That'll be $19.99 a month, thank you very much. It's not a bad deal if you intend on buying a subscription to begin with. But if you're looking for free ebony porn, there are several better websites that offer better value.
Pros:
Hundreds of ebony models in live chat
Easy-to-use interface
Large community of couples and trans models
Cons:
Free accounts only offer limited features
Conclusion
As you can see, all of these mainstream cam sites offer great value when it comes to ebony porn. You just need to know where to look. There are even plenty of free options if you'd rather not spend money on your porn. But, as always, the best pussy is going to cost you a few dollars. Whether or not you're willing to pay for an upgraded experience is up to you.
Similar Articles